Whether you are a hiker, carpenter, or do some active jobs, you need a good quality safety pair of hiking boots or work boots. Hence, getting a pair of safety work boots that suits you and are convenient to wear is ideal.
A work boot will be considered comfortable when they are sturdy, offer slip resistance, and give maximum performance with no foot pain. So, you might know what type of material or style you must go for. However, there has been an age-old debate over selecting the best footwear that offers safety that is still raging on. Competition has been up for centuries as to whether pull-on boots or lace-up boots help to avoid foot pain along with providing more convenience?
Are you in search of a sleek design with a waterproof leather finish or a rugged boot with a steel toe and durable rubber outsole? Do you like firm-fitted boots or easy-to-access ones? Whatever your need and preference, this buying guide will definitely help you make the best decision on whether to choose to pull on boots or lace-up ones?
So, without any further ado, let's begin the tug of war game and see who wins between pull-on work boots and lace-up boots at the end?
Why Are Lace Up Boots Better?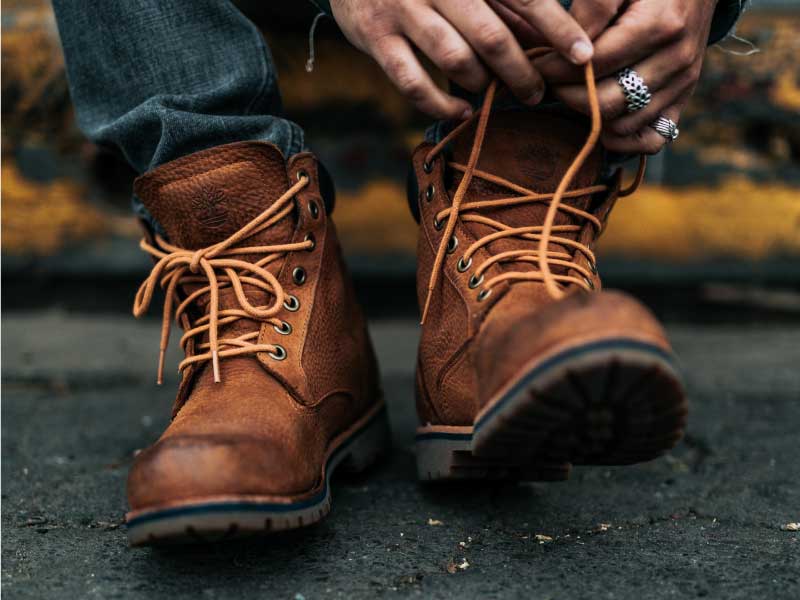 Although work boots come with safety designs, they are perhaps not always ideally suited for every situation. It is like a paradox to the name itself!
Before buying a work boot, one must pay more attention to certain factors like- what is the type of work environment? What style do you feel more comfortable with?
Just as the name suggests, lace-up boots are those boots that have lace material adjusted for proper fitting. These boots provide great support to your ankles and maintain a high grip on your feet. All thanks to its shoelaces that go through the boot lugs, construction workers and other outdoor professionals very popularly use them.
Besides, lace-up boots are a product of mostly high-quality leather. However, they are also available in fabric and rubber materials.
Another great feature of lace-up boots is their durability and productivity. These boots give a professional look and keep you active all day. Unlike other footwear, it does not become a cause of foot pain and tiredness. Rather, it helps reduce the fatigue you deal with on the worksite every day.
If you are thinking of buying a lace-up work boot, it is better to consider these important points:
· Ankle Support
Lace-up work boots are perfect for any work environment that requires your footwear to be slip-resistant and have maximum punctures. These boots offer strong support to the ankles, which ultimately helps you avoid slipping and tripping.
However, lace-ups can even slow your activities. Plus, there is a potential hazard of tripping over when you are negligent in seeing loose laces.
· Fittings
As the lace-up work boots come with laces, they can easily manipulate the fitting criteria. Whether you want to tighten your work boots for an extra snug fit or loosen them for more space, lace-ups are the best. Yes, lace-ups allow you to adjust the laces to fit your feet into them conveniently.
Though sometimes, tying up your work boot laces can create a little hassle, they provide extreme comfort and support in the long run. Moreover, if lace-ups lose their shape with time, they can still be adjusted by shoelaces to fit your feet nicely.
Lace-up work boots assist you in keeping all the debris from your feet. They not only last longer than other boots but also provide better support to the heels. As a result, the chances of getting injured are also lowered.
· Safety Features
Lace-up work boots protect your deer from any kind of hazards. In addition, these boots offer great toes and outsole protection.
Hence, these books are much safer to wear.
The only thing that you need to be careful about is not to get tangled up with the shoelaces and fall or trip over. Also, it is better not to expose them to chemicals as they may harm your skin and footwear.
· Offer Better Ankle Support
Lace-up boots promise to give better ankles support so that your feet don't hurt after a long workday.
· Provides Great Strength
Lace-up boots are another name for strength and durability. With these work boots, you can customize them to get better stability and comfort. Available in a wide range of designs and styles, lace-up boots can serve you even if their shape is lost.
Are Pull-On Boots Good For Work?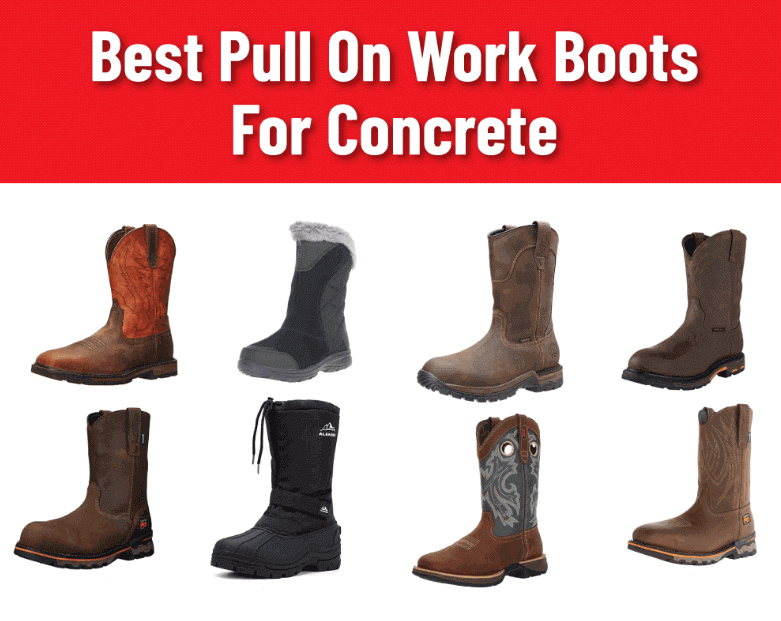 Unlike lace-ups, pull-on work boots do not come with laces. So, you can easily wear them and take them off within a fraction of seconds.
Pull-on work boots are meant for those who have to pull on and off work boots frequently. So, they are quite popular among oil rig workers.
Besides, these boots come in the right size and shape for a proper fitting. Mostly, they are a construction of materials such as genuine leather, nylon mesh, synthetic leather, and foam. Indeed, pull-on boots are a representation of durable and tough working footwear.
Do Pull-On Work Boots Provide Ankle Support?
Pull-on work boots can be effortless to put on and take off. Since they are generally taller, these boots promise to give extra protection.
It may be a challenge in itself for getting the proper fit that you usually get from lace-up boots. Unlike lace-up work boots, pull-on boots do not provide you with the option of adjusting the fit. So, a wrong pair of these boots can make you feel uncomfortable and increase foot pain after wearing them for hours at work.
Specifically, these boots have gaping collars that fail to provide enough safety and warmth. Eventually, you would find them losing their original shape. As a result, these work boots lack when it comes to providing good support to the ankles of your feet.
Having said that, these boots can offer safety from electric hazards, falls, punctures and damage.
How Do You Break In A Pull In Boots?
Remember, you would have to deal with painful feet if you head out to work wearing your unbroken work boots. It hardly matters if you endure the running back pain threshold, you must still break the work boots before heading out to the job location.
Otherwise, you will have to deal with further complications like blisters, foot pain, and injuries. When you work all day strenuously wearing unbroken work boots, your bones and muscles become tender and lead to foot damage.
Suppose you are not someone who cares about their feet, at least mind that you have expended a portion of your hard-earned income. So, value your brand new pair of work boots.
Here are a few ways to simply break in your work boots for much comfort and convenience.
1. Begin with the Right Size
The size of the work boots is not just about the numbers. Some of them run smaller while some run larger. So, whenever you think of buying brand new pull-on boots, do good research on the brand along with the model.
Before that, make up your mind about how wide you prefer your work boots. If you easily feel hot, leave some extra room on the toes. It is not important whether you have wide feet or not.
Plus, make sure how much arch support the new pair of work boots will need. If the foot is flatter, you would need more arch aid. So, it is important to make the decision wisely. You may otherwise think that the pain is eternal without breaking the boots when the actual reason is the wrong size.
2. Practice Walking Inside Your Home
You would know that leather is quite a tough material. Consequently, you need to put more effort into the work boots to break them than a regular pair of boots.
When you wear leather work boots frequently, the leather tends to flex and get into the shape of your feet. You can simply begin wearing your brand new work boots in your home for at least one to two hours a day.
However, if you have a busy work schedule, this won't be possible. In that case, wear it for at least 15 to 20 minutes on weekdays before you go to work and after you come back. You can also spend your weekend wearing this pair of new boots around your home.
3. Walk Outside Near Your Home
When we say walk outside, we don't mean to say that you should go far from your home. If there is a patio or garden in your home or apartment, break your work boots there. Walking on different floors having different hardness and textures makes your boots more comfortable to wear in the work area.
4. Wear Thick Socks With Your Boots
Wearing thick socks with your boots has some promising benefits. Firstly, socks help add an extra layer that further stretches the material of the boots outside from the inside. Secondly, it offers a comfortable cushion to your feet while you are busy in the breaking process.
5. Boots need Conditioning and Moisturizer.
Be more gentle on your unbroken boots! Use leather, a moisturizer, conditioner, and oil softener to loosen the upper part of the boots. All of these can help to stretch the fibers of the boots.
It is better to follow the manufacturer's product recommendations as specific models require specific products. For instance, mink oil can darken the leather. So, ideally, you should use only a drop of it. Moreover, spray conditioners have silicone that dries out the leather's protein bonds.
Choose the suitable products, and then let your new boots air dry before using them.
6. Get a Shoe Stretcher
A shoe-stretcher is a vital aid that helps to stretch the tighter part of the new boots. It is basically a piece of wood designed in the shape of a shoe. All you need to do is insert them into your new boots. Then lock it in the desired place and keep it for a long period. Since the shoe stretchers come with an attached mechanism, it moves front and back to stretch the toes and heels further apart from each other.
Lace-Up vs. Pull On- The Major Differences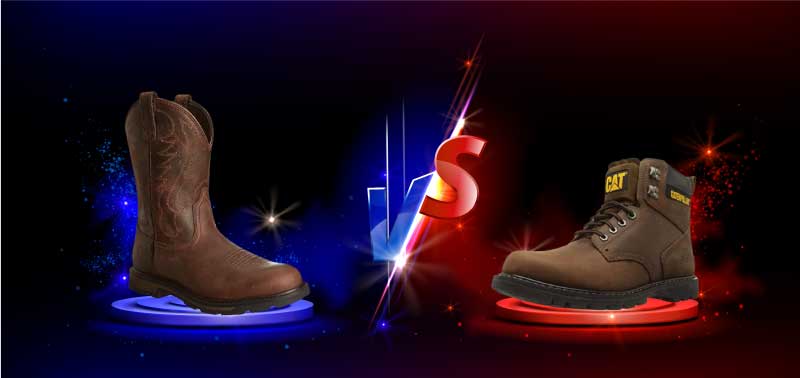 Pull on boots or lace-up boots? At a glance, it is very difficult to differentiate between the lace-up work boots and pull-on boots beside their names. However, both these work boots come with different benefits.
Below is a comparison table between these two work boots. Look at them to know the difference!
| | | |
| --- | --- | --- |
| Features | Lace-Up Work Boots | Pull-On Work Boots |
| Fittings | Fitting is up to the mark as the shoelaces offer the right kind of snugness. | Though satisfactory, with time, they may lose their original shape. |
| Convenience | The boot laces need time to tie up. Plus, you need to bend down to do that. | Very easy to put on and take off anytime. |
| Ankle Support | It provides great support to your ankle | It offers no support to your ankles |
| Traction Level | Negligence to tie up lace tightly can lead to tripping over or falling down. | It prevents you from tripping, slipping, or falling down |
| Safety | Extremely safe to wear them as they rightly secure your feet | When you choose the right pull-on boots, your feet get great protection. |
Final Thoughts
Now that you have gone through pull-on work boots vs. lace-up boots, we hope you have a crystal clear understanding.
When coming to the safety of the boots, lace-ups are way safer than pull-on boots. The reason behind it is the perfect fitting possible due to the option of tightening or loosening shoelaces. Moreover, the laces offer good traction to the feet and lower the risk of losing your position.
Pull-on work boots are really comfortable to wear after breaking them. Also, they are usually more water-resistant and well-ventilated. Thus, your feet can breathe easily and provoke less odor.
So, whether you choose pull-on work boots or the lace-ups, never compromise on your safety and convenience at any cost. We recommend you choose protection over everything else.
The key feature in choosing the best work boots is to consider which one is more suitable for your kind of job? Make the safety of your feet the top priority, and choose the best!