Have your work boots fallen apart after a few days of your use? You do not like to invest in this type of footwear. Investing in a pair of long-lasting boots is a good decision.
They will ensure comfort, stability, and safety to your feet. That is why we have identified the 5 best long lasting work boots for men.
Almost all brands claim that their boots will last long. But, you must not pay attention to their false advertisements.
I have read real customer reviews to decide on the highest quality boots that have lasted for years.
Importance Of Long-Lasting Work Boots
Benefits Of Long Lasting Work Boots- Economical, Comfortable, Safe
Investing in a pair of quality work boots can be beneficial in many ways. Here are some of the benefits of purchasing long-lasting work boots:
Economical: Long-lasting work boots might have a high initial cost, but in the long run, they save money. You won't have to keep on buying boots, therefore, reducing your expenses.
Comfortable: Wearing uncomfortable work boots can significantly impact productivity. Long-lasting work boots are well-made, ergonomically designed, cushioned, and breathable. These features provide comfort, reducing pain and discomfort, and minimizing fatigue, thereby increasing productivity.
Safe: Long-lasting work boots are made of high-quality materials that provide maximum foot protection, making them ideal for use in hazardous environments. They have safety features such as slip-resistant soles, steel toes, and waterproof materials. These features prevent accidents, which saves you money on hospital costs.
Comparison Of Long Lasting Boots With Cheap, Low-Quality Boots
While it might be tempting to purchase cheap, low-quality boots for work purposes, here are reasons why you should invest in long-lasting work boots instead:
Long-lasting boots last longer than cheap ones: Cheap, low-quality boots will wear out in no time, which means that you'll have to keep on buying new ones. Long-lasting boots, on the other hand, can last several years. Meaning that you won't have to keep on replacing them, thus save you money.
Long-lasting boots are more comfortable: Cheap boots are not ergonomically designed, meaning they are not comfortable if you wear them for long durations. This can result in discomfort and cause injuries that would take some time to heal. Long-lasting boots, on the flip side, are designed with comfort in mind, thereby protecting your feet and reducing body fatigues.
Long-lasting boots have safety features: One of the primary reasons why you need quality work boots is to offer foot protection. Cheap boots do not have safety features like steel toe caps, slip-resistant soles, and waterproof materials. These features are critical in preventing accidents and injuries in the workplace.
Explanation Of How Long Lasting Boots Are A Better Investment In The Long Term
Long-lasting boots maybe expensive compared to cheap boots; however, they are a better investment in the long term for the following reasons:
They offer long-term protection: With long-lasting boots, you can comfortably work for long hours; this reduces your chances of getting injured or developing conditions related to body fatigue. This means that you can work efficiently for prolonged durations, making a good return on investment.
They are durable: Long-lasting boots can last several years, which means that you can use them for an extended period, thereby saving money on purchasing new boots.
They have a higher resale value: Long-lasting boots have a higher resale value than cheap boots. Therefore, if you take care of them, you can resell them at a good price when you no longer need them.
Investing in long-lasting work boots is not only beneficial for your safety but also for your comfort, productivity, and long-term finances. Make sure that you invest in good quality boots that meet your needs and last longer.
Work boots of different types and their average life span
Each type of work shoe has some pros and cons. Let them discuss it in detail.
Composite toe boots
Composite toe work boots are perfect for your daily use, and they are available in different styles. In fact, they are long-lasting comfortable work boots, as they have a lifespan of around 7 years.
But, they may not last long, when you wear them improperly. They are not only durable and lightweight but also provide good traction. You can use them comfortably on different terrains.
Work boots with leather toes
Some leather boots are available with magnetic and steel-toe variants. Their average lifespan is about 3 to 5 years. However, it can vary with how you have cared for them. Being lightweight, these boots will make you feel comfortable. They also ensure a proper fit for every user.
Steel toe work boots
Mostly, constructors, military personnel, and some other outdoor workers invest in steel toe boots. The standard lifespan of these boots can range from 1 to 2 years. Thus, you may need to replace them shortly. But, you will get ultimate protection by wearing steel toe boots.
Conventional style work boots
These work boots are best for those who need to walk over concrete surfaces. Most of them last for 2 to 4 years. The boot materials and the level of maintenance will affect the lifespan. You can choose these boots for your everyday use.
Which work boots are the most durable?
We have thoroughly reviewed the top-rated work boots for workers. You can check the detailed features and make your decision.
| Image | Product | Details | Price |
| --- | --- | --- | --- |
| | KEEN Utility Men's Lansing Work Boot | Longest lasting steel toe work boots | Check Price |
| | Wolverine Men's Loader 6″ Wedge Boot | Long-lasting boots with a wedge sole | Check Price |
| | Timberland PRO Men's Rigmaster XT Steel-Toe Work Boot- 6 Inches | Most durable work boots | Check Price |
| | Carhartt Men's 6″ Energy Black CME6351 | Long-lasting work boots with composite toes | Check Price |
| | Timberland PRO Men's Gridworks | Long-lasting work boots with soft toes | Check Price |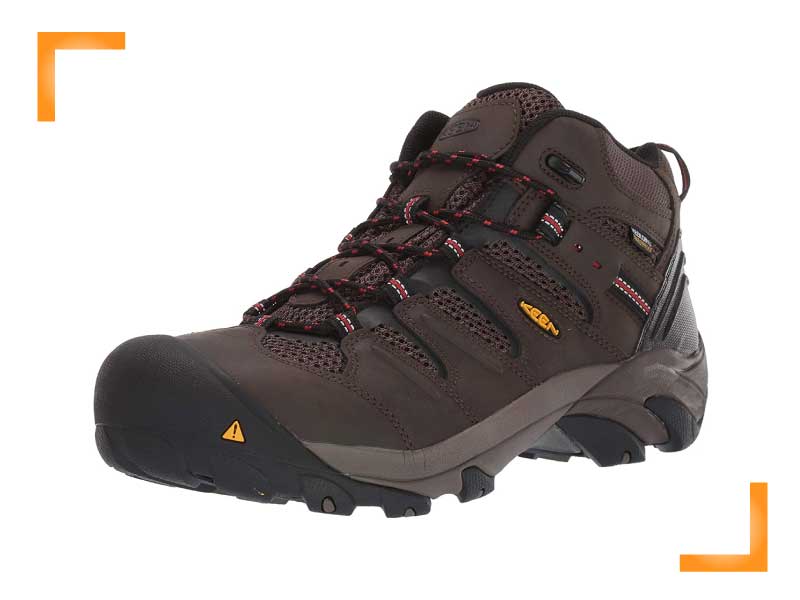 Specifications
| | |
| --- | --- |
| Materials | 100% Textile |
| Shank size | 5.5″ from arch |
| Toecaps | Steel toes |
KEEN Utility is known for designing top-notch boots for constructors and other industrial workers. We have picked the men's Lansing boots available in 2 colors as the most durable steel toe work boots. Although these boots are sturdy, they are lightweight. That is why you can move your feet without feeling bulky.
Features
Materials and design details
Being made from 100% textile, these KEEN Utility shoes are easy to clean. Strong fibers do not wear away easily. Moreover, there is no risk of shrinking and wrinkles. The mesh lining has added breathability to the shoes. The waterproof materials ensure that your feet will not become wet on rainy days. The shank size is 5.5″ from the arch, while the boot opening is around 12″.
KEEN Utility has used CleansportNXT, a probiotic-based technique to prevent the production of bad odor from sweat. Thus, you can find an innovative process for designing this footwear.
Another interesting feature is the reflective design to add visibility to your shoes. When you work in dark places, these reflective shoes will provide safety.
However, some users have complained about laces, and they have replaced the original laces with new ones to solve their problems.
 The steel toes save your feet from heavy components falling from a height. That is why these longest-lasting steel toe boots have been highly popular among warehouse workers and constructors. Electricians can also put on these work boots due to the underfoot protection.
The TPU-rated shank and EH-rated design have made these shoes safe for electricians. Contact with electric circuits will not cause risks to your feet. Furthermore, the asymmetrical design of steel toes helps you with a proper fit.
The slip-resistant and oil-resistant outsoles are also the safety feature of your work boots. Thus, the rubber soles provide a high level of traction.
Moreover, the lug sole patterns ensure a good grip while walking on the slick concrete surfaces. The cushioned midsoles and EVA footbeds are also the best features to ensure shock absorption capacity.
Pros
A special waterproof membrane
Mesh liner
Non-slip soles
Cons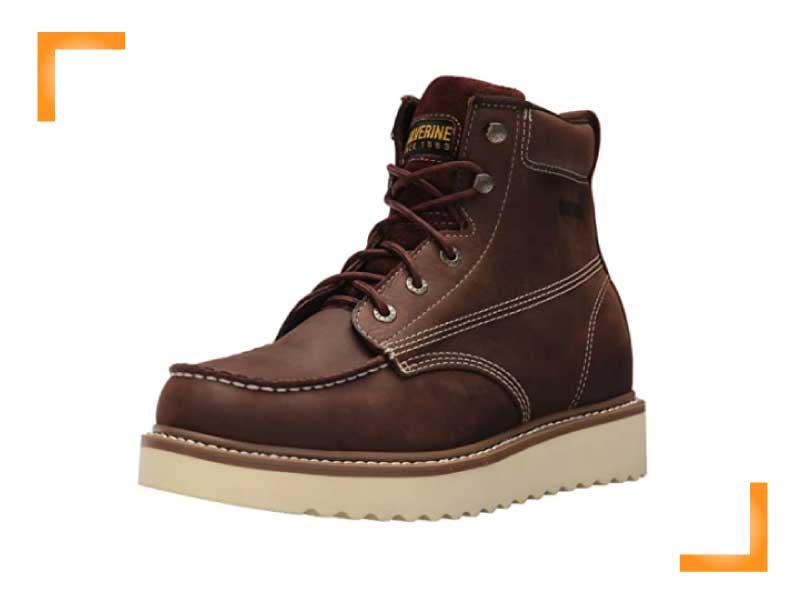 Specifications
| | |
| --- | --- |
| Materials | 100% Leather |
| Shank size | 6″ from arch |
| Toecaps | Moc toes |
Wolverine has designed the best boots for workers doing outdoor jobs. You can keep your feet safe and comfortable due to the proven construction of footwear. The presence of a wedge outsole has made these boots different from other work shoes. Carpenters, ironworkers, farmers, landscapers, bricklayers, and other professionals can invest in these wedge boots.
Features
Materials and design details
You can find a classic design on these Wolverine Loader Wedge boots. Wolverine has provided you with a time-tested design for your work boots. Made of 100% genuine full-grain leather uppers, these work boots have a lightweight construction.
There is also a padded collar to give you comfort. The padding has developed a soft layer between your feet's metatarsal bones and shoes. Thus, Wolverine has made a scientific approach to designing the work shoes.
On the hottest days of the year, when you need to work outdoors, your feet will stay cool. It is another reason for investing in this pair of boots.
The shank is around 6'' from the arch. As it is slightly longer, it shields your feet from stone bruises and puncture wounds. The overall design is highly reliable, as Wolverine has used Goodyear™ Welt construction for the shoes.
The long-lasting, comfortable work boots from Wolverine are available with moc toes. These moc toes save your feet from injuries at the worksite. These toe designs are also puncture-resistant to ensure protection. The best fact is that these moc toes have an insulated structure to make your feet feel warm in the cold winter season.
Like other work shoes, Wolverine boots have rubber soles to make them slip-resistant. Furthermore, the PU wedge outsole has added comfort. It also minimizes the accumulation of dirt and debris. The footbeds are removable, and thus, you can manage them in your own way.
Pros
Stable and durable design
Strong wedge outsole
Custom-fit
Fatigue-fighting reinforcement
Best for any outdoor workers
Cons
Narrow- Not good for men with wider feet.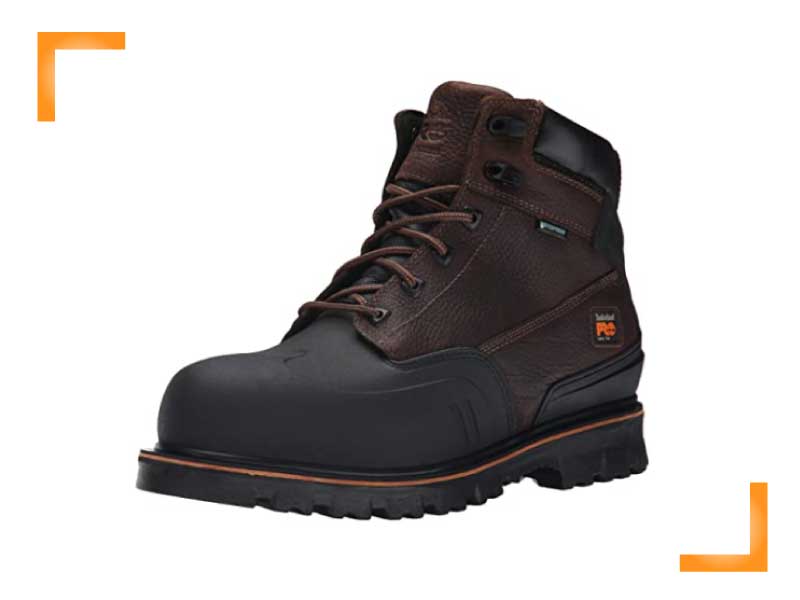 Specifications
| | |
| --- | --- |
| Materials | 100% Leather |
| Shank size | 6″ from arch |
| Toecaps | Steel toes |
Timberland PRO produces the most durable work boots that are always the most reliable choice for industrial workers. As you need to walk and stand for long hours, you can invest in this pair of shoes. Brown Tumbled Leather has also added a style to the work boots.
But, Timberland has never compromised on the functional value of these boots. Work-ready protection, classic styling, and timeless craftsmanship have made these boots popular.
Features
Materials and design details
Heavy-duty construction and waterproof design are major features of these work shoes. When you need to work in muddy and wet conditions, you can put on this pair of shoes. Although you work in a harsh environment, these work boots will last for years.
Timberland has added the comfort factor by adding the geometrical technology that enables your foot to retain energy. The shoes also have a shock-absorbing capacity to prevent injuries.
The anti-microbial odor control technology is another feature to prevent mold formation. The presence of odor and sweat results in the growth of microorganisms. That is why these work boots have gained the attention of several workers.
As you need to wear safety boots at your worksite, you can buy these Timberland Pro work boots. The strong steel toecaps ensure your protection without compromising your comfort. You can keep away from workplace injuries like sprains, falls, crushing, and punctures.
There is also a special feature to ensure electrical protection. Thus, professional electricians can also try out these boots.
Due to anti-fatigue insoles, your feet will not feel tired when you work consistently for a number of hours. These soles play a role in ensuring protection and comfort. The synthetic soles have added breathability to the work boots. Due to the proper air circulation, your feet will not feel sweaty. Workers in the oil and gas industries and other industrial sectors can invest in these work shoes. Prolonged standing on the concrete floors will not put stress on your feet.
Pros
Shock-diffusion technologies
Anti-fatigue design
Durable outsole
High breathability
Cons
The seam is not of high quality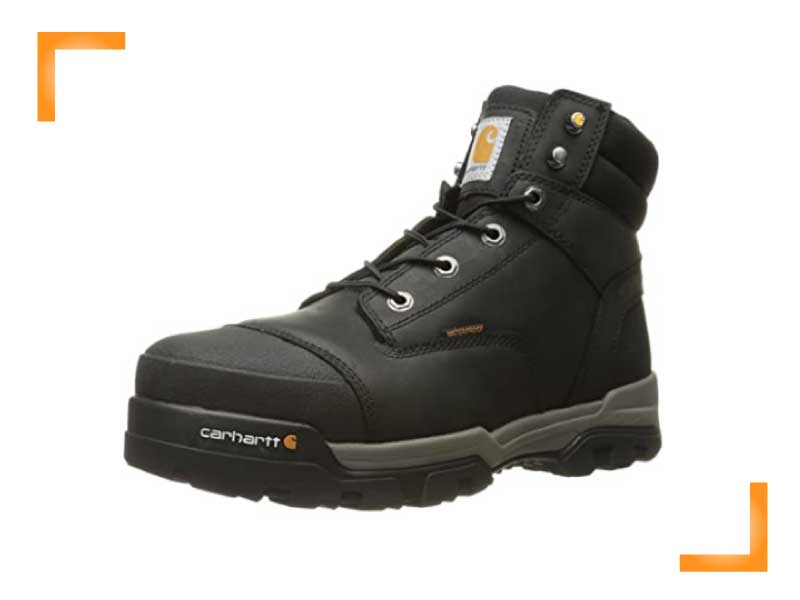 Specifications
| | |
| --- | --- |
| Materials | 100% Leather |
| Shank size | ankle-high from arch |
| Toecaps | Composite toes |
Although Carhartt is known for its work clothes, its work shoes have high durability. Available in multiple colors, these shoes look elegant. Equipped with safety features and waterproof design, the work boots have gained the attention of several workers.
Features
Materials and design details
On the stormy and rainy days, you can put on these work boots, as they have a waterproof design. The special waterproof membrane will keep your feet dry.
The use of quality leather has made these work boots durable. Users have claimed a proper fit while wearing these shoes. Still, you have to be careful in picking the right size of your shoes.
Another distinguishing feature of the boots is the multiple layers of foam that provide rebound abilities and compression. You can reduce fatigue of your feet and feel comfortable during your prolonged use. You will also find a breathable membrane that keeps your feet dry.
Carhartt has added composite safety toes for the work boots to make them lightweight. However, these toes also ensure protection against heavy objects. Composite materials do not conduct electricity, cold, or heat. Thus, your feet will be safe with this pair of work boots.
The rubber sole has added durability to your work boots. The shoes can reduce foot slip and provide more grip due to the suede top cover material. Moreover, the EVA midsole is designed with dual foam Insite Technology.
Furthermore, the toe bumper with a molded design and abrasion-resistant rubber heel is another unique feature of the shoes.
Carhartt has used Ground Force technologies for these work boots, and that's why they can reduce the risk of injury when you are walking and running.
Pros
Resilient design
Comfortable to wear
Lightweight shoes
Breathable
Cons
Need better quality leather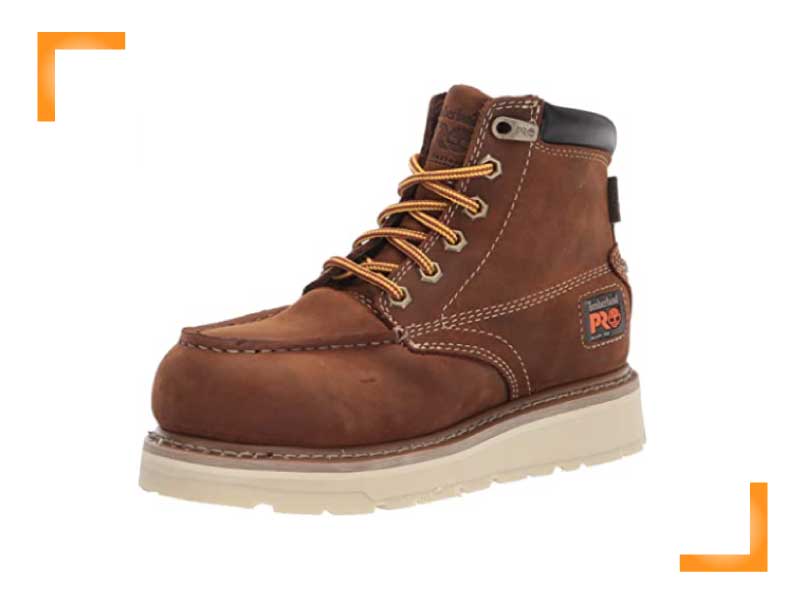 Specifications
| | |
| --- | --- |
| Materials | 100% Leather |
| Shank size | 6.5 from arch |
| Toecaps | Soft toes |
We have chosen another one of the most durable work boots from Timberland, as it ensures high comfort and is available at a reasonable rate. The time-tested design makes these work boots long-lasting.
Yet, you will also find a distinctively modern style in these shoes. Timberland Pro Gridworks is found in different shank sizes, and we have picked one with a shank of about 6.5 inches from the arch.
Features
Materials and design details
The leather used for these work boots is durable but soft. Gridworks are rugged boots with no break-in period. Your feet will stay pain-free when you wear these boots for several hours. Shock-absorption capacity is another notable feature of footwear.
Extra, Timberland has designed waterproof boots to keep your feet dry on rainy days. The combination of a waterproof membrane and waterproof leather is unique.
As it is a pair of soft-toe boots, there are no steel and composite materials. The toe box is spacious, and it has an asymmetrical design. However, soft toes do not protect your feet from heavy objects. They are best for workers looking for comfortable and lightweight shoes.
Manufacturers have paid special attention to the soles of the boots. The classic midsole combined with anti-fatigue technology has added value to the shoes. Furthermore, the TPU outsoles also make the boot durable. But, they are not best for workers who work around the ice, oil, and debris-filled site.
Pros
Waterproof
Real leather
Anti-Fatigue Technology
Cons
Guide to buying the Best Long Lasting Work Boots
Before purchasing a pair of work boots, you have to check-
Durability of the shoe material
Cheap work boots have low-quality materials. They also cause fungus and blisters on your feet. Boots with thicker leather can last long. Some brands use synthetic leather and textile to design work boots.
Toecaps
We have already discussed different types of toecaps. However, long-lasting steel toe boots are best to save your feet from injury.
Slip-resistant soles
Rubber soles are slip-resistant and have a high level of traction. When you walk around water puddles and oil, you can minimize the risk of slipping and falling. The rubber sole will keep your feet stable.
Insole
Insoles are intended for the interior part of the shoes. They make your shoes comfortable and prevent antifungal infections. Thus, shoes with detachable insoles can be a perfect choice.
Comfort
Make sure that your work shoes fit your feet properly. Too wide and small shoes may cause pain and irritation. You can also find fungus and blisters on your feet.
Waterproofing ability
Waterproof shoes will prevent the accumulation of moisture on the foot skin. You can wear these shoes on drizzling days.
Do not overlook these factors while buying the longest-lasting work boots.
FAQ
Who should buy safety boots?
Workers from different industries can invest in a pair of high-quality work boots. For instance, craftsmen, farmers, electricians, constructors, and warehouse pickers have to invest in work boots. Some workers who need to work outdoors on rainy days must put on waterproof shoes.
How often do you need to replace your work boots?
There is no particular timeframe for which your work shoes will retain their shape and quality. On average, these boots will last for 1 to 2 years. However, we have shared some tips for helping you to decide on the replacement of work shoes.
Check your shoes' outsoles
Has the shoe upper separated from the outsole? Do the soles still have lug patterns? Test the outsole, which is the most important part of slip-resistant boots. When the outsole is not in good condition, you may be at risk.
Feel how comfortable are your old work boots
Some workers do not focus on this factor. But, old shoes are not effective in providing comfort. Cushioned footbeds may also lose the level of cushioning. Moreover, crooked midsoles are also a sign of deteriorating work boots. Shoes without shock-absorbing ability can result in severe foot problems.
Insulated materials used for work boots
You must check the insulation ability of your work boots. Some work boots have a waterproofing membrane and insulation technology. These features are important to keep your feet warm and dry. Thus, you have to check insulation attributes before buying a new pair of work boots.
Which factors affect the lifespan of your work boots?
Materials used for work boots
Suede and synthetic uppers are more durable than leather uppers. The major reason behind it is that leather comprises hoofs while synthetic ones are made from fibers.
A thicker insulating lining ensures that your work boots will last longer. You will also feel comfortable in the cold environment. However, these shoes will wear away faster for users who wear them for a long period every day.
It is another relevant aspect affecting the comfort level of wearers. Manufacturers use different materials for the inner lining of the work shoes.
Workers like to keep their feet warm on cold winter days. That is why they desire books with warm insoles and thick insulation layers. However, boots without any special features to endure different environments may not last long. Some job sites have wet and slippery grounds. Thus, workers can use tool belts that prevent boots from getting slipped off their feet.
Industrial workers engaged in stressful activities may find their boots not lasting for several years. Their shoes can become unstable, and it results in the risk of injury. So, your everyday workload can affect the lifespan of your footwear.
How do you make your work boots long-lasting?
It is important to take proper care of your work boots to make them long-lasting. A few tips will be helpful for you.
Buy insoles for your boots
Buying a pair of high-quality insoles is a good decision. It will increase the average lifespan of your work shoes. Moreover, insoles ensure protection for your feet. When you wear a pair of normal sneakers at your worksite regularly, your feet will become damp.
But, by wearing work shoes with insoles, your feet will stay warm and dry. It will also prevent premature damage to your shoe's synthetic materials and leather.
Clean your work shoes regularly
Small dirt particles may damage your work boots, although they are designed with highly sturdy materials. For this reason, you have to clean the boots' soles after every use at worksites. You can use a soapy solution and alcohol to clean the boots' soles. Before wearing them, you must ensure that they are dry.
You can buy shoe trees for your new work boots and make your footwear long-lasting. These shoetrees also maintain the natural shape of your boots. Insert them into your work shoes and leave them for hours. Detach them at the right time, as too much use of the shoetree will damage your footwear material.
Polish your shoes regularly.
Polish your shoes to make them long-lasting. It is essential for almost any type of boots.
Clean and dry work boots always have a longer lifespan. Try to prevent any scratches on your boots' materials.
Sum Up
Investing in the best long lasting work boots is essential for any worker who wants to ensure their safety, comfort, and durability.
When choosing a pair of work boots, it's crucial to consider various factors, such as the materials used, the type of work you do, the environment you work in, and your budget. High-quality work boots can last for years, providing you with excellent protection, support, and comfort throughout your workday.
Whether you're a construction worker, electrician, plumber, or any other profession that requires you to be on your feet for long periods, it's vital to choose a pair of boots that can withstand the demands of your job.
With so many options available on the market, it can be overwhelming to choose the right pair. However, you can now decide on the best pair of work boots for your daily use. I have picked work shoes from the most reliable brands. I have analyzed customer views before selecting each of these best long lasting work boots.