Police officers, military personnel, and several other professionals need to deal with different hazards. Most of them work outdoors, and their feet feel much stressed due to the nature of their work.
However, what will you do when you have flat feet? Flat feet are a common problem in which the arches of the feet are shallow or don't exist at all. Doing physically demanding things like hiking, running, or military training can make you feel uncomfortable, hurt, or even hurt yourself.
If you have flat feet, wearing shoes that give your feet the right amount of support, stability, and cushioning is essential. People with flat feet often choose tactical boots because they are made to last in harsh conditions and give the most protection, support, and comfort.
In this article, we'll look at some of the best tactical boots for flat feet and discuss what makes them great. Whether you are a first responder, in the military, or just like being outside, we have the the right pair of boots for flat feet.
What are tactical work boots?
Tactical boots (police boots) have a unique design to manage challenging situations. These boots are essential for the police force, military, and other professionals providing public services.
They are also perfect for your long-term use. They include almost every feature found in traditional army boots. Moreover, the well-designed hardwearing boots protect your flat feet from weather elements and other complicated elements in the work environment.
However, there are several tactical boots for flat feet. How will you choose the best ones for your needs? Well, we have researched the market to save your time. Our selected tactical boots for flat feet are comfortable, lightweight, and sturdy.
List of 5 Best Tactical Boots For Flat Feet:
Danner Men's Acadia 8″ Boots– Best tactical work boots for law enforcement officers
FREE SOLDIER Men's Waterproof Hiking Boots- Best lightweight tactical boots for flat feet
Bates 8″ Ultralite Tactical Military Boot- Best zippered tactical boots for flat feet
Skechers New Wascana-Benen Tactical Boot- Most durable tactical boots for men
ELAPHURUS Hiking Boots Men Outdoor Tactical Boots- Best tactical boots for Anti-Skidding design
If you have flat feet, it's important to choose tactical boots that provide adequate arch support and cushioning to prevent discomfort and potential injury.
Here are reviewed some of the best tactical boots for flat feet:
1. Danner Men's Acadia 8″ Boots– Best tactical work boots for law enforcement officers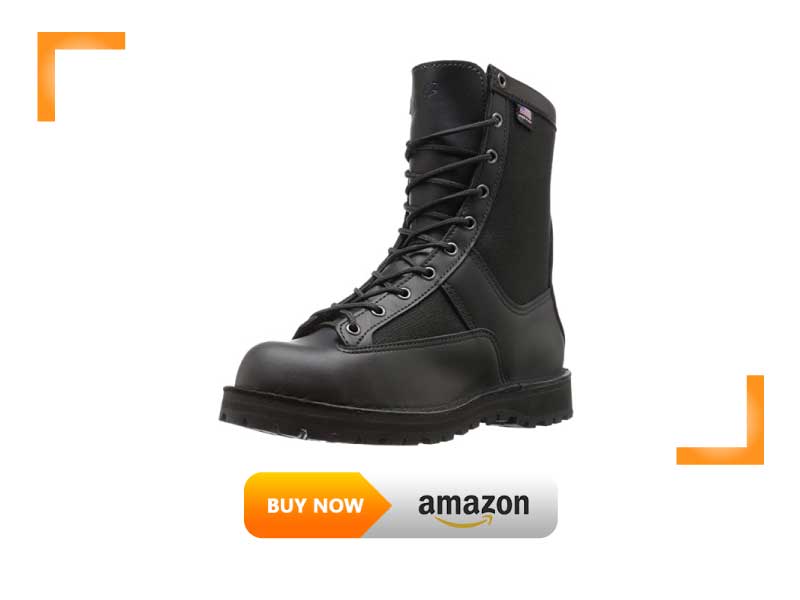 Specifications
| | |
| --- | --- |
| Material | 100% Leather and Cordura |
| Outsole | Vibram |
| Waterproof | Yes |
Law enforcement officers need to teach defensive tactics, mediate disputes, and patrol different sites. Thus, tactical footwear is highly valuable for them. These Danner shoes are also best for those with flat feet. That is why we have picked these boots for our review.
Features
Danner Acadia boots ensure a high level of comfort to law enforcement personnel, hikers, and hunters. These are versatile boots with Vibram soles. The well-ventilated design will keep your foot dry and prevent moisture build-up.
DXT Vent is a breathable technology providing ventilation from your heels to the toes. Moreover, there is a Gore-Tex lining for breathability. Due to the 1000 Denier nylon, the boots have a waterproof design.
Made of Leather and Condura, Danner boots can last long. Condura has colorfastness properties and stain resistance. Thus, your boots will retain their original beauty for years. Moreover, Condura fibers have high tensile strength and are tear-resistant.
They also have water-repelling capacity. Overall, these properties have made your work boots resilient. Stitch-down construction of the boots is advantageous, as they make the footwear to be recrafted.
Survival team members can use these tactical shoes confidently, as they provide good traction. The slip-resistant boots let you walk over the muddy surface.
An Amazon customer said, "I bought several Danner shoes earlier. One of the pairs is a 25-year-old. Thus, I think that Danner Acadia will also last long. But one demerit of Danner shoes is that they are heavy."
Pros
Fiberglass shank for protection
Absorbent lining
Waterproof
Safe for any surface
Cons
2. FREE SOLDIER Men's Waterproof Hiking Boots- Best lightweight tactical boots for flat feet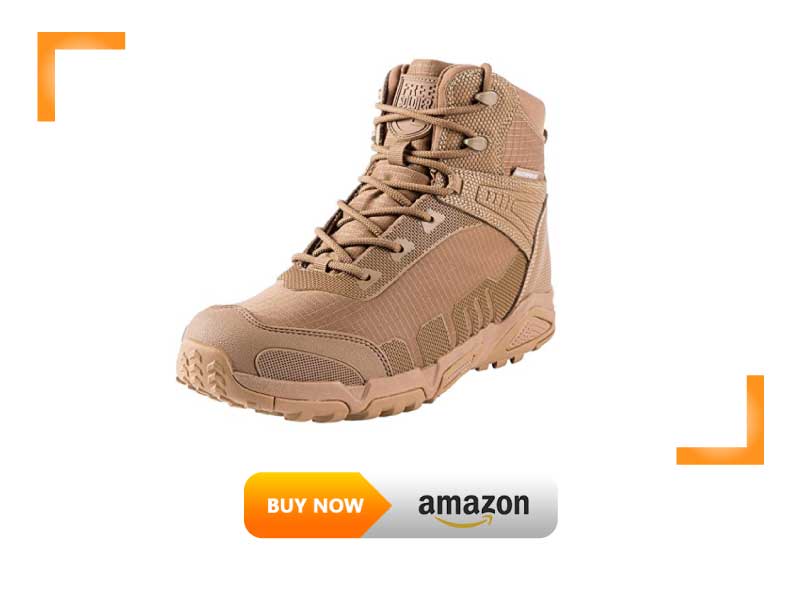 Specifications
| | |
| --- | --- |
| Material | TPU material |
| Outsole | Rubber |
| Waterproof | Yes |
Free Soldier's tactical boots for men are always classy. These boots have a special fabric with a durable and lightweight design. The outsole, laces, and other parts are flawless. Although Free Soldier has designed the boots as tactical footwear, trekker, hikers, and runners can wear them.
Features
Due to the lightweight design, you will get the ultimate comfort from wearing these tactical boots. You can wear Free Soldier's boots both indoors and outdoors.
Furthermore, you will feel comfortable with the shoes throughout the year. The waterproof boots are available in medium and wide sizes. Your flat feet will never feel fatigued.
The breathable lining helps in releasing sweat and keeps your feet dry. Moreover, the outer surface and interior lining have added comfort features to the shoes. It is also easy to put on the boots.
The overall design, including the lace, is durable. The gusseted tongue prevents the access of water and dirt to your boots. The TPU materials used for the body of the boots can last long.
The anti-kick toecaps are the most crucial safety features for the boots. Moreover, the outsoles have a geometrical pattern to ensure a good grip. The anti-collision boots have comprehensive protection to your ankles and heels.
An Amazon customer said, "I have been wearing these tactical booths for a number of months. On rainy days, although my boots got wet, my feet had been dry. The boots are a perfect fit for me, and they are roomy."
Pros
Elegant design
High-quality materials
Removable insoles
Lightweight and resilient
Wear-resistant
Cons
3. Bates 8″ Ultralite Tactical Military Boot- Best zippered tactical boots for flat feet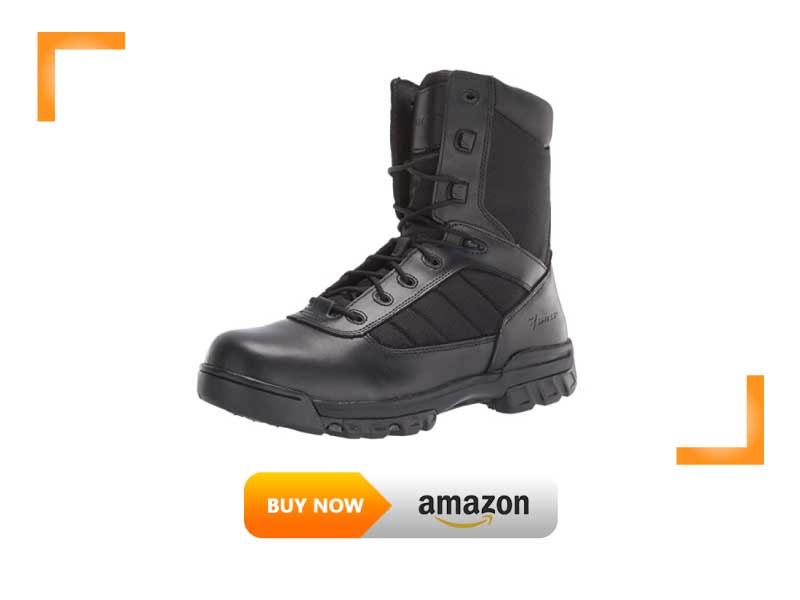 Specifications
| | |
| --- | --- |
| Material | Leather and nylon |
| Outsole | Rubber |
| Waterproof | No |
Bates Footwear has gained high fame in the industry, and we have picked the best pair of tactical boots from this brand. Bates has distinguished its tactical footwear by adding side zips. You easily put on and take off the shoes. Besides, it takes time to lace up the regular shoes. However, as these combat-ready boots have zippers, you can effortlessly wear them.
Features
Bates has not compromised comfort while designing the boots. From the moment you put on these work boots, you will feel the comfort. The cushioned EVA midsole is one of the noticeable features of the boots.
Moreover, this midsole adds stability and enables you to endure different challenges. The cushioning midsole maintains the health of your flat feet. However, the cushioned insert is removable to provide you with a customizable design.
Bates tactical boots have a moisture-wicking capacity and have a breathable lining. Your feet will never feel sweaty. Due to the zipper, you can slide on your feet without the risk of heel pain.
70% of the boots' design comprises genuine Leather, and thus, there will be no durability issues. However, 30% of the boots have nylon.
Bates has created a perfect combination of quality materials. Nylon is good for its durability and insulation properties. The YKK side zipper is also resilient and does not wear away easily.
The non-metallic composition ensures electronic composition. The outsole is slip-resistant and has passed SATRA WTM 144 test.
An Amazon customer said, "I have been using these tactical boots for 9 years. Earlier, I used to purchase new pair of shoes every year. However, as these tactical boots have minimal wear and tear, I have not thought of buying a new one."
Pros
Detachable insert
Affordable and durable
Lightweight construction
Space to add an orthotic insert
Cons
4. Skechers New Wascana-Benen Tactical Boot- Most durable tactical boots for men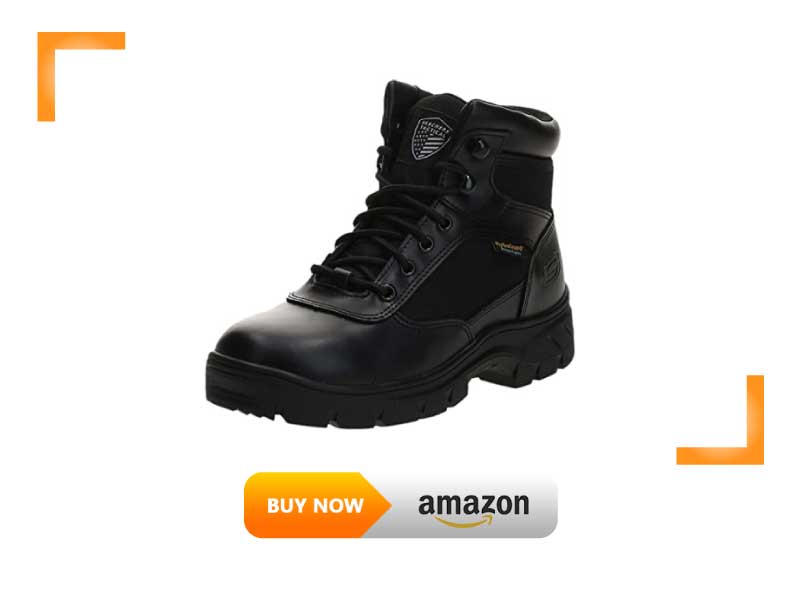 Specifications
| | |
| --- | --- |
| Material | Leather |
| Outsole | Rubber |
| Waterproof | Yes |
Skechers is known for designing highly rugged work boots for workers. We have considerately chosen these tactical and military boots due to their resilient structures. The mid-calf height, lace-up design, and several other features have made these boots popular.
Features
The lace-up design is acceptable to lots of users. The opening is also good, and it enables you to put on the footwear without effort. But the boots are slightly heavier.
Still, you will not feel discomfort due to the weight. The inner sole is very soft and gives you the best feelings throughout the day.
Although Skechers has designed these shoes for military use, hikers can try them out. The double-stitched reinforced seams have made these boots durable.
The laces do not get torn away easily. The waterproof shoes have thick outsoles, and your feet will not get wet. The black leather is also of premium quality to give you the ultimate value.
The reinforced toes make you feel safe. Moreover, you can comfortably step on rocky surfaces and wet surfaces due to the rubber outsole. Overall, these survival boots protect your feet from hazardous elements.
An Amazon customer said, "I wear these boots every day at the worksite. I think that I have definitely made a good decision. Good fit…Structurally good shape….No problem with tightness. I have no complaint."
Pros
No break-in period
Good insoles and outsoles
Quality Leather
Cons
5. ELAPHURUS Hiking Boots Men Outdoor Tactical Boots- Best tactical boots for Anti-Skidding design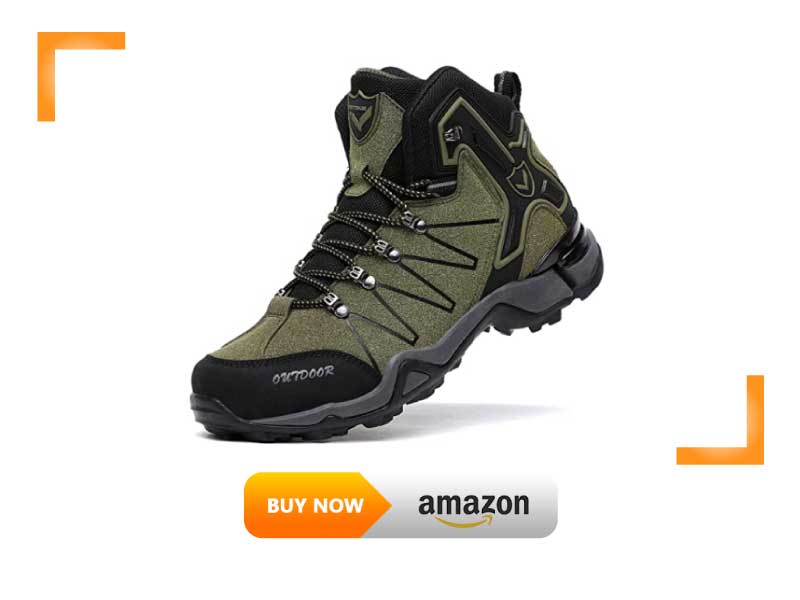 Specifications
| | |
| --- | --- |
| Material | Synthetic materials |
| Outsole | Rubber sole |
| Waterproof | Yes |
Although the brand name is not popular, we have found positive feedback from several users. These tactical boots are best for military forces, hikers, and hunters. The anti-skidding design prevents you from slip and fall accidents. Available in a range of colors, these boots have an attractive design.
Features
The lightweight pair of boots can give you the desired comfort. While working throughout the day, your feet will not feel fatigued.
These tactical boots are better than regular hiking boots. The mesh uppers have added breathability to the footwear. There is also a soft insole to prevent any discomfort to your flat feet. The compression-molded synthetic midsole has added cushioning features to the shoes.
The tactical boots have high durability and last for years. Manufacturers have created a wear-resistant design for the boots.
The tactical boots provide you with comprehensive protection. While you are in a hazardous work environment, you can put on these shoes. The anti-skid sole is another protective feature of the boots.
Also, the anti-collision design is the major reason for choosing these boots. You can save your feet from abrasion. Due to the rubber toe guard, your toes will feel comfortable.
An Amazon customer said, "Comfortable boots, lightweight, and sharp design…. However, I have bought arch inserts, as I have flat feet. I think that you can wear these shoes while doing outdoor activities."
Pros
Skin-friendly shoes
Outsoles with a multi-directional design
Sandproof uppers
Cons
Internal seams are not of high quality.
Why Should You Wear Tactical Footwear?
Tactical footwear can provide you with several benefits.
Keep your feet safe with weatherproofing properties
Tactical footwear has special weatherproofing properties not present in some normal work boots. Originally, soldiers were the primary users of the boots.
The weatherproofing features protect their feet from getting wet. Based on the tactical boot's style, you can find a slight difference in weatherproofing properties.
Tactical boots are highly comfortable.
Tactical shoes have an innovative design to let you deal with active situations. Some work boots also serve this purpose. However, your feet may have blisters in the first few days.
But, tactical boots have a ready-to-go design. You may also run comfortably while wearing these boots. Several users like the lightweight design of the boots.
The best tactical boots ensure your safety.
Safety is an essential factor for tactical boot manufacturers. Some special safety features have made these boots acceptable.
High-quality, branded tactical boots protect your feet from electrocution. Thus, workers who need to work around wet conditions and deal with electric wires can put on these work boots.
Quality work boots are slip-resistant and provide you with a better grip while walking over a rocky surface.
Lastly, some boot models have steel toes to protect your toes from heavy and sharp objects.
Guide to Buying The Tactical Boots for Flat Feet
Ordinary tactical boots may not be a problem for those having healthy and normal feet. However, those with flat feet will feel pain with those boots.
Flat feet can result in a painful condition known as plantar fasciitis. Due to this medical condition, you have to be careful while choosing your boots.
We have listed the features that must be present in the best tactical boots for flat feet.
Materials and durability
High-quality materials ensure durability and comfort. Flimsy boots do not last long, and they will have wear and tear within a very short time. The most common materials for tactical boots are Leather, nylon, mesh fabric, suede, steel, and memory foam.
Leather tactical boots have the most robust design. However, the soles of the boots have rubber, while the breathable liner has mesh. Padding around the arch and cushioned insole are the major features of the tactical boots.
Make sure that there is ample room in the toe section. Moreover, precise grip and boot weight are other factors, which need your attention.
Comfort
After all, your tactical boots are your everyday gear, and that's why comfort should be the major factor during your purchase.
The most important thing that you should check is the boot's design. Taller boots ensure better protection.
However, they will prevent smooth mobility. Needless to say, they will reduce the breathability level of your boots.
Secondly, you must check the insole materials that make a difference in comfort. Some boots do not have insoles, while others have removable insoles.
The supple midsole is another important feature of the boots. In fact, comfort comes from the well-arched design, softness, minimal break-in time, and breathability. The footwear needs to endure your body weight throughout the day.
Normally, the best tactical boots have deep-molded heel cups that give the feeling of comfort. Your heels remain encased inside the boots. Thus, you can keep away from abrasion and pressure.
Moreover, your tactical boots have to bend along with your feet. Some rigorous boots can cause pressure to your sole, and they will hurt the inflamed part of your feet.
Safety
Although comfort is the biggest factor, you must not overlook safety. You have to choose tactical boots, which have outsoles and insoles. The high-quality outsoles have shock absorption capacity.
Solid work boots with a range of safety features will save your feet from pain. You can confidently step on the rocky surface, concrete floors, and gravel. Moreover, you may walk on muddy, slippery, and greasy surfaces due to the slip-resistant boots.
Ease of maintenance
You have to maintain your tactical boots regularly to prevent wear and tear. That is why you have to choose boots, which are easy to maintain.
Some tactical boots have removal features like insoles, laces, and tongues. You may remove these parts while cleaning your boots. Also, you can polish the tactical boots made of Leather.
Know the purpose of buying the tactical boots
Tactical boots are available in different models, and they serve other purposes. They are beneficial for military personnel and law enforcement officers. Some users also like to use them during outdoor activities like hiking and camping.
The standard tactical boots are designed to help you in walking over the concrete surface. However, you may also move through the muddy terrains, thick foliage, and tall grass. Heavy-duty tactical footwear can prevent slippage and endure weather elements.
On the contrary, light-duty tactical boots ensure mobility. But, when you do not know your purpose, you can choose all-terrain tactical boots.
What Are the Different Types of Tactical Boots?
Tactical boots are available in a range of styles:
The standard boots have a basic design and are best for police and infantry soldiers. They are waterproof, slip-resistant boots with synthetic Leather and soft soles. You may also use them as all-purpose boots, as they can deal with any type of surface. They have moderate-level insulation to give the desired warmth to the feet.
Tanker boots have no laces, as they were originally intended for military corps. As there are no laces, nothing can interfere with the moving parts in the tank. However, workers who need to carry heavy machinery may also put on these boots. The best models have heat-resistant and slip-resistant properties.
Another available style is the jump boots, which have a reinforced heel with an integrated spring system. Some modern jump boots have stiff Leather, which cannot be bent easily.
How Do You Take Care of Tactical Boots?
Here are some tips for maintaining your tactical boots:
Cleaning your boots periodically prevents dirt and debris from damaging them. Clean the boots with a soft brush or cloth.
Tactical boots are often exposed to wet and damp situations. Apply the spray to a clean, dry surface and follow the directions.
Conditioning leather boots keep them supple and durable. Leather conditioner prevents drying and cracking. Let the conditioner soak in before wiping it off.
With time, tactical boot insoles wear out, producing discomfort and less support. Change them periodically for foot comfort and protection.
Keep tactical boots cool and dry when not in use. Avoid direct sunlight and moist storage, which might damage the materials.
Follow these guidelines to keep your tactical boots in great shape and ready for any mission or activity.
FAQ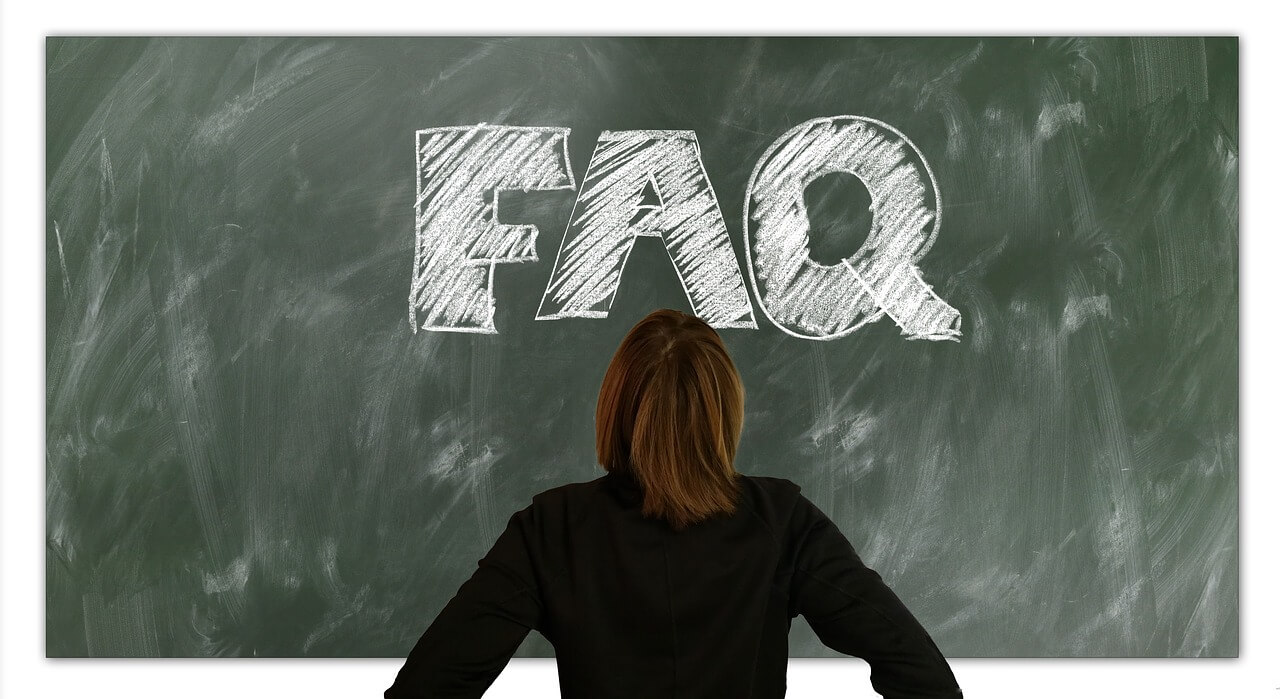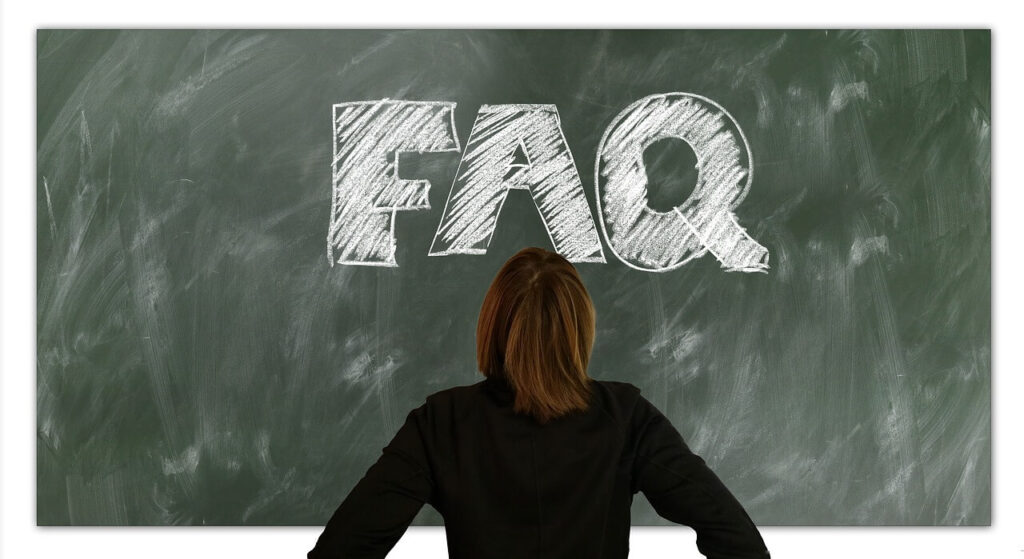 How do flat feet cause problems?
Flat feet can affect overall health. As the fallen arches cannot sustain your feet, you may feel foot pain. In most cases, flat feet cause plantar fasciitis- a condition due to overstretched tendons. Your feet will also have severe pain in the morning due to this condition.
How are tactical boots different from conventional-style combat boots?
Both combat boots and tactical boots are useful for professionals working with the armed forces. Although these boots are similar, there are slight differences in the overall construction. For instance, combat boots last longer and have a heavy-duty design. On the contrary, tactical footwear is comparatively lighter and thinner. During your military training sessions, your feet need more movement, and that's why you can choose tactical shoes. While combat boots include both outsoles and midsoles, tactical boots have a single sole. However, the sole of the tactical boots is softer than the combat boot's outsole. Tactical boots can be the perfect choice for those working with the armed forces. Army officers and gunmen like to wear them. On the contrary, combat boots can be the better option when you need to walk over rough terrain.
Does the flat foot prevent you from working with the military force?
The rule is that candidates with symptomatic flat feet and chronic lower leg pain are not entitled to provide military service. But asymptomatic flat feet with normal functioning are acceptable. Thus, until you find any symptom, you do not need to be concerned about it. Still, you must wear the right boots to maintain the health of your feet.
Why do law enforcement offers prefer side zip boots?
Boots are one of the parts of the uniform of the law enforcement officers. The choice of the right boots can prevent injury. However, some officers prefer tactical boots with side zip. Most importantly, they can easily get on and off these zippered boots. To take action in an emergency situation, they need to put on the boots fast. Moreover, side zip boots have some space at the top section for tucking your pants into them. Those with wider ankles can choose these zippered boots. However, the problem occurs when the zipper gets damaged. Thus, while buying the side zip shoes, you have to check the zipper quality.
Conclusion
You can now start shopping for the best tactical boots for flat feet. We have picked the well-tested boots that have received positive feedback from users. Our intensive research has enabled us to find the right boots for different purposes. These well-cushioned, breathable boots protect your feet from pain.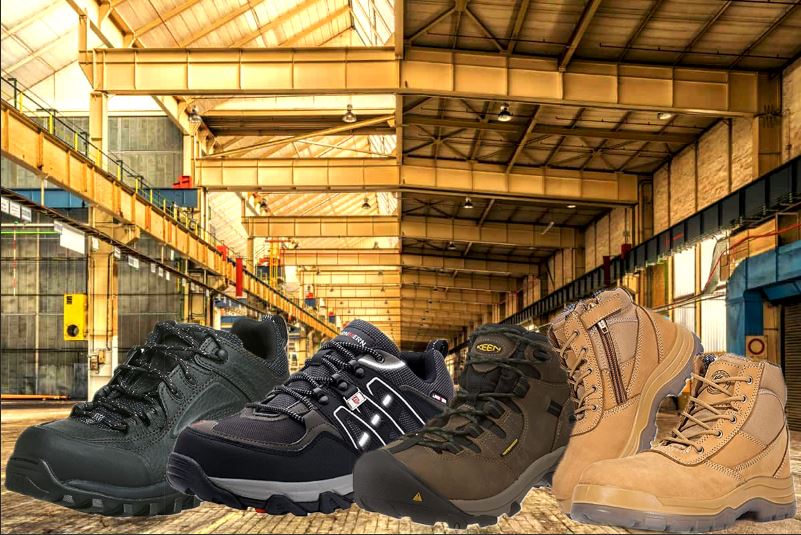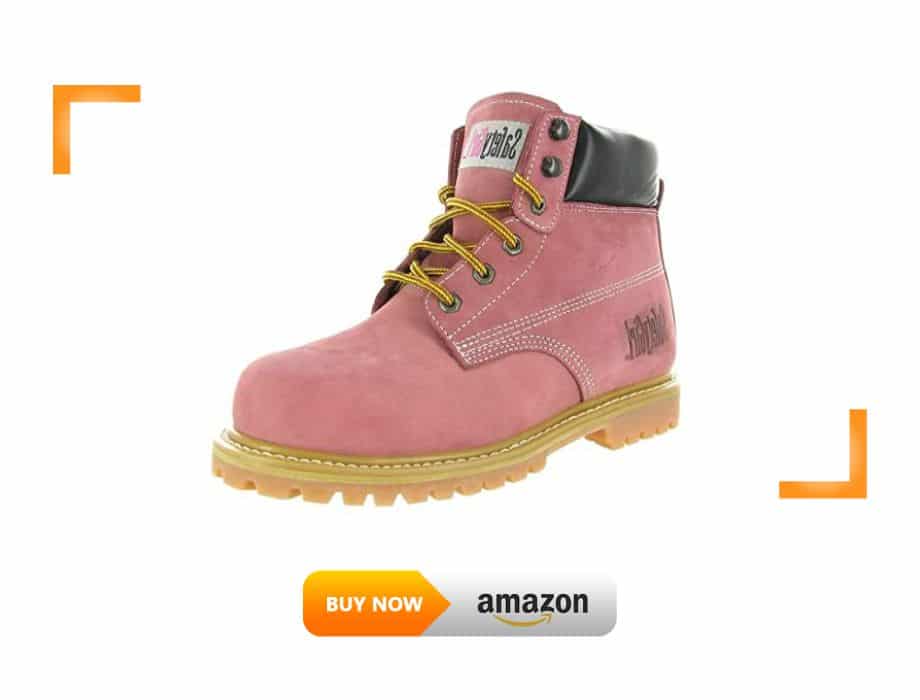 How to Condition Leather Boots