Flat feet can be the biggest concern for workers who need to put much pressure on their feet. There are insoles and shoes designed to alleviate pain from flat feet. Although some shoes have steel toes, they cannot prevent strain on their feet.
Fortunately, footwear manufacturers have designed work boots to ease your flat feet pain. Thus, you have to look for the best work boots for flat feet.
Some individuals have flat feet since birth, while others suffer from it due to injuries and age. Flat feet become painful, especially when you need to place them on a hard concrete surface.
Initially, the flat feet condition seems painless and harmless. The pain will slowly become more intense, and you may not stand comfortably on your feet.
That is why most of us try to overlook the issue. In due course, you will feel that the condition needs your attention.
Why Having Flat Feet Is A Problem
Challenges People With Flat Feet Face When Wearing Regular Boots
Flat feet, or fallen arches, occurs when the entire foot contacts the ground when standing, as opposed to forming the typical arch. For individuals who suffer from flat feet, choosing the wrong footwear can lead to significant discomfort and pain.
Wearing regular boots, for example, can be particularly challenging for those with flat feet as they offer insufficient arch support. Below are some of the challenges that people with flat feet face when wearing regular boots.
Lack of arch support leading to discomfort or pain
Pronation, causing the feet to turn inward
Reduced stability and balance
Uneven weight distribution
Fatigue and stress on the feet and lower back
To avoid these challenges, it is necessary to choose the right boots that provide enough support.
Choosing Boots That Provide Enough Support
When it comes to flat feet, it's necessary to choose work boots that have additional features to offer enough support. Here are some of the features to look out for when choosing boots that provide enough support:
Arch support: Look out for boots that have built-in arch support to help relieve pressure on your feet.
Insoles with cushioning: Shoes with cushioned insoles help absorb shock and provide additional comfort.
Traction: When choosing boots, make sure they have a good grip to improve your balance and stability.
Choosing boots with these features will help alleviate the discomfort associated with flat feet.
How to tell if you have flat feet?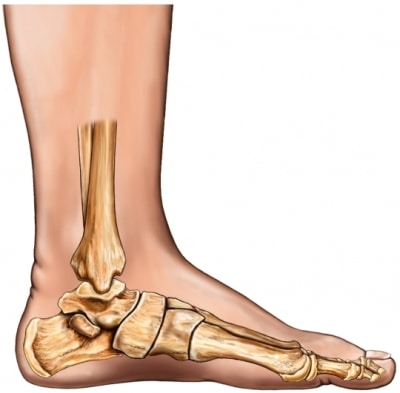 Normal feet of an adult have an upward curve in the mid-section, and it is known as the arch.
The arch includes tendons that are tight bands connected to your foot and heel bones. Several tendons in the lower leg and your foot create the arch.
Based on the condition of your tendons, you may have a normal to moderate arch.
However, there are ways to ensure that you have flat feet.
Wet your feet.
Stand on any flat surface and check the footprint.
Clear and perfect imprints of the overall shape of your feet's bottom indicate the flat feet.
Moreover, you can look for some other signs of flat feet. Your feet will feel tired very easily. You will have aching near your heels and arches.
The inside bottom part of the feet will get swollen. Furthermore, you cannot stand on your toes comfortably. Do not delay consulting a specialist when you have noticed these symptoms.
What exercises can I do to fix my flat feet?
The choice is a perfect pair of work boots is essential to alleviate your pain from flat feet. However, it is also important to do some workouts, which manage the flat feet issues.
We have listed the podiatrist-approved exercises that are best for patients with flat feet.
Short foot exercises
The major reason for doing the workout is to contract your foot muscles by raising the arch. You have to pull your big joints towards your heel.
Sit in a chair, keeping your feet properly on the ground.
Shorten your feet without crunching the toes.
Bring the feet' balls towards your heel. Repeat it 8 to 12 times.
Toe lifts
Toe lift exercises can make your feet muscles stronger. Your feet will gain balance and stability. You need to hold up your toes for 5 seconds. Then, you can put them down slowly.
Plantar fascia stretch
Flat feet cause much strain on your feet' ligaments. The plantar fascia passes along the base of your foot. Also, it remains attached to your heel bone and toes. When you have inflammation and pain from the condition, we call it plantar fasciitis.
Sit in a chair. Cross one of your feet over the knee of another leg.
Pull back your toes and stretch your feet' bottom.
Hold this position for a few seconds.
Massage the part and feel comfort.
Chiropractor could be a solution for your flat feet.
Calf wall stretch
It can treat the surrounding part of your feet. By ensuring a better range of motion of the ankle, this workout will make you feel comfortable. When you have tight, shortened calf muscles, you can choose this exercise.
What is the difference between flat feet and arched feet?
Both flat feet and arched feet are postural deformity issues of your feet. They can interfere with the normal walking pattern. There is also a risk of injuries with these foot conditions.
A flat foot refers to the condition where your arch support gets collapsed. Your soles will touch the ground. On the contrary, an arched foot is a condition when your arch is higher than the normal one.
The arched foot becomes painful, as the pressure and stress are in the heels and toes. This condition is also known as the Cavus foot, which causes your heel to tilt inward.
What type of running shoes are good for flat feet?
Overpronation is one of the problems for runners with flat feet. Thus, runners need to choose footwear that has stability features. Shoes with high stability are the perfect options for runners who have medium arches.
As they ensure better arch support and proper cushioning, they are better than the standard footwear. Those having flat feet and low arches can choose motion control shoes. These shoes will prevent inward ankle rolling problems.
Some flat-footed runners like to use custom orthotics with their shoes. This orthotics is useful as you feel discomfort while moving and walking around. Patients with plantar fasciitis may also use orthotics.
Best Work Boots For Flat Feet
You can indeed look for medical help to manage the pain from flat feet. However, it is also important to wear the right pair of shoes for this condition. That is why we have picked the best safety boots for flat feet. These boots will alleviate your pain, and you will perform better at work.
1. Georgia Giant Work Boots: Best work boots for flat feet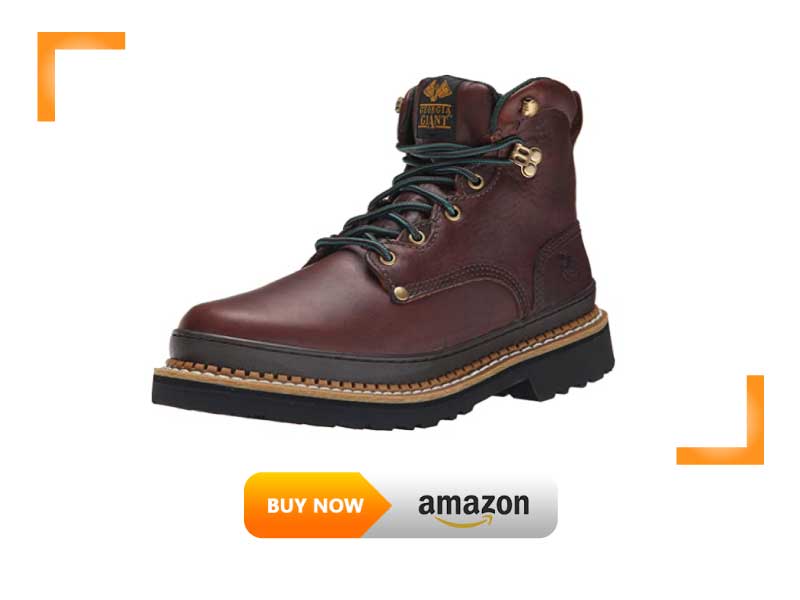 Specifications:
| | |
| --- | --- |
| Material | Leather |
| Design | Rubber sole |
| Safety toe | No |
Quality and comfort are significant reasons for choosing these work boots for your flat feet. Moreover, Georgia boots are rugged with special heel-stabilizing features. Workers with flat feet always desire comfort during their work hours. They will surely find the trait in this pair of work boots.
Features
Made of full-grain leather, the brown, polished boots can create your style statements. There is also a bumper guard to prevent abrasions. Moreover, the lace-up design ensures a proper fit.
The EVA midsole is softer than rubber, and that's why you will feel the ultimate comfort with your shoes. Georgia Giant has added several other features to your foot. The cushioned tongue, collar, and insole will prevent your discomfort.
Moreover, these lined boots will keep your feet dry throughout the day.
The use of genuine leather for the uppers of your boots has made the footwear durable. The rubber sole also lasts long, and you will feel a better grip while walking over an oily surface.
To add more strength to the boots, manufacturers have created Goodyear Welt construction.
Although there are no steel toes, Georgia Giant has incorporated other features to keep your feet safe. The lightweight polyurethane Georgia giant outsole is resistant to oil and chemicals. Moreover, the boots have a high shaft (6"), and your ankles will not roll inward.
An Amazon customer said, "It is my second purchase of footwear from this brand. I have found both durability and quality in this pair of boots.

The decent insole is spongy, and I have felt comfortable throughout the day. The small rubber border between the leather and the sole is another noticeable feature of the boots.
Pros
Best for severely collapsed arches
Padded design
Steel shank to energize your step
Cons
2. KEEN Utility Flint Low Steel Toe Work Shoe: Best steel toe work boots for flat feet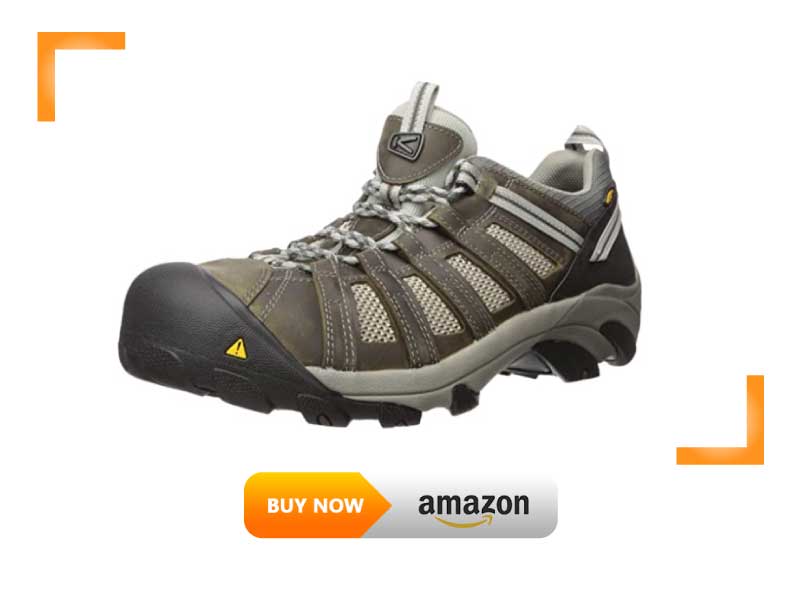 Specifications:
| | |
| --- | --- |
| Material | Nubuck leather |
| Design | Rubber sole |
| Safety toe | Steel toes |
KEEN Utility has created a unique design for its work boots. Several industrial workers have claimed that it is one of the best steel toe boots for flat feet. The durable and well-constructed shoes can last long. These boots are available in different colors ranging from cascade brown to forest night.
Features
The low-cut design has added a style to your work boots. However, hikers may also try out these boots while getting over the rocky terrains and steep hills.
Moreover, the asymmetrical toe protection ensures a perfect fit for your right and left feet. Due to the spacious toe box, your toes can breathe properly.
The NXT antimicrobial properties also give you comfort, as they keep your shoes free from bacteria and odor.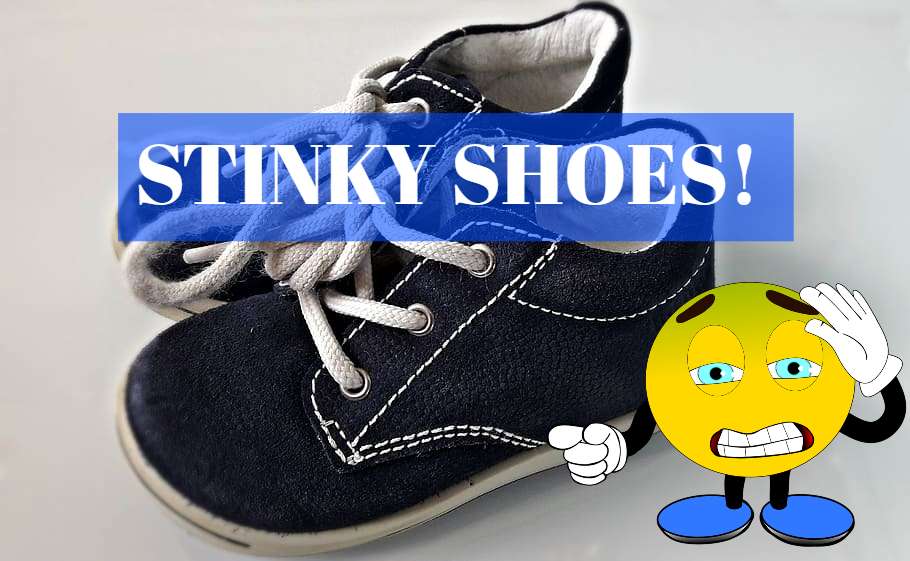 Made of synthetic materials and leather, these work boots have high longevity. KEEN Utility has used the Nubuck leather for the uppers of the boots, and it has amazing waterproofing qualities. Thus, you can walk in wet conditions safely and comfortably.
The steel toes with molded reinforcement will protect your toes from sharp and heavy objects. Moreover, these shoes are abrasion-resistant, and you will feel safe while wearing them.
The boots include a Torsional Stability Shank in the midfoot, and it will make you feel balanced. Your feet will feel secure will while you are walking.
Furthermore, the rubber outsole ensures that you cannot slip. The EVA footbed can mold to your feet' shape. Thus, these work boots are perfect for flat feet and feet with pronation.
An Amazon customer said, "I bought these work boots 8 months ago. As a warehouse worker, I need to wear these shoes for more than 10 hours. However, they have minimal wear in the sole and steel toe."
Pros
Snug fit designed
Anatomically engineered
Safeguards against abrasion
Cons
3. Justin Original Men's Double Comfort 4760: Best cowboy boots for flat feet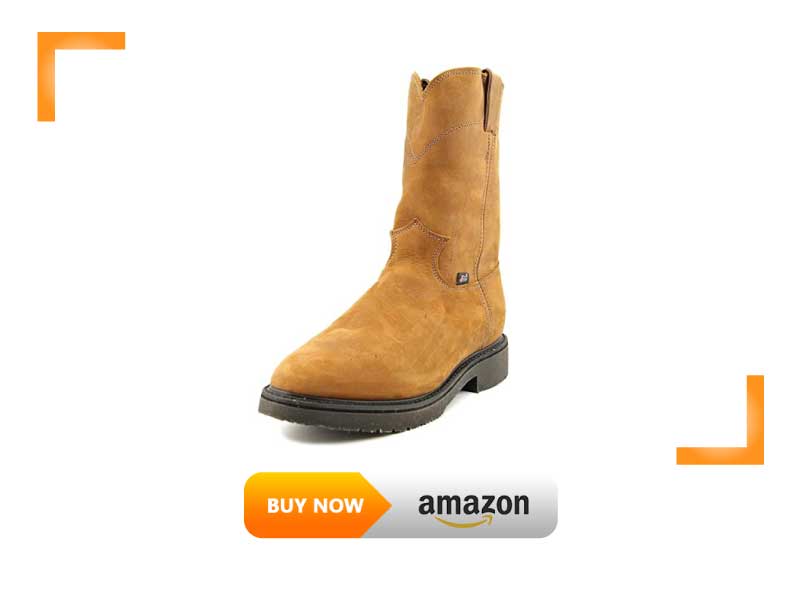 Specifications:
| | |
| --- | --- |
| Material | 100% Leather |
| Design | Rubber sole |
| Safety toe | No |
We have chosen these boots for workers who are searching for footwear with a distinctive design. As these boots have a cowboy style, they have a tall shaft to protect your ankles, feet, calves, and shins.
Features
Justin has maintained the best standards while designing these boots for men. The rubber sole not only lasts long but also gives you the desired comfort.
The leather-covered insoles and triple density insole boards are some other characteristics to minimize the pressure on your feet. Workers with flat feet can invest in these boots to feel best at the worksite.
The leather upper material is of high quality, and it can last long. Moreover, the boots have 90-degree rubber heels, which have added durability to the overall design.
As there are no laces, you have almost no risk of injuries. The polyurethane outsole is resistant to heat and oil. You will feel comfortable and safe at your worksite. Especially, laborers, supervisors, electricians, plumbers, and truck drivers like to wear these shoes.
An Amazon customer said, "Justin has made a slight adjustment to the design of these shoes. But it has made the footwear better, as I have already purchased the previously released boots.

The leather is soft and comfortable. However, I am not sure about the waterproofing qualities of the shoes"
Pros
Cushioned insole
Flawless stitches
Highly resilient design
Cons
4. SOREL – Caribou Waterproof Boots- Best Women's work boots for flat feet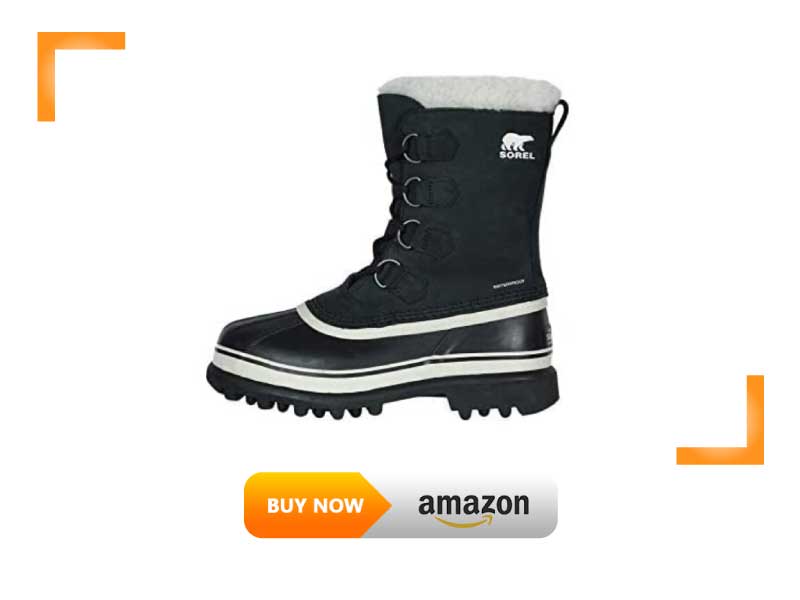 Specifications:
| | |
| --- | --- |
| Material | Full-grain and suede Leather |
| Design | Rubber sole |
| Safety toe | No |
SOREL has carefully and considerately designed the women's work boots to make them feel comfortable during the winter season. The solid-colored shoes with a white border have an elegant style. SOREL has a perfect blend of quality materials and urban design.
Features
On the chilly winter days, you can show your style with these snow boots. You can run on the snow-filled road without feeling discomfort. The heel height is about 1 1/6″. The 2.5mm bonded felt keeps your feet from snow and cold.
There is also a fleece near the boot opening to make you feel warm. Moreover, these boots have room for your thick socks. The inner sole is removable and washable, and you can clean them regularly.
The full-grain and suede leather is the premium material used for these boots. The Nubuck leather used for the uppers has a lasting design. Moreover, due to the seam-sealed construction, your feet will have no issue while walking over the heavy snow.
You can put on the shoes on both humid and cold winter days. Moreover, the rubber sole lets you feel a better grip on any surface.
SOREL has made these shoes unique with the handcrafted vulcanized rubber shell. As it is waterproof, you can put on the shoes in almost any season.
According to Amazon customers, "These SOREL boots look comically huge. Still, I love them, as they feel cozy and have an inner lining. Truly, they are good for walking over the snow-covered road."
Pros
Ensure both style and comfort
A seam-sealed design
Vulcanized rubber shell
Cons
5. FREE SOLDIER Men's Waterproof Work Boots: Best waterproof work boots with an anti-puncture design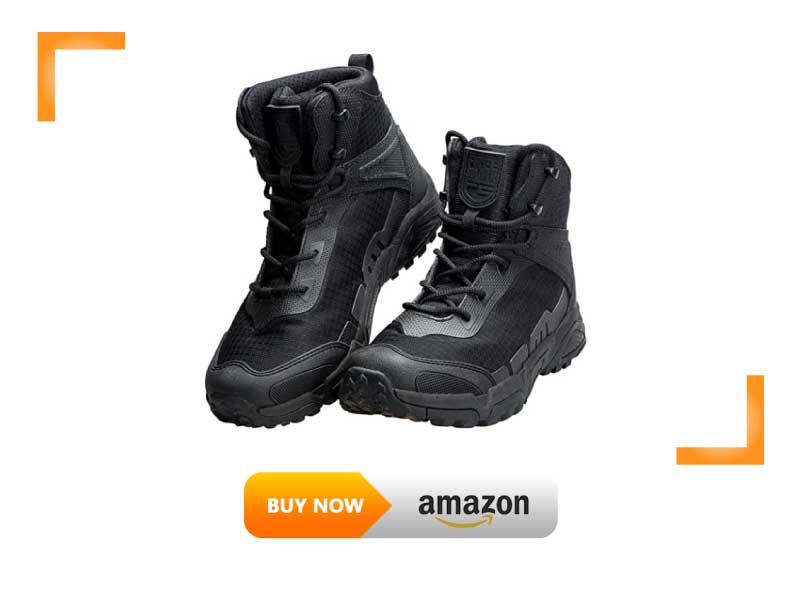 Specifications:
| | |
| --- | --- |
| Material | Synthetic |
| Design | Rubber sole |
| Safety toe | Anti-kick toe cap |
We have chosen versatile boots that you can use on different occasions. You can wear these work boots while doing different activities like snowboarding, hunting, snow shoveling, skiing, and ice fishing. These tactical boots have an ultralight style, which makes them unique and good for flat feet.
Features
These boots have a lightweight design available in different sizes. Moreover, they have waterproof qualities best to be used in any condition. Your feet will not feel fatigued. These shoes have a tactical design that reflects a casual style.
The breathable lining keeps your feet dry. The removable insoles also let you customize your boots. The wide opening ensures that it is easy to put your feet into the boots. There is also a waterproof coating applied over the outer surface.
You will also find waterproof lycra cloth lining with these shoes. Furthermore, the gusseted tongue prevents the access of sands, pebbles, and dirt into your boots.
Designed with plaid fabric, these boots have durable uppers. The anti-puncture design ensures that no sharp object can get into your boots. The TPU materials used for the boots are also wear-resistant.
The skid-resistant boots have a geometrical pattern at the base. The wear-resistant and non-slip boots make you feel safe. The anti-collision design and strong toecaps are other noticeable safety features.
An Amazon customer said, "Love these work boots….they are as comfortable as sneakers. They have water resistance and are easy to put on. However, the finger loop is much small. No break-in needed….best sole for walking over roofs and other surfaces."
Pros
Durable laces
Waterproof boots for men
Wear-resistant
Skid-resistant
Cons
Guide to buying the best work boots for flat feet
Work boots are available in a range of styles and colors. However, as you are buying footwear for your flat feet, you have to check the features thoroughly. Without a pair of right shoes, your flat feet would be painful.
Moreover, safety features are highly important because you need to walk over different rough and slippery surfaces. We have listed the vital factors for buying your work boots.
Durability of materials
Materials used for the boots can make a difference in the durability level. The most commonly chosen materials are-
Genuine Leather– Leather has been highly popular as a footwear material. Work boots made of leather are highly resilient and breathable. Moreover, the moisture-absorbing capacity is another reason for choosing premium leather. The best leather shoes are capable of resisting wear and tear caused by your regular use. However, as they are costly, some buyers look for other alternatives.
Man-made leather– Boots made of synthetic leather are cost-effective options. For instance, urethane and vinyl are the commonly chosen synthetic materials used for work boots. But they do not have good absorbency rates.
Nylon mesh– There are several safety boots made of nylon mesh. The best fact is that the nylon mesh safety shoes for flat feet are lightweight and have high breathability. But they are not waterproof and can undergo deterioration within a short time.
Rubber– Due to its thickness, several footwear manufacturers have used rubber for their boots. The rubber construction can give superior protection to your feet. The thick rubber can resist water and can endure your long-term use. One demerit of rubber is that it can cause sweaty feet. So you may choose shoes best for sweaty feet if you have sweaty feet.
Composite materials– The high-end work boots for flat feet are made of composite materials. As they are composite materials, they constitute multiple types of materials. Each of these materials has its original properties.
Water resistance
The best work boots have water-resistant qualities due to their special design. Their outsoles are thicker than regular boots. Moreover, they have some unique parts like the quarter, lining, tongue, and vamp.
The uppers of these boots are made of leather. The insoles are also comfortable and breathable. Some specially designed insoles are capable of trapping heat while releasing moisture.
Soles
The soles of your shoes play a role in distributing your weight consistently. The lifted soles let your arches rest properly. However, you must check the sole materials of your shoes. The rubber soles are resistant to abrasion and oil.
Thermo-polyurethane (TPU) also has these properties, and they can resist splitting. Some work boots have EVA soles for better weight dispersion and stability. EVA soles can give you the ultimate comfort.
However, EVA is used only for mid-soles and not the outer soles. As it provides good cushioning, it makes the boots comfortable for users.
Safety features
Several workers look for the best steel toe boots for flat feet, as they can protect their toes from injuries. Moreover, these boots have a special underfoot to ensure protection against electrical circuits.
When your feet have touched the electrical wires, they will have no risk. Make sure that your work boots have these safety features. Although steel toes are heavy, they can conduct electricity.
More tips for choosing the work boots for your flat feet
Do not choose slip-on shoes- You can prefer footwear with laces and buckles. They are easily adjustable for your comfort.
Identify your foot's size and shape before purchasing the work boots.
Wear normal socks with your boots.
FAQ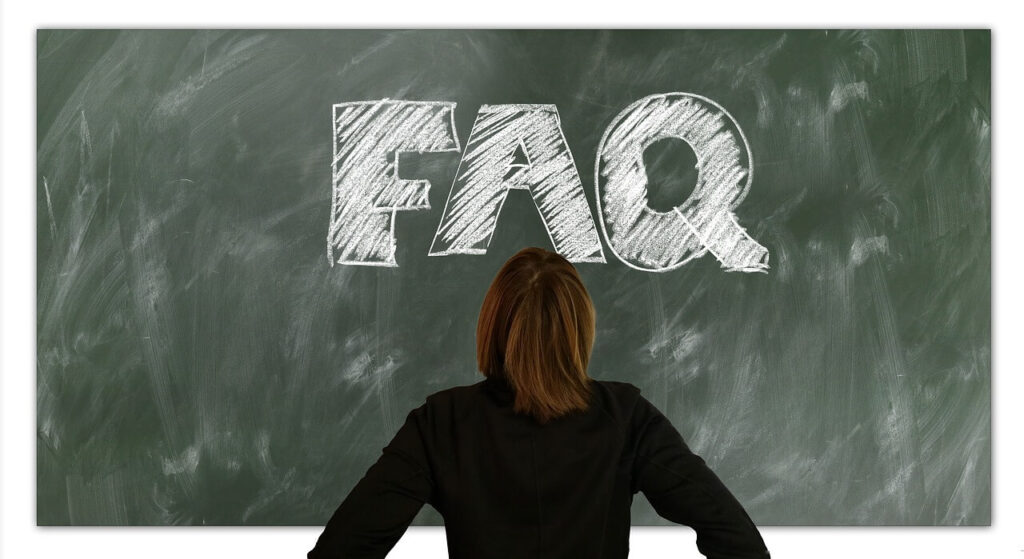 Can you join the army if you have flat feet?
Most feet can be considered flat. But only a small part of them is flat, and this condition may be acceptable in the military and other sectors. However, serious malformation of your feet will prevent you from joining the army. It is especially true for those having a backache, knee pain, and chronic leg pain. This condition will make you disqualified, and you cannot work with the military force. Asymptomatic flat feet with normal functioning will not be an issue in your professional life.
Can you play sports with flat feet?
Balance and footwork are highly important for different sports activities. To play basketball, football, tennis, and any other games, these two things are vital. However, a flat foot can result in instability and imbalance. You will feel a lack of power and fatigue during continuous sports activities. Due to the overworking flat feet, you will have other complications like muscle spasms, plantar fasciitis, and calf fatigue. From the soul to the heel, you will have pain. Runners also claim that they face issues while running with their flat feet. But there are special shoes for runners with flat feet. You can try out innovatively designed footwear to solve the flat feet problem.
How long do work boots last?
Work boots are designed to make you feel safe and comfortable at hazardous worksites. However, you may use them for several other purposes. These boots can last for at least 8 to 12 months for workers who need to walk over hard and rough surfaces. High-quality leather boots can last 2 to 10 years for your normal use. But there may be a difference in longevity due to the lack of maintenance. Take care of your work boots and make them long-lasting.
What features are important to buy the most comfortable work boots for flat feet?
The best work boots for flat feet on concrete have a unique design, which holds your arch and gives you comfort. Moreover, they must have padding to ensure the correct position and shock absorption. Another important thing is the heel counter, which adjusts your gait to a proper angle. Some shoes have heel locking mechanisms for motion control and reduced pronation. Furthermore, you must check the shank, which helps in distributing your weight across your feet. The best work boots for flat feet have shock absorption capacity to reduce pressure.
How do waterproof work boots differ from water-resistant footwear?
Water-resistant boots are capable of preventing only some amount of water from accessing your boots. On the contrary, waterproof work boots have polymers that prevent water from getting into your footwear. These work boots are impervious to water, and you cannot find this quality in water-resistant boots.
Conclusion
We have presented you with our well-researched review of the best work boots for flat feet. To make a purchase, you can read the details of every product and decide on the right pair of shoes. Ordinary shoes cannot protect your flat foot from pain.
That is why we have selected the specially designed work boots. Some boots are versatile, and you can use them for several other purposes.