Every profession comes with a set of unique challenges. Being a logger is no easy feat. Workers involved in the lumber industry have to undertake the laborious job of felling trees and loading them onto trucks for transportation. The work is much harder than it sounds because it involves several challenges at each step.
Yet, when it comes to outdoor work or adventure, having the right pair of boots is crucial. And for those in the logging industry, a reliable and durable pair of logger boots is a must-have.
The best forestry boots are a vital part of preparing oneself to be a professional logger. But with so many options on the market, it can be difficult to determine which pair is the best fit for your needs. That's where our review of the best logger boots comes in.
I've researched and tested some of the top options available, taking into account factors such as comfort, safety features, durability, and overall performance.
Whether you're a professional logger or simply in need of sturdy boots for your outdoor activities, we've got you covered with our comprehensive review of the best logger boots on the market.
Understanding The Importance Of Wearing The Right Logger Boots
As a logger, your job is physically challenging and involves working in a high-risk environment. It's essential to wear proper protective footwear to keep you safe from potential accidents. Logger boots are different from regular work boots, and they offer additional features that cater to the specific needs of loggers.
In this post, we'll help you understand why it's crucial to wear the right logger boots and how they can protect you from common risks associated with logger work accidents.
What Are Logger Boots?
Logger boots are a specialized type of work boots designed to meet the specific needs and requirements of loggers who work in a hazardous environment. These boots offer excellent protection to your feet and provide additional features that cater to the specific needs of loggers.
Here are some of the features that make logger boots stand out:
High ankle design to provide support and prevent ankle sprains.
Thick soles to protect your feet from falling objects, sharp objects, and electrical hazards.
Waterproofing and insulation to keep feet dry and warm in the cold and wet conditions.
Steel-toe or composite-toe protection to protect the feet from crush injuries.
Slip-resistant outsoles to prevent falls and slips.
Common Risks Associated With Logger Work Accidents
As a logger, you face several risks every day that require a high level of protection. Here are some of the common risks of logger work accidents that highlight the importance of wearing the right logger boots:
Falling objects: Heavy equipment and trees can fall, resulting in serious foot injuries.
Slips, trips, and falls: The rugged terrain, slippery logs, and uneven surfaces make it challenging to maintain balance and avoid falls.
Chainsaw injuries: Chainsaws are hazardous tools that pose serious risks to your feet if you accidentally drop them or cut yourself.
Electrical hazards: Logging sites have electrical hazards like power lines, which can cause electrical shocks or burns.
Logger Boots Vs. Regular Work Boots
Many people believe that regular work boots are sufficient for logger work, but they are mistaken. Here are some of the differences between logger boots and regular work boots:
Design: The high ankle design of logger boots provides better ankle support, while the thick soles offer superior protection to protect you from accidents.
Protective features: Logger boots come with protective features like steel toes, waterproofing, and electrical hazard resistance, whereas regular work boots don't have these features.
Durability: Logger boots are designed to withstand harsh terrain and extreme weather conditions. Regular work boots may not be as durable and sturdy.
Wearing the right logger boots is crucial for preventing potential risks and protecting your feet from accidents. It's essential to choose boots that offer adequate protection and features that cater to the specific needs of loggers. So, invest in a quality pair of logger boots to keep yourself safe and protected on the job.
What Problems do Loggers Face at Work?
Loggers often have to climb uneven, marshy, or rocky terrain to fall trees and source the timber. Forests and hilly terrain are the sites where loggers mainly function. It is a hard job that requires proper foot support and can result in extreme fatigue and foot pain.
In worse cases, lack of adequate support can cause accidents like slipping and falling on such terrain.
Moreover, transportation of the acquired timber also poses several risks where they may roll and land on the worker's feet, causing injuries and fractures of the toe bones.
What Are Logger Boots Used For?
The best logger boots are created to aid workers in facing challenges by providing them with the right kind of support needed for the job. Climbing uneven terrain and marshy lands, and maneuvering through bushes and muck need tremendous traction for proper stability.
Forests have rugged features that require extreme stability at each step when a person makes his way through mud, rocks, and debris. Logger boots have raised heels and highly lugged outsoles to increase the traction.
Best logging boots are also helpful in keeping the loggers protected at work from fractures due to heavy objects and accidents by shielding the feet with safety toes.
On the whole, the best logger work boots serve as heavy-duty footwear ideal for logging as well as other risky jobs like farming, ranching, and linework. Logger boots are good for concrete work as well.
Going by the toppers in the work boots, the best models would definitely be Red Wing logger boots, Carolina logger boots, and other most reliable brands like Timberland, Georgia, and Chippewa.
They manufacture the best steel toe logger boots for enhanced protection and powerful performance for professional workers.
This article will guide you to know all the details regarding the best logger boots for everyday work. Understand the vital features that go into making the most comfortable logger boots.
Here you can also find detailed reviews of the 10 best logger boots made in the USA to choose the one that seems the best for your needs.
Top 10 Best Logger Boots In The Market
Georgia Boot Men's 8″ Safety Toe Logger Boot
Chippewa Men's 9″ Waterproof Insulated Steel-Toe EH Logger Boot
Skechers Women's Laramie 2-Mid-4-eye Logger 3m Scotchgard Chukka Boot
4. Carolina Boots: Men's 8 Inch Waterproof Logger Boots CA8821
5. Timberland PRO Men's 9″ Composite Safety Toe Waterproof Insulated

Logger Boot

Georgia Boot AMP LT Logger Low Heel Waterproof Work Boot
Timberland PRO Men's Rip Saw Composite-Toe Logger Work Boot
Danner Men's Logger 8″ 400G Nmt Work Boot
Wolverine Men's W05523 Chesapeake Boot
Carhartt Men's 8″ Waterproof Composite Toe Leather Logger Boot CML8369
Here you can find a comprehensive list of the most comfortable logger boots if you are looking for one.
1. Georgia Boot Men's 8″ Safety Toe Logger Boot
SPECIFICATIONS:
If you are looking for highly durable logger boots, look no further than these safety toe Georgia logger boots. These are extremely long-lasting and will go strong for years before you need a replacement. It's one of the best logger boots available in the market.
Design
The high heels make the boots suitable for loggers, providing extra support and protection. These boots are made of waterproof premium-grade leather, which helps you work in all weather conditions. The abrasion-resistant outsole and the Goodyear welt construction increase the durability of the shoes.
Traction
You must have the best traction while working as a logger. Georgia enhances the traction of these logger boots by creating the best rubber outsoles that provide excellent grip. Once you have them on your feet, you can expect the best stability you have ever found.
Comfort and Protection
These Georgia logger boots are the best work boots for loggers and they are meant to keep your feet dry and warm always in all weather conditions. The waterproof leather does its job and provides you comfort even on soggy grounds.
The safety toe protection prevents your toes from getting hurt if you accidentally fall on uneven terrain. These best steel toe logger boots also come with an electrical hazard rating, which can be life-saving in case of electrical shocks from live wires.
Ryan remarks, "These are my 2nd pair of logger boots from Georgia, and I admit that I am a fan of these boots. I have never got better traction, even on the most difficult terrains. It's a sure-shot winner for me.

I use them almost every day, and the last pair went strong for quite a few years, even after the rough use. Also, the best feature about these boots is that they are truly waterproof. They do what they claim and keep my feet dry always."
KEY FEATURES:
100% leather body
Slip and abrasion-resistant rubber outsole
Goodyear welt construction
What is a Goodyear Welt Construction?
Goodyear welt construction is a great invention of shoe technology which is basically stitching to the upper of the shoe and a strip act as a different layer that's located all around and bottom of the shoes or boots and firmly placed to the insole and connects the outsole or midsole.
Lace-up closure
Steel toe cap
Rear pull-up
ASTM F2413 Electrical Hazard protection
PROS:
Waterproof.
Steel toe protection.
Excellent traction
Highly durable
Marvelous construction
Keeps the feet dry and comfortable
Easy maintenance
Electrical hazard protection
Raised heels
CONS:
Need better arch support.
2. Chippewa Men's 9″ Waterproof Insulated Steel-Toe EH Logger Boot
SPECIFICATIONS:
Chippewa logger boots are simply the best ones in the market, always impressive and inimitable in their design, quality, and long-lasting life. The brand is genuinely a top ranker in creating super logger boots for supreme performance.
Construction
The premium-grade leather crafted through the Goodyear Welt Construction method makes these boots superbly durable. They are sturdy enough to withstand daily, rugged use.
Also, the Chip-A-Tex membrane lining prevents water from seeping in, making the boots waterproof in all conditions, whether you walk on mud or marshy lands.
Support
These Chippewa men's logger boots have got everything covered to keep you absolutely safe, protected, and supported. Expect the best traction on all grounds with the Vibram Tacoma outsole, reinforced with deep lugs.
As a logger, you need this support to walk through the rocky paths and unpredictable forest lands. The steel toe and the ASTM Electrical Hazard rating ensure that you remain safe in case of any unforeseen accidents.
Comfort
Comfort is one of the main reasons to go for Chippewa. They are designed to comfort your feet at each step while you hike through hilly lands.
These boots cushion your feet so well that you won't feel the shocks sent by the rugged rocks and pebbles on the tracks or get fatigued after every few minutes.
Moreover, they have Ruby Dri Lex 2000 lining to wick off the moisture and keep your feet dry and comfortable always. These extremely comfortable, waterproof shoes eliminate the chances of pain, injuries or blisters, and infections even if you wear them for long hours.
Thus, if you are looking for the best steel toe logger boots, you must give Chippewa logger boots a try for all their worth. It's a choice you won't regret.
Tim writes, "This is the first time I chose Chippewa, and it took just a month to become a die-hard fan. These are the finest pair of boots I have ever owned.

Having tried different logger boots as a part of my profession, I can surely say that these offer the best support and traction for climbing the terrains without any difficulty. I am in love with the comfort level every time I slip these on."
KEY FEATURES:
100% leather body
Synthetic slip-resistant outsole
9″ shaft from arch
Goodyear leather welt construction
Chip- A- Tex waterproof bootie
ASTM Electrical Hazard rating
Ruby Dri Lex 2000 lining
3M Thinsulate Ultra Insulation
PROS:
Extremely durable
Holds up very well even after daily use.
Easy maintenance.
Electrical hazard protection.
Best insulated logger boots for colder months.
Waterproof.
Comfortable for long hours.
Excellent traction.
Best steel toe logger boots.
CONS:
3. Skechers Women's Laramie 2-Mid-4-eye Logger 3m Scotchgard Chukka Boot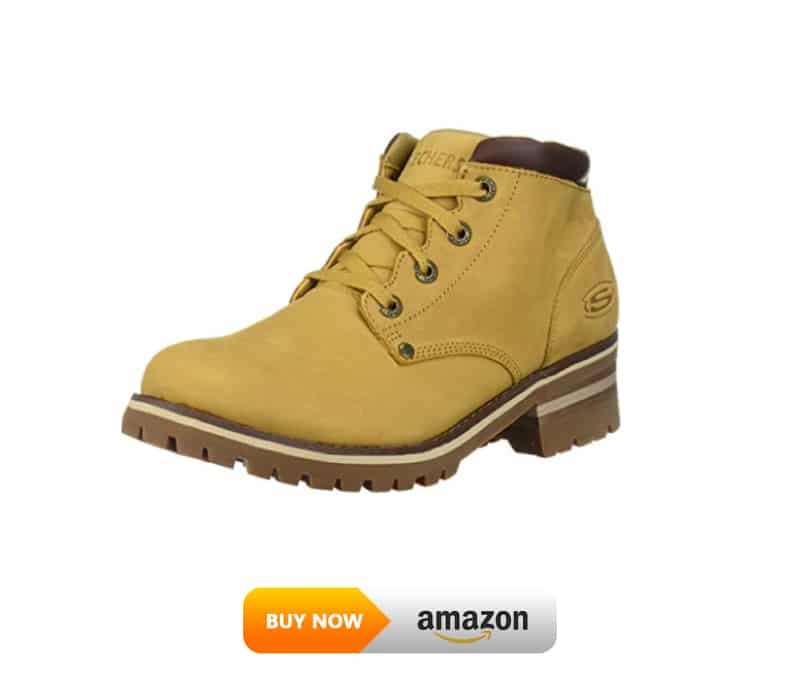 SPECIFICATIONS:
Skechers is a trustworthy name in women's logger boots, manufacturing pairs as durable and heavy-duty as the wide range of male logger boots.
Women, too, need heavy protection and support for these challenging outdoor jobs, and Skechers makes you meet such daily pressures with ease.
If you read more about it you will know why we say that it's one of the best work boots for loggers.
Support
The fabric and synthetic Skechers Laramie Logger Work Boots for women are some of the most enduring ones you can find. Their excellent build helps you work effortlessly on all grounds and in any kind of weather.
The raised heels make them perfect for proper heel, ankle, and arch support to work as a logger or hike long, difficult paths.
Traction
The deeply lugged rubber sole makes it an ideal choice for women who wish to hike on hilly tracks and not let anything become a hindrance. They grip the ground and give you the right push to walk and climb for long hours.
Comfort
These best women's logger boots from Skechers perfectly contour a woman's feet and give a snug fit throughout the day.
The padded collar enhances the cushioning to the ankles. The 3M Scotchgard upper makes the shoes completely waterproof, not letting any moisture seep inside. It helps keep your feet dry and comfortable no matter whether it rains or you walk through marshes and bogs as a logger.
Also, these are not at all heavy and are the most comfortable lightweight logger boots.
Brenda writes, "It's difficult to find well-made and competent logger boots for women. At least I hadn't met good luck till I found these Laramie Skechers. I must say that I am very, very pleased with these.

They are the best women's logger boots you can see in the market, given their durability and comfort level. I have put them through rough use at work every day, and they have still endured everything and given the best support to my feet.

These aren't too heavy, and I find them good enough for walking long distances."
KEY FEATURES:
Fabric and synthetic body
Rubber outsole
Ankle-high
3M Scotchgard treated upper
Soft nubuck leather upper
PROS:
Perfect women's logger boots.
Very durable.
Padded collar provides good cushioning.
Good arch support.
Raised heels make climbing easier.
Waterproof.
CONS:
No steel toe protection.
No tall shaft.
4. Carolina Boots: Men's 8 Inch Waterproof Logger Boots CA8821
SPECIFICATIONS:
Carolina undoubtedly manufactures some of the best logger boots made in the USA. These tall and handsome Carolina logger boots are all you need to perform to the best of your abilities every time. The incredible craftsmanship and trademark quality make this one worth every penny you pay.
Build
Crafted from premium-quality copper Crazyhorse leather, these Carolina logger boots take no time to become your favorite and most reliable work boots. The resilient leather is equipped with a water-repellent membrane and prevents water from seeping inside. These best waterproof logger boots keep your feet dry always.
Traction
The outsoles are oil-and-slip-resistant, reinforced with lugs on the surface to improve traction. You can walk on slippery surfaces or uneven grounds with immense support from these wonderful boots. They give you a whole new confidence to tread better.
Comfort and Support
People often ask, "Are logger boots bad for your back?" Logger boots shouldn't hurt the feet or the back even a little if they have excellent arch and heel support like these from Carolina.
These super logger boots have steel shanks inserted between the outsoles and the insoles for the best arch support. This boot gives you excellent stability for climbing ladders, poles, and uneven lands, without straining your arches and heels.
They eliminate foot fatigue and pains so that you can concentrate on your work instead of the sharp pain cutting through your feet. As a logger who needs to walk through such territories for long stretches of time, these supportive shoes are essential.
Kevin comments, "These boots are about six months old now, and so far, I have used them extensively without complaints.

I use them through all kinds of terrain and have even walked on wet grounds wearing them. Not only have they given me an excellent grip on the land, but they have also kept my feet dry.

I also love how they keep my feet warm when the weather gets too cold. I definitely recommend these to all fellow loggers as one of the best work boots for loggers."
KEY FEATURES:
Copper Crazyhorse leather
100% waterproof membrane
Electrical Hazard rating
Lugged rubber sole
PROS:
Excellent traction.
Completely waterproof.
Great arch support.
Raised heels.
Reduces foot fatigue.
Easy maintenance.
Very comfortable.
CONS:
• No safety toe protection.
5. Timberland PRO Composite Safety Toe Waterproof Insulated Leather Logger Boot [lightweight]
SPECIFICATIONS:
If you have been suffering from plantar fasciitis, and cannot endure the throbbing pain in the heels and the arches every day at work, it's time to shift to better boots. These most comfortable logger boots from Timberland can be a savior in this case.
Support
Timberland logger boots are an ideal pair of work boots to walk through even the most rugged terrains as a logger. The raised heels and the excellent arch support make pain a thing of the past.
These are just what you need to walk confidently and without pain over any kind of land with ease. Moreover, the slip-resistant outsole ensures that you maintain stability even on slippery surfaces.
Comfort
When it comes to comfort in colder climates, these best-insulated logger boots can be just what makes your day. The Thermolite material is flame resistant and helps to keep your feet warm always, irrespective of the climate outside.
The Anti-Fatigue technology provides extra comfort and cushioning to the feet at each step, not letting you feel any pain at all. The contoured insoles offer the best comfort you can ask for.
Protection
The composite toe protection makes these boots lighter than the bulky steel toe ones. Thus, if you are looking for lightweight logger boots with optimum protection and comfort, Timberland can be a worthy choice.
The composite safety toe saves you from accidents such as a saw accidentally landing on the feet. The outsole is also puncture-resistant to keep you doubly protected everywhere.
Dennis comments, "These are my second pair of Timberland boots. The first pair lasted nearly six and a half years, which is quite long. I would say that they served every part of the money I had paid for them.

They are immensely comfortable after they break-in, and you can use them in rain or shine without worrying about anything. They keep you warm and dry and also make you forget about foot pain even after 8 to 10 hours at work."
KEY FEATURES:
Made from 100% Leather/Textile
Slip-resistant rubber sole
9″ shaft from arch
Composite safety toe
Thermolite insulation
Shock-absorbent Anti-Fatigue Advanced Technology
Puncture-resistant plate underfoot
Contoured insole
Waterproof membrane
PROS:
Extremely comfortable.
Best suited for those with plantar fasciitis.
Insulated for colder weather.
Very durable.
Waterproof.
Raised heels.
Adequate traction for loggers.
Reduces foot fatigue.
CONS:
6. Georgia Boot AMP LT Logger Low Heel Waterproof Work Boot

[For Flat Feet]
SPECIFICATIONS:
These are another pair of Georgia logger boots that are specially designed for people with flat feet. Flat-footed people often have a minimal choice in work boots suited for specific professions. Georgia designs these best logging boots that take care of the needs of flat feet and provide great arch support with a low heel.
Construction and Durability
Firstly, the Goodyear welt construction makes these best logger work boots extremely durable. They are going to last you a long time before you need to reinvest.
The full-grain SPR leather body is hardy enough to withstand years of rough use in all kinds of weather. It can endure the elements and still provide you with the best support and protection. The abrasion-resistant leather increases the lifespan of the boots.
Support
Secondly, coming to the support system of the shoes, it's one of the highlights. The rubber outsoles are oil-and-slip resistant to a great extent and make them ideal for wearing on slippery surfaces without falling.
They are perfect for climbing uphill tracks full or walking on bumpy grounds. These boots also have dual-ribbed steel shanks fitted inside to improve arch support and minimize pressure on the heel while walking on difficult terrain as a logger.
The low heel and steel shank support makes it the best choice for loggers with flat feet.
You should definitely try these top-rated logger boots for flat feet to see the difference.
Comfort
The EVA midsoles in these men's logger boots minimize foot fatigue and cushion the steps to absorb the shocks sent by hard, rocky surfaces.
The padded collar increases warmth and coziness, while the waterproof system keeps your feet dry no matter where you walk.
Dave writes, "These were sturdy work boots that gave superb comfort for even the most prolonged hours at work.

They broke in fast, and since then, I haven't had any complaints regarding pain, which were really a botheration due to my flat feet."
KEY FEATURES:
Made of full-grain SPR leather
Rubber outsole
Goodyear welt construction
Padded collar
Removable brush guard kiltie
EVA midsole
1″ heel
Milled Brass Hardware
Heel-stabilizing Counter Lock
Georgia Waterproof system
Double-ribbed steel shank
ASTM F2892 electrical hazard rating
PROS:
Excellent choice for flat feet
Waterproof
Great arch support
Cushioned midsoles
Extremely comfortable for long hours
Electrical Hazard rating protection
Durable construction
Brilliant traction
CONS:
A bit on the heavier side.
7. Timberland PRO Men's Rip Saw Composite-Toe Logger Work Boot
SPECIFICATIONS:
Timberland once again is a winner in making the most comfortable logger boots for people with wide feet. These PRO Men's Rip Saw Composite-Toe Logger Work Boots are spacious enough to accommodate large feet while providing ample support to hike through challenging terrain every day.
Support
These logger boots amp up your support and stability by equipping you with a slip-resistant outsole that helps you be steady on all grounds.
Even if you walk on rocks or mud, you can expect to walk steadily without falling or finding any difficulty. The raised heels and the arch support further aid in walking through such paths. This is of utmost importance to a logger.
Comfort
These Timberland logger boots were born to eliminate pain from your daily routine. The dual-density advanced Anti-Fatigue technology cushions the feet and absorbs all the shocks sent by bumpy, uneven surfaces.
Walking for long hours on such rugged paths is one of the reasons why loggers suffer from foot pains. These logger boots have the best footwear technology to ward off such unwanted troubles from your profession.
Moreover, these boots are breathable, cozy, and have a special Vibram Fire & Ice outsole to let you walk at any temperature with enhanced flexibility.
Protection
Timberland has fortified the boots with a puncture-resistant plate underfoot to prevent any sharp object from piercing it to double up your safety. It keeps your feet safe from accidental injuries and also increases the lifespan of the boots.
Moreover, these boots have composite toe protection and meet all safety standards to protect you from heavy objects falling on your feet.
However, they are not bulky like the steel toe varieties and are instead one of the best lightweight logger boots.
David says, "These boots broke in as soon as I wore them, and I can happily say that these are the most comfortable pairs I have ever purchased.

I have worn them on long hikes through hills and woods, and the ankle support and traction have left me satisfied always."
KEY FEATURES:
Made from 100% synthetic
Slip-resistant rubber sole
9″ shaft from arch
Mid-cut design
2″ heel
Composite safety toe
Vibram Fire & Ice outsole
Dual-density dynamic Anti-Fatigue technology
Puncture-resistant plate underfoot
Waterproof lining
PROS:
Extremely comfortable.
Eliminates foot fatigue.
Very durable.
Ideal for wide feet.
Spacious interiors.
Boots are waterproof.
Puncture-resistant outsole for protection and extended lifespan
Breathable.
Excellent traction.
CONS:
8. Danner Men's Lightweight Logger Work Boot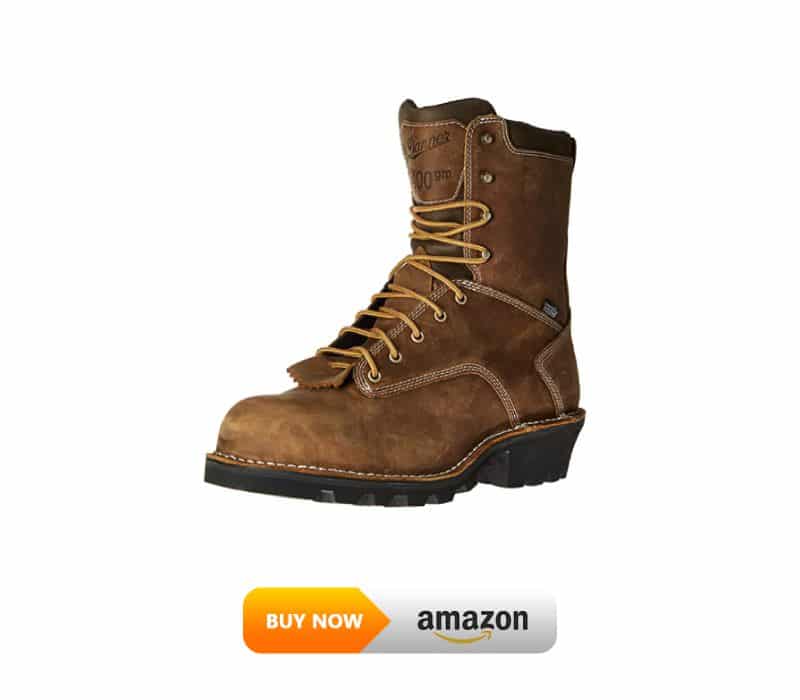 SPECIFICATIONS:
If you are particularly looking for lightweight logger boots, with enhanced durability, cushioning, and great arch support, Danner has got the answer. These Danner logger boots are the perfect combination of all the qualities, making them a worthy choice for your profession.
Comfort
The best feature of these Danner boots is their cushioning. The Ortholite footbed provides comfort while you continue with your work for hours.
They won't make your feet feel the shocks sent by the rugged grounds. The Bi-Fit technology shank makes the boots more flexible and increases stability and comfort.
Support
Crafted out of long-lasting oiled nubuck leather, these Danner 8″ Waterproof Work Boots have a long lifespan and can perform heavy-duty work. The Vibram outsole increases traction to support your steps and improve stability.
Protection
These boots meet the standards of protection with their non-metallic safety toe. They can save your feet from mishaps at work, even though the safety toe could have been better when compared to other brands.
But, these boots are waterproof, and they can protect your feet from the elements if you are working in damp conditions.
Joe says, "Being a logger, I was on the lookout for waterproof, comfortable boots that did not make my feet throb in pain after all the climbing. These were the only two features I wanted in my everyday work boots.

These Danner boots satisfied me with their waterproofing, warmth, and comfort. They also broke in quite quickly and never gave me any pain at the end of the day."
KEY FEATURES:
Made from 100% oiled Nubuck leather
Danner Dry waterproof technology
Non-metallic safety toe
Bi-Fit shank
360-degree Vibram outsole
400G of Thinsulate Ultra insulation
PROS:
Very lightweight boots.
Insulated for cold weather.
Waterproof.
Bi-fit shank increases flexibility and stability.
Very comfortable cushioned footbed.
CONS:
Safety toe can be better.
9. Wolverine Men's W05523 Chesapeake Boot
SPECIFICATIONS:
Wolverine brings you another best steel-toe logger boots. The Wolverine Cheapsake Logger Work Boots have the endurance to go strong through the most challenging outdoor work environments.
These men's logger boots are all you need to walk through jagged lands and marshy grounds, searching for timber.
Design
Crafted out of high-grade leather, the unique Wolverine contour welt construction has reinforced these boots. It makes them extremely durable and sturdy. The quality is one of the best features of these Wolverine logger boots.
Comfort
Coming to the next best feature, comfort is one of the reasons why Wolverine should be on your feet. The satisfying level of comfort makes it the ideal footwear for strenuous hikes through woods and rocky lands.
The patented Wolverine DuraShocks footbed absorbs the shocks sent by such surfaces to eliminate chances of pain and foot fatigue.
You will simply love the arch support and cushioning. The moisture-wicking mesh linings enhance the breathability to keep you at ease.
Protection
These men's logger boots protect your feet from getting wet with their excellent waterproofing. Moreover, the steel shanks protect the mid-foot and arch from suffering from unbearable pains.
The steel toe protection is an added advantage to keep you secured from sharp and heavy objects landing on the feet.
Brian says, "These stunning pair of classic work boots from Wolverine is really my best purchase. These are spacious enough for my feet, and I am in love with the comfort they provide. Even after an entire day of work, I do not feel anything hurting my feet.

The leather seems smooth and comfortable, like slippers. I have worn them in the woods all day, and they have endured everything I have put them through over the last 2 years."
KEY FEATURES:
Made from high-grade leather upper
Synthetic sole
Steel toe
Electrical Hazard protection
Patented Wolverine contour welt construction
10″ shaft from arch
2″ heel
Removable cushioned insole
Moisture-wicking mesh linings
Nylon shank
Steel shank
PROS:
Extremely durable.
Protection from accidents.
Shock-absorbent footbed provides total comfort.
Sturdy construction.
Lugged outsoles provide excellent traction.
Easy maintenance.
CONS:
Slightly heavy and stiff.
10. Carhartt Men's Waterproof Composite Toe Leather Logger Boot
SPECIFICATIONS:
Carhartt manufactures top-rated logger boots that live up to the reputation of the American brand and performs what it claims. They are excellent for loggers who have to put their feet through extremely exhausting work with walking and climbing.
Construction and Durability
Carhartt Waterproof Composite Toe Logger Work Boots are made of premium-quality, oil-tanned leather using Goodyear welt construction for extra durability. These robust boots can last you for years, withstanding the elements and the extensive use a logger puts them through.
Comfort
The cushioned insoles will make you fall in love with these boots. The PU insoles absorb the shocks and reduce fatigue when you walk on bumpy grounds that can otherwise take a harsh toll on your feet.
Expect to stay warm on the cold days because the shoes have 400 gm of 3M Thinsulate insulation to keep you warm and cozy. Moreover, the TPU heel system improves flexibility.
Safety
Lastly, this composite toe logger boot protects your feet from workplace hazards. They are equipped to shield electrical shocks and prevent fractures due to heavy objects falling on the feet.
Kyle says, "These boots didn't take any time to break in. I wore them right on the day I purchased them, and they seemed very comfortable.

I wear them for the best part of the day at work, and the comfort they provide is surely one of the reasons I am repurchasing them. I have tested them on wet and soggy grounds, and my feet have remained dry and warm."
KEY FEATURES:
Made from 100% oil-tanned leather
Waterproof membrane
Goodyear welt construction
Composite safety toe
Molded TPU heel
PU cushioned insoles
Rubber sole
8.5″ shaft from arch
2″ heel
Insulated 400 gm lite fire
Electrical Hazard rating
PROS:
Very flexible due to the TPU heel.
Offers protection from accidents and fractures.
Protects the feet from electrical shocks.
Robust build.
Durable lifespan.
Extremely comfortable for long hours.
CONS:
Runs bigger than usual size.
Must-Have Features

In The Best Logger Boots
The following are some of the vital must-have features in the best logger work boots.
• Raised Heels-
The best logger boots always come with raised heels to elevate the feet. They provide proper heel support and also keep the ankles steady. Raised heels are important for outside work as they are best suited for jobs that require climbing heights.
Walking uphill or climbing over rocks and other rugged surfaces puts tremendous pressure on the midfoot and the heels. Raised heels eliminate the pain and fatigue that such work can bring about.
• Slip-resistant outsoles-
Logger-style boots must always have a highly slip-resistant outsole. These outsoles are made of rubber or PU. They are meant to prevent you from slipping while walking on all kinds of surfaces.
While you walk on slippery surfaces such as muddy grounds or smooth rocks, these outsoles help you maintain your stability. Moreover, the outsoles should also be abrasion-resistant to make them durable for heavy-duty outdoor work.
• Aggressive lugs-
Logger boots must have a heightened level of traction support when compared to other work boots. Thus, along with slip-resistant outsoles, they must have aggressive lugs on the bottom.
The outsoles should be highly lugged to help the shoes grip the ground easily and aid in climbing the most challenging surfaces and preventing falling or losing stability. Sometimes, you also get logging boots with spikes for outstanding grip on the ground.
• Tall shaft-
Logger boots must also come with a high shaft for increased protection. They should cover well past up your ankle and reach at least till the middle of your calf.
It is necessary to protect the feet from bushes, thorns, insect bites, creepers, and moisture while treading through forest paths. Tall shafts also provide a snug and warm fit to make you feel comfortable.
• Waterproof, full-grain leather-
Coming to the body and material of the logger boots, they should be made out of premium-quality, full-grain leather for a tough and durable exterior. Soft leather cannot withstand the rugged conditions of hills and forests.
Moreover, the boots need full-grain, tough leather to be durable enough to last for years, even after heavy use through difficult terrain.
The most important feature here is that the leather must also be waterproof to protect the feet in all types of weather conditions.
Even if it is raining outside, or you need to walk through marshy or muddy lands in the forest, the waterproof logger boots must keep the feet dry and warm.
Choosing the best waterproof logger boots is of utmost importance to withstand such unpredictable conditions.
• Steel toes and shanks-
Most logger boots come with steel toe protection, which is essential in keeping the workers safe. Steel toes protect you from any accidents that may injure or fracture the toe bones.
Mishaps are common in risky jobs, and transportation of timber may result in a heavy log rolling off and landing on the feet.
A steel toe can resist the impact and save your toes from getting fractured in such unfortunate cases.
Some of the best logger boots also have steel shanks fitted between the outsole and the insole for extra support to the midfoot for climbing surfaces.
They provide increased support when you have to climb up ladders or walk uphill through rocky paths. It helps to reduce the pressure on the midfoot, thus eliminating the chances of pain and fatigue.
• Welt construction-
Logger boots should generally have a Goodyear welt construction because it's the most durable form available.
Since logger boots have to endure rough use in the most rugged terrains for long hours, they must be highly durable and resistant to easy damage.
How To Choose The Best Logger Boots For You
Best Logger Boots For Protection
When it comes to working in hazardous environments, safety is a top priority. Logger boots are a must-have for those who work in the logging industry, as they provide crucial protection to keep feet safe. However, with so many options available on the market, choosing the best logger boots that suit your needs can be a daunting task.
Here, we'll outline some key factors to consider when selecting logger boots, including assessing your work environment, sizing and fit, and budget.
Assessing Your Work Environment
Before investing in a pair of logger boots, it's important to assess your work environment to determine what level of protection is needed. Consider the following:
Terrain: Is the terrain flat or uneven? Are you working on rocks or loose soil?
Hazards: Are there any sharp objects, such as branches, debris, or nails? Is there a risk of falling debris or heavy objects?
Weather: Will you be working in wet or dry conditions? Are there extreme temperature fluctuations?
Knowing the answers to these questions will help you choose logger boots that offer the appropriate level of protection. Look for features like steel toes, puncture-resistant soles, and waterproof materials.
Sizing And Fit
Choosing the right size and fit is crucial for comfort and safety. Here are some tips for getting the right fit:
Measure your feet: Use a ruler or measuring tape to find your foot length and width.
Try on boots in the afternoon: Feet tend to swell throughout the day, so it's best to try on boots later in the day when your feet are at their largest.
Wear the right socks: Make sure you wear the socks you'll be wearing on the job when trying on your logger boots.
Know your boot size and width: Different brands may run differently, so check the size chart and reviews before purchasing.
Budget
Logger boots can range in price from around $50 to $300, depending on the manufacturer, materials used, and level of protection. It's important to consider your budget when selecting logger boots, but also keep in mind the old adage, "you get what you pay for.
" Invest in a high-quality pair of logger boots that will last and provide the protection you need.
Choosing the best logger boots for protection entails considering the work environment, sizing and fit, and budget. It's essential to find boots that provide the necessary level of protection, fit well, and are made with quality materials within your budget.
By keeping these factors in mind, you'll be well on your way to finding the perfect pair of logger boots to keep you safe on the job.
Maintaining Your Logger Boots: Tips And Tricks
Best logger boots for protection: maintaining your logger boots: tips and tricks
Logger boots are an essential protective gear for workers in the logging industry. They are designed to offer safety and support to their feet in a hazardous work environment. In particular, logger boots are made of tough, durable materials that can withstand heavy use.
It is essential to keep your logger boots in good condition to ensure they provide the optimal level of protection. Here are tips and tricks to help you maintain your logger boots.
Proper Cleaning
It is crucial to clean your logger boots after each use to maintain their durability. Proper cleaning of your logger boots will help to prolong their lifespan. Here are some cleaning tips to help you:
Remove the laces from the boots
Use a soft-bristled brush to scrub away the dirt and grime on the boots
Clean the soles of the boots with a scrub brush and soapy water
Rinse the boots with clean water
Dry the boots with a towel and leave them in a well-ventilated place to air dry.
Storage Guidelines
How you store your logger boots will go a long way in determining their durability. Here are some storage tips to help you:
Ensure the boots are clean and dry before storage
Stuff the footbeds of the boots with newspaper to help retain their shape and prevent odor
Store the boots in a cool, dry place, away from direct sunlight or heat
To prevent the boots from becoming stiff, condition them with a leather conditioner every six months.
Repair And Replacement
Make sure to address any issues with your logger boots promptly. Failure to repair issues in good time can lead to further damage, minimizing the boot's durability. Here are some tips:
Inspect the boots regularly for any signs of wear and tear
Consult with a professional cobbler for any repairs that may be needed
Replace the boots when any significant damage occurs, such as a puncture or tear.
By following the above tips, you can significantly prolong the lifespan of your logger boots. Regular cleaning and proper storage, coupled with timely repairs, will ensure your boots provide optimal protection and support whenever you need them.
Frequently Asked Questions About Logger Boots
Final Words
Finding the right pair of logger boots can make a big difference in safety, comfort, and performance. After testing and reviewing some of the best options, we've found that Georgia logger boots is the best choice for people who want logger boots that are reliable and last a long time.
Its waterproof premium-grade leather, best traction, and the fact that it works well in a wide range of conditions make it a top choice for both professionals and outdoor enthusiasts.
But we also know that everyone has different needs and tastes, so we've put together a list of several other great options that can fit a wide range of needs and budgets.
In the end, the best logger boots for you will depend on your needs, so we suggest giving your options a lot of thought before making a purchase.
With the right pair of logger boots, you can do even the hardest outdoor jobs safely and in comfort.