Leaving your feet unprotected at work, especially if your job has its share of hazards and risks of accidents, is an offense to your health. Compromising your protection isn't acceptable on any grounds.
To keep performing well at work and earn your living, you must ensure complete protection by choosing personal protective equipment to get fool-proof support and minimize the risks of accidents.
Metatarsal safety boots are a vital part of the personal protective equipment that keeps your feet safe and secure and is the most resilient form of protection against most risks.
All hazardous workplaces require workers to wear metatarsal boots complying with ASTM standards. That's why after tons of research I have come up with this guide to the most comfortable metatarsal boots.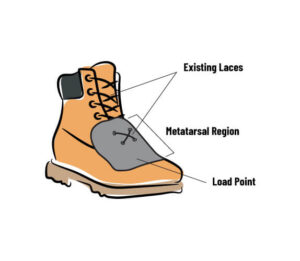 What is the ASTM standard?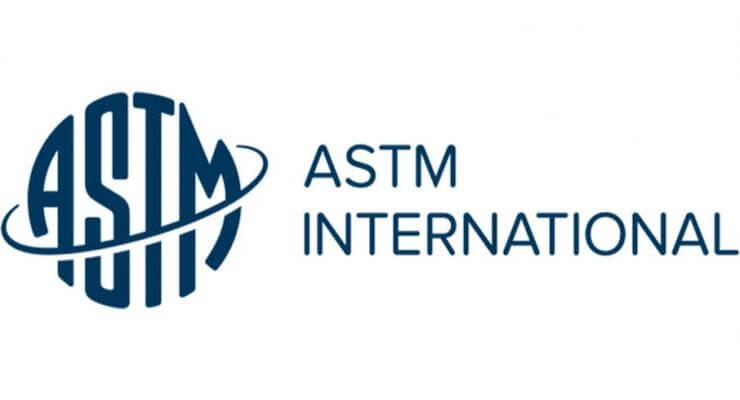 ASTM International is an American organization that sets technical standards for a wide range of materials, products, systems, and services to ensure safety from hazardous jobs.
Known as the American Society for Testing and Materials, there are six standards related to testing materials: test method standard, practice method standard, specific standard, classification standard, guide standards, and terminology standards.
The ASTM certification offers industries, companies, and brands to prove their compliance with a third-party list of standards to regulatory bodies.
ASTM F2413 is a certification for footwear that considers their design, performance, testing, etc., to certify that they can protect customers against potentially harmful workplace hazards.
Footwear claiming to have metatarsal protection must follow some, if not all, of the requirements to get the ASTM F2413 certification.
These include metatarsal guards, steel or composite toes, electrical hazard protection, cushioned insoles, etc.
Importance Of Comfortable Metatarsal Boots In The Workplace
If you work in an industry that demands time on your feet, such as construction, mining, or manufacturing, your work boots are one of your most valuable tools. Metatarsal boots provide protection to the delicate and essential body part of the feet.
Comfortable boots enhance productivity, keep you safe from injuries, and improve your posture and balance. Let's explore each in more detail.
Comfortable Work Boots Reduce Foot Fatigue And Pain
Wearing comfortable work boots can make a world of difference when it comes to foot fatigue and pain. When your feet ache, it's tempting to sit down and rest, but rest is not always possible in some work settings. Your work boots play an enormous role in determining how long you can stay on your feet.
Here are a few ways comfortable work boots reduce foot fatigue and pain.
Proper arch support reduces the pressure on your feet by aligning the foot's bones properly.
Cushioning can absorb the shock from hard surfaces and protect your feet from impact injuries.
Lightweight materials can reduce the weight of the boots, making it easier to move around with less fatigue.
Properly Designed Boots Improve Posture And Balance
Your work boots' design can significantly impact your posture and balance, which can affect your entire body over time. Proper footwear can alleviate the stress on your joints and muscles, which helps you maintain better posture and balance. Below are several ways the right boots will improve posture and balance.
Properly fitting work boots with a supportive insole help align your feet, legs, and spine.
Grippy, non-skid soles of the boots offer better traction, reducing the risk of slipping and falling.
Metatarsal Boots Protect Against Crushing And Impact Injuries
Working in an industry that demands laborious manual work comes with its risks, which means your feet need protection from dropped objects, blunt force, and compression. Metatarsal boots offer protection against crushing and impact injuries. These boots feature metatarsal guards that protect the upper part of your feet, which are some of the delicate bones in your body.
Here is how these boots protect your feet.
Metatarsal guards prevent objects from crushing the delicate bones by absorbing the impact of the blow.
The steel toe cap provides additional protection against injury from falling objects.
When shopping for metatarsal boots, ensure that the boots meet the industry standards for impact protection. Comfortable metatarsal boots are the perfect blend of protection and comfort. They offer ample protection to your feet while keeping them comfortable and pain-free.
Anatomical Fit For Maximum Comfort
Most Comfortable Metatarsal Boots: Anatomical Fit For Maximum Comfort
Finding the perfect work boots can be quite a challenge. However, one feature that should never be overlooked is a boot's anatomical fit. The perfect fit does not just mean size, but rather a combination of several features such as natural foot shape, arch support, and features that accommodate issues like bunions and high arches.
We will discuss the importance of proper sizing and width, the benefits of a natural foot shape and arch support, and features that accommodate bunions and high arches.
Importance Of Proper Sizing And Width
Sizing is critical when it comes to boots. Boots that are too small can cause pressure points, while those that are too big can cause blisters and instability. Always measure your feet before buying boots and ensure that the size is accurate.
Width is equally important. Wide boots are essential for people with wider feet because they provide adequate space. Boots that are too narrow can cause pain and discomfort, especially for those with foot conditions.
Benefits Of Natural Foot Shape And Arch Support
Boots that mimic the natural shape of your foot are vital for maximum comfort. Such boots have enough space for toes to move and enough support for the arches. This feature significantly reduces fatigue and foot pain that comes with extended hours of standing and walking.
Arch support is also critical, especially for those who suffer from flat feet. A boot with proper arch support helps distribute body weight evenly throughout the foot, reducing the risk of foot and leg issues.
Features That Accommodate Bunions And High Arches
Bunions can cause discomfort and pain for those who have them. A boot with a wide toe box and soft materials around the big toe area can minimize pressure and rubbing, reducing pain and discomfort.
High arches pose a challenge because they often require enhanced arch support. Finding a boot with removable insoles or customized orthotics can provide such support, effectively reducing discomfort and fatigue.
When it comes to choosing the most comfortable metatarsal boots, look for boots that offer an anatomical fit. Take the time to measure your feet, ensure proper sizing and width, and choose boots that mimic your foot's natural shape while providing adequate support.
Features that accommodate foot conditions like bunions and high arches can also significantly contribute to overall comfort. So, make sure to research and review each boot's features before making the purchase!
Supportive And Cushioned Footbed
Most Comfortable Metatarsal Boots: Supportive And Cushioned Footbed
When it comes to finding the most comfortable metatarsal boots, having a supportive and cushioned footbed is crucial. Your feet need adequate support to prevent injuries and pain, especially if you spend long hours on your feet. We will discuss the importance of proper shock absorption, the benefits of memory foam and gel technology, and the features that provide arch and heel support.
Importance Of Proper Shock Absorption
Shock absorption is essential to prevent foot injuries. When you walk on hard surfaces, your feet absorb the shock of your body weight, which can cause pain and discomfort.
Metatarsal boots with proper shock absorption help distribute the weight evenly across the foot, reducing the impact on the metatarsal bones.
High-quality boots have shock-absorbing materials such as eva (ethylene-vinyl acetate) or polyurethane foam, which can absorb shock and provide cushioning.
Benefits Of Memory Foam And Gel Technology
Memory foam and gel technology provide additional cushioning and support to the foot.
Memory foam molds to the shape of your foot, providing customized comfort and reducing pressure points.
Gel technology provides shock absorption and pressure relief, making it an excellent option for those who suffer from foot pain.
Both memory foam and gel technology are breathable and help keep your feet dry and comfortable throughout the day.
Features That Provide Arch And Heel Support
Arch and heel support are essential features of a comfortable metatarsal boot. These features prevent overpronation (rolling inward) and supination (rolling outward) of the foot, reducing the risk of injuries and providing maximum comfort.
Boots with contoured footbeds and arch support reduce stress on the arch of the foot, preventing painful conditions such as plantar fasciitis.
Metatarsal boots with a deep heel cup provide stability, preventing heel slippage, and reducing the risk of ankle sprains.
Having a supportive and cushioned footbed is crucial when it comes to finding the most comfortable metatarsal boots. Proper shock absorption, memory foam, gel technology, arch and heel support are essential features that ensure maximum comfort and prevent injuries. By investing in high-quality boots that offer these features, you can provide your feet with the support and cushioning they need to withstand long hours and keep you comfortable throughout the day.
Durable And Breathable Materials
Most Comfortable Metatarsal Boots: Durable And Breathable Materials
Finding the perfect pair of work boots that not only offer comfort but also provide safety is essential for those who spend a lot of time on their feet. Comfortable metatarsal boots ensure that you can work without experiencing pain while keeping your feet safe and protected.
We'll discuss some important factors to consider when choosing durable and breathable materials for metatarsal boots.
Importance Of Quality Leather And Construction
When it comes to choosing the right metatarsal boot, leather material is crucial. High-quality leather ensures durability and longevity, so you can keep wearing your boots without worrying about wear and tear. Besides, choosing boots with superior construction will also help prop up the feet so that fatigue does not set in.
Here are some more points to consider when thinking about quality leather and construction for your metatarsal boots:
Look for boots that are made with full-grain leather, and which is resistant to water, stains, and scratches.
The leather thickness should be above 2.0 mm.
Quality boots will have double-stitched seams for added durability.
The outsole, midsole, and insole should be made from sturdy materials that can handle immense pressure.
Benefits Of Waterproofing And Breathability
Your feet will be exposed to various weather conditions while wearing your boots, so it's essential to choose waterproof and breathable pairs. Boots that are waterproof help prevent feet from getting wet, which could lead to bacterial infections or other health risks.
Additionally, breathable materials allow air to flow in and out, allowing feet to stay cool and dry, which is especially important during summer.
For waterproofing, consider choosing boots that are constructed with gore-tex membranes.
Ensure that your boots feature breathable material such as mesh fabrics that allow air to circulate.
Consider buying boots with moisture-wicking linings that take sweat away from your feet.
Features That Prevent Odor And Perspiration Buildup
An odorous pair of work boots can often lead to other health problems, including fungal infections of the feet. Therefore, it's essential to choose boots that prevent odors and perspiration buildup. Many boots come with features to help keep your feet dry, clean, and smelling fresh.
Here are some features to consider for preventing odor and perspiration buildup:
Look for boots with antimicrobial technology that helps to reduce bacteria growth.
Invest in boots with removable insoles, so you can clean or replace them if necessary.
Choose boots with moisture-wicking linings that will take sweat away from your feet and prevent perspiration buildup.
Choosing the right pair of metatarsal boots will make your long work hours more comfortable, safe and enjoyable. When selecting your boots, always ensure that they have durable and breathable materials, waterproofing, and features that prevent odor and perspiration buildup.
With our guide, we hope you will be able to choose the perfect pair of comfortable metatarsal boots for your work requirements.
The benefits of metatarsal guards over other types of protective shoes are:-
Protection from metatarsal bone fractures
Metatarsal work boots must come with an internal or external metatarsal guard for the most effective form of protection for the bones. It's a protective shield, either fixed on the upper part of the shoes or sewn under the top layer to cover the metatarsal bones.
In both cases, the metatarsal guard maximizes the impact resistance of the footwear to save the wearer from accidents. Where heavy objects may accidentally crush the metatarsal bones, or sharp-edged tools may pierce through the surface to injure the area.
Thus, a metatarsal guard reduces the chances of injuries to the top of the foot.
What's the difference between safety toe and met guard? It differs from a safety toe as instead of protecting only the toe box area, it extends protection to the entire top of the foot.
Electrical Hazard protection
Most metatarsal boots also come with electrical hazard protection to protect the feet from dangerous electrical shocks at the workplace.
Protection from heat and spillage
Metatarsal guard shoes also protect the top of the feet from extreme heat, molten substances, chemical spillage, and solvents.
The guards resist the impact of heat or the potential damage by chemicals and other molten substances to save the feet.
Top 10 Most Comfortable Metatarsal Boots
KEEN Utility Men's Mt Vernon 6″ Steel Toe Metatarsal Guard Work Boot
Thorogood Men's GEN-flex2 Series – 6″ Cap Toe, Composite Safety Toe Boot
Oliver 25 Series 6″ Leather Smelter Boots
Timberland PRO Men's 40000 MetGuard 6″ Steel-Toe Boot
Ariat Men's Workhog Wide Square Metguard Composite Toe Work Boot
Dr. Martens, Men's Ironbridge Met Guard Heavy Industry Boots
Timberland PRO Men's Excave External Met Guard Work Boot
Michelin Work Boots: Steel Toe Boots With Metatarsal Guard
Timberland PRO Men's Endurance 6″ Steel-Toe EX MetGuard Industrial and Construction Boot
Carhartt Men's 6″ Energy Black Waterproof Composite Toe CME6351 Industrial Boot
Here you can find a comprehensive list of the most comfortable metatarsal work boots if you do not know where to find them.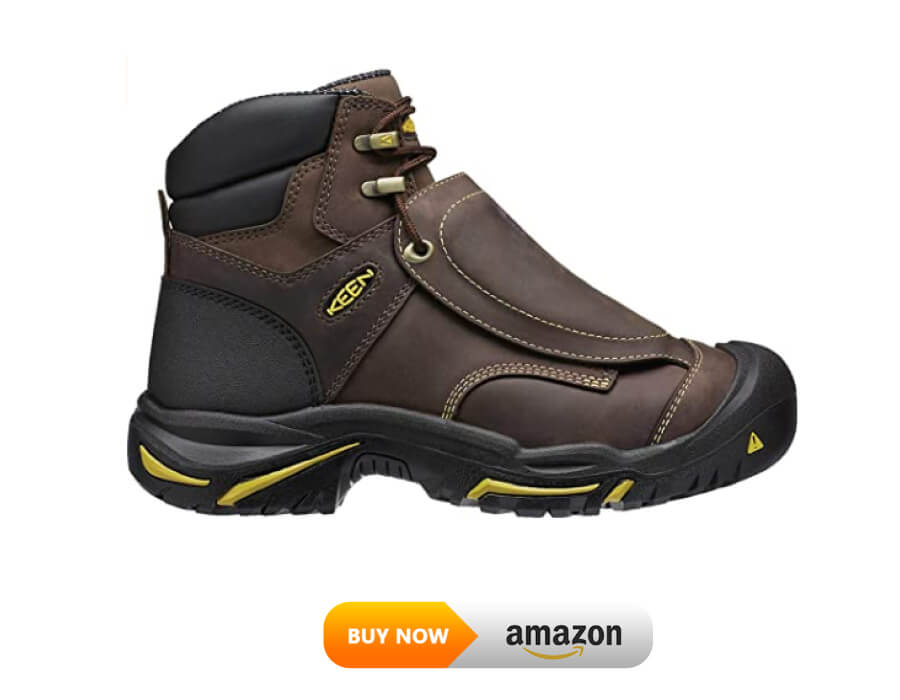 SPECIFICATIONS:
| | |
| --- | --- |
| Origin | USA |
| Material | 100% textile |
| Safety toe | Steel toe protection |
| Number of colors | 2 |
The KEEN Utility Mt Vernon 6-inch Steel Toe MET Work Boots are designed to equip you with the most substantial steel toe protection for the metatarsal area. It's the all-encompassing protective work boot you need to maximize your everyday safety.
Safety
The Keen metatarsal boots meet the ASTM standards and are capable of putting up superb resistance against impacts. Apart from the robust steel toe, a further metatarsal guard provides resistance against all kinds of pressures.
Additional protection keeps you safe from heat, flames, sparks, and abrasion. The outsole is also slip-resistant to eliminate the chances of slipping at the workplace. These features make the boots highly safe for heavy-duty environments, keeping you alive and kicking.
Comfort
Even though the exterior is tough, the work boots are comfortable for everyday work. The waterproof leather holds up well, and the interior construction has moisture-wicking capabilities to keep the feet dry and sweat-free. The wide toe box area provides enough room to accommodate the feet comfortably.
Construction
KEEN Utility boots are made and assembled in Portland using the finest techniques and materials. They are designed to be resilient and durable for customers.
However, the Mt Vernon Men's boots do not seem too well-sewn for a few customers as durability has often become an issue.
Brian remarks, "I chose KEEN Utility for the first time and initially, I was surprised by the superb protection the shoe gave me at work.

They were wide enough to accommodate my feet without squashing them on both sides. I felt that they could use more padding on the insole as the footbed felt slightly hard. On the grounds of safety, they seem quite adequate.

However, they do not seem extremely well-sewn and may not last as long as I expected them to."
KEY FEATURES:
100% textile body
12″ boot opening
Shaft is 6″ long from the arch
Steel toe
Metatarsal guard
Slip-resistant outsole
PROS:
Sturdy steel toe protection.
Adequate protection for the metatarsal area.
Wide toe-box area.
Breathable.
Waterproof.
CONS:
Some people found the boots not so durable.
2. Thorogood Men's GEN-flex2 Series – 6″ Cap Toe, Composite Safety Toe Boot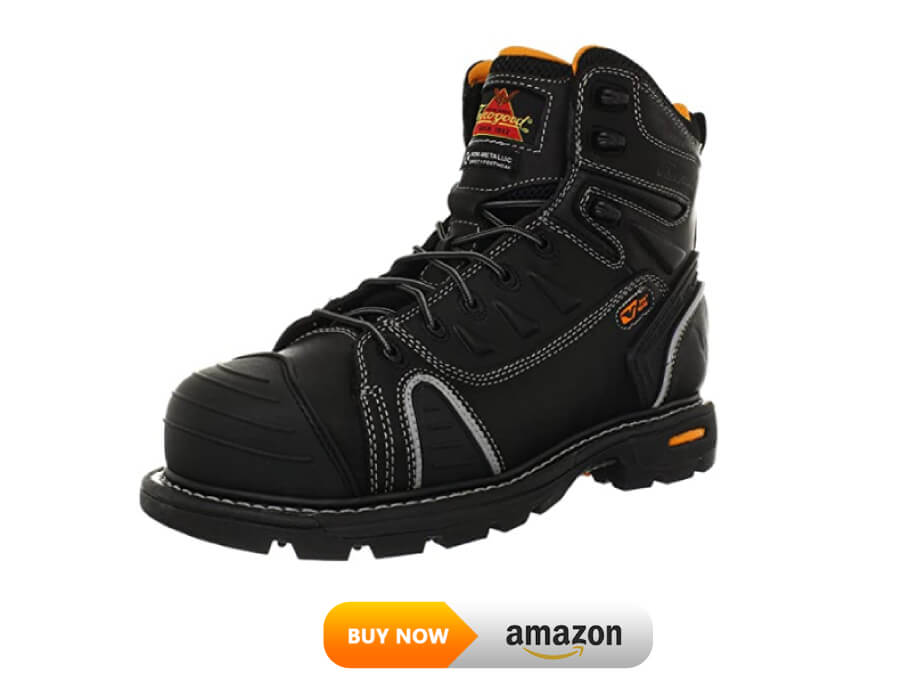 SPECIFICATIONS:
| | |
| --- | --- |
| Origin | USA |
| Material | Full-grain leather |
| Sole | GEN-flex2 rubber outsole |
| Safety toe | Composite toe protection |
| Number of colors | 2 |
Thorogood amplifies your protection at the most rugged of workplaces with these composite safety toe metatarsal work boots. They are a great choice for all types of hazardous jobs, equipping you to take up new challenges every day.
Comfort
Not everyone likes to carry around heavy steel-toe boots for the entire day. Heavy boots are a reason for foot fatigue and discomfort for many. For their convenience, these Thorogood boots have composite toe protection, which makes them lightweight metatarsal boots.
You can wear them all day without feeling the slightest discomfort or heaviness. They are very comfortable to wear and move around for the entire day.
The insoles extend further comfort with their marvelous multi-layered cushioning. They are capable of absorbing shocks at each step to allow you to walk, run, or perform all activities without pain and fatigue.
Safety
The best feature of these work boots is their safety. These metatarsal boots can withstand 300 lbs. of pressure and still won't affect your feet. The cushioning system inside saves your instep from the pressure while the safety toe guard resists it from the outside.
The GEN-Flex2 outsole also keeps you steady at the job site because they are suited to wet and slippery conditions with their anti-slip quality.
Construction and Durability
Thorogood work boots use the Goodyear storm welt construction, which gives a robust build to the shoes, making them durable. The full-grain, oiled leather, method of construction, and high-quality outsole ensure that the boots hold up well in all situations.
However, some of the customers seem to have faced issues with the durability of the boots once they have started using them. This is one area that needs some attention from the brand.
Tim writes, "I am yet to know how long these boots last without needing a replacement because I have recently bought them.

They took quite some time to break in, but I loved the smart look they have got. But the best part was the protection and the shock resistance, which earned me compliments.

Also, they were lighter than my previous pairs of boots, which was again a relief. I haven't exposed them to wet weather, but they do not seem quite waterproof, and that may be one of the downsides."
KEY FEATURES:
Oiled, full-grain leather
3M Scotchlite reflective material
GEN-Flex2 outsole
Goodyear storm welt construction
Removable PU footbed
Composite shanks
Composite safety toe
PROS:
Lightweight
Utmost protection at the workplace
Reflective strips to catch attention in the dark.
Comfortable footbed.
CONS:
Some people are not finding them durable enough.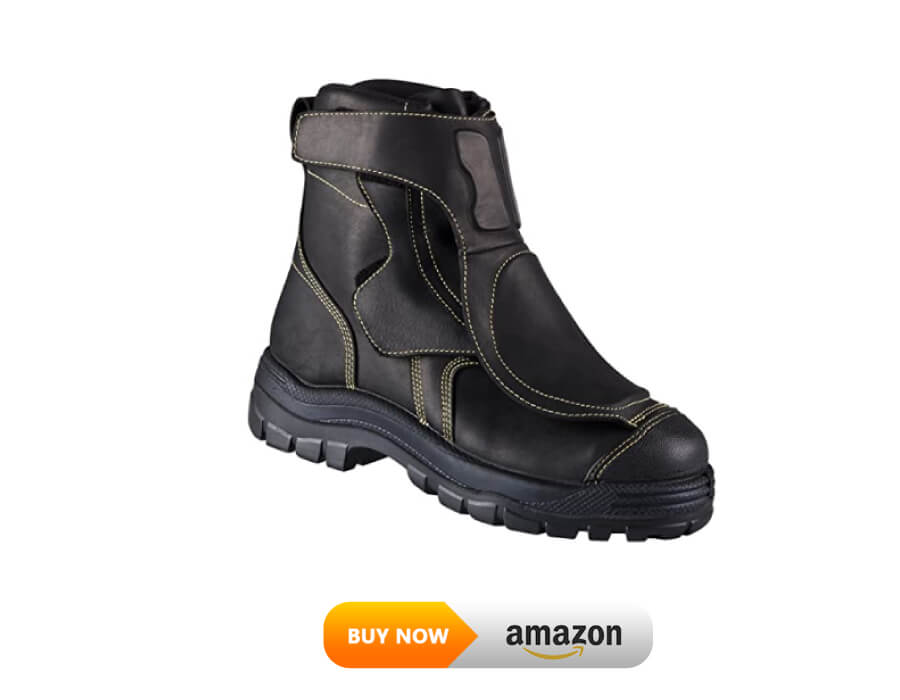 SPECIFICATIONS:
| | |
| --- | --- |
| Origin | Australia |
| Material | 100% leather |
| Sole | Rubber |
| Metatarsal guard | External |
| Number of colors | 1 |
The Oliver 25 Series Leather Smelter Boots are just what you need for any heavy-duty work to fortify your feet with the most impressive form of protection.
These metguard boots are tailor-made for workers in the heavy metal industry, construction, linework, or engineering because of the complete protection it offers to the feet, conforming to the ASTM F2413 standards.
Metatarsal protection
Oliver 25 Series comes up with the best metatarsal protection for your feet. The full-grain leather body has an external metatarsal guard attachment, enclosed in a leather flap that gels well with the shoe's design.
The external metatarsal guard does not hamper the appearance even in the slightest way. It gives you excellent impact resistance and saves the top of the feet from accidents.
The leather boots have flame-retardant, and heat-resistant uppers stitched with flame-resistant Kevlar fiber threads, offering you supreme protection against all workplace hazards.
The outsole also can resist heat up to 572 °F and resist chemical spills, acids, oils, alkalies, etc. Get superior protection from electrical shocks with the Electrical Hazard-rated outsole.
Comfort
These work boots are also a winner in the comfort section. They reduce foot fatigue and eliminate chances of pain by supporting each area of the foot substantially.
While the alloy toe makes the shoe lightweight, the HS Dual Density Nitrile Rubber Soling System and the cushioned midsole save you from shocks and bumps and keeps you comfortable.
Lightweight
Lastly, these smelter boots have alloy toe caps, making them lightweight metatarsal boots for those who are tired of bulky steel toe boots. You can wear them all day without feeling fatigued.
Kevin says, "Oliver was a brand I had never tried until I decided to go for them anyway since I was looking forward to trying something new.

Six months since then, I have no complaints regarding these immensely comfortable boots or about my foot pain and tiredness. I had no idea that these would turn out to be my dream work boots.

With its supreme protective features, I am confident enough to go about my work without the fear of jeopardising my safety every time."
KEY FEATURES:
Made of 100% leather
HS Dual Density Nitrile Rubber midsole
Rubber outsole
ASTM F2413 rating
Electrical hazard protection
External metatarsal guard in a leather pocket
Heat-resistant outsole
Flame-resistant Kevlar fiber thread
Hook-and-loop closure
PROS:
Ideal to use for any heavy-duty work.
Shock-absorbing insole offers comfort and relief from pain.
Boots are heat-resistant.
Best protection for the metatarsal area.
Electric shock protection.
CONS:
4. Timberland PRO Men's 40000 MetGuard 6″ Steel-Toe Boot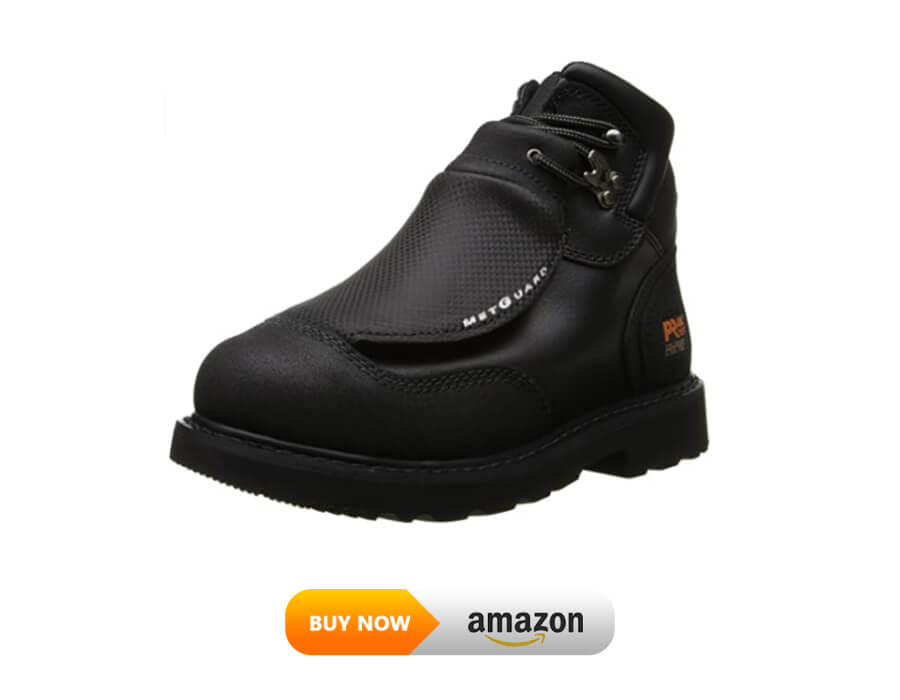 SPECIFICATIONS:
| | |
| --- | --- |
| Origin | USA |
| Material | 100% leather |
| Sole | Synthetic |
| Metatarsal guard | External |
| Number of colors | 2 |
Timberland comes up with another winning choice with these most comfortable met guard boots, living up to its brand reputation once again.
Like all other work boots from the brand, the Timberland PRO Men's 40000 Met Guard Steel Toe Boots help you conquer all challenges.
So, when you choose Timberland, you go for their timeless classic design combined with enhanced protective features and built-in comfort.
Comfort and Support
These boots are constructed in ways to increase your comfort. Although there are external metatarsal guards, they make you feel comfortable even when you squat.
The single-density open-cell PU footbed enhances your comfort level with its adequate cushioning to absorb all the shocks. The fabric lining controls sweat, bacteria, and odor with its antimicrobial treatment.
Moreover, these boots have a strong steel shank to provide excellent arch support.
Safety features
Timberland never compromises with safety, and when you choose these amazing steel-toe boots with the metatarsal guard, you are in for supreme protection. The safety toes are made of steel and give you enhanced security.
In addition, the external MetGuard fortifies the protection you need to work in the most challenging conditions. The Kevlar thread used on the uppers has heat-resistant quality.
Lastly, the work boots safeguard against electrical shocks by conforming to the ASTM F2413-11 Electrical Hazard protection standards. They also conform to F2892-11, F2412-11, ASTM F2413-11, F2412-11 safety standards, and C/75 and I/75 compression.
Construction and Durability
These Timberland metatarsal boots have an external metatarsal guard attachment fixed very conveniently on the leather upper. In addition, the MetGuard flap is waterproof to protect the metatarsal guard and prevent the shoe from getting wet and weather-beaten.
Everything about the construction ensures that the shoes remain highly durable. The Goodyear welt construction, the Kevlar thread stitching, and the cast-metal top hooks will go down for years.
Alex writes, "These are the definition of perfect work boots for me. Even though they are the heaviest ones I have owned so far, they are also the nicest ones.

I have dropped several heavy objects accidentally on my feet, and trust me, I didn't feel a thing. The met guards saved my feet.
KEY FEATURES:
Made of 100% Leather
External metatarsal guard
EverGuard waterproof leather upper
Waterproof MetGuard flap
Cushioned PU footbed
Meets ASTM standards
Slip-resistant rubber outsole
PROS:
These boots conform to several ASTM standards of safety.
Highly ideal for all kinds of risky jobs.
MetGuard is sturdy enough to withstand massive impact.
Durable.
Extremely comfortable insoles.
Waterproof
Provides excellent traction
CONS: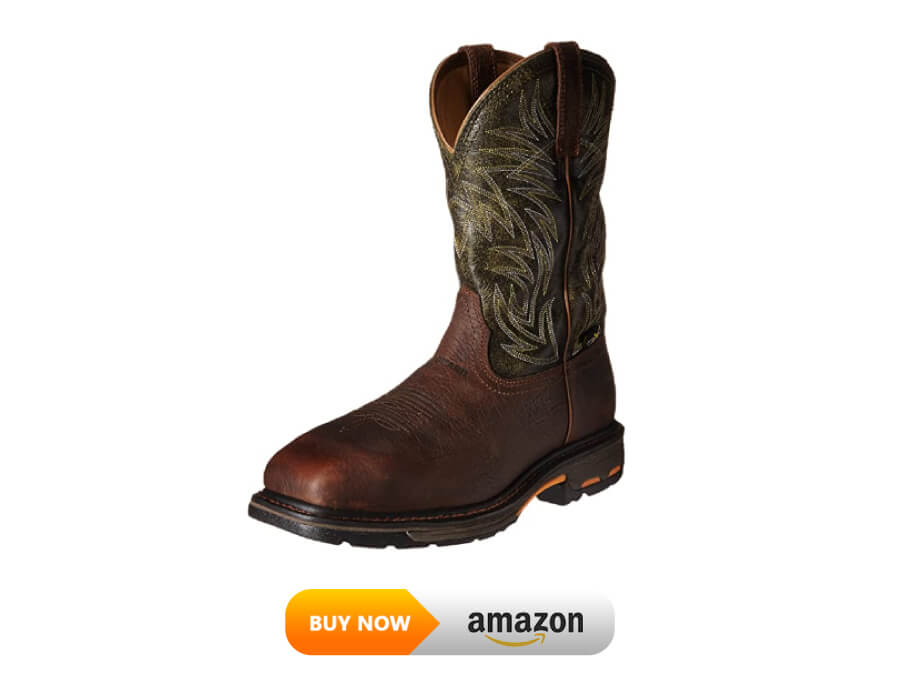 SPECIFICATIONS:
| | |
| --- | --- |
| Origin | USA |
| Material | Full-grain leather |
| Sole | Rubber |
| Metatarsal guard | Internal XRD Metatarsal guard |
| Number of colors | 2 |
Talking about the best metatarsal boots would remain incomplete without including at least one work boot from Ariat. The brand has been another name for trust when it comes to working boots in the last decade.
Designed to take on the most rugged work conditions, the Ariat Men's Workhog Wide Square Metguard Composite Toe Work Boot lets you work as hard as you like while keeping you secure in its grip.
Metatarsal Protection
These Ariat metatarsal boots built in cowboy style conform to the ASTM F2413 safety standards. Along with composite safety toe, there is an ASTM F2413-11 Mt 75-rated internal XRD Metatarsal guard.
Such enhanced metatarsal protection enables you to work with confidence while the guard attachment sewn under the full-grain leather uppers gives you the strongest protection from pressure and impact.
Moreover, the safety toe also conforms to Electrical Hazard protection standards to save you from fatal electrical shocks at work.
Traction and other safety features
Apart from top-notch metatarsal protection, these Ariat Workhog boots have other safety features. Firstly, the tall cowboy shaft keeps your ankles, calf, and shin protected with a full-grain leather cover.
The Duratread rubber outsole is slip-resistant and makes it ideal for you to work on slippery surfaces and those prone to oil or chemical spillage without chances of falling.
Comfort
Comfort is paramount in Ariat boots, and this one is no exception. The wide square toe boots provide maximum room to accommodate your feet inside without feeling cramped, which is definitely a plus point if you have wide feet.
The composite toe makes it a great option if you need lightweight metatarsal boots. The shock-absorbent EVA midsole increases the support and overall comfort by reducing foot fatigue. These can be worn for the longest shifts at work without complaints.
Jim says, "After I started wearing these boots for the first few weeks, I was surprised how comfortable they were. I wore them for 10 to 12 hours, and even then, my feet wouldn't be paining at all.

I found them quite lightweight, too, if you need to walk around the entire day. The wide toe box area is also a blessing in my case because of my feet size. The met guard protection makes them worth the money."
KEY FEATURES:
Made from full-grain leather.
11″ shaft from arch.
Internal XRD Metatarsal guard.
U-Turn Entry System
Breathable mesh lining
Goodyear welt construction
EVA midsole
Composite toe
Oil- and slip-resistant Duratread outsole
PROS:
Excellent metatarsal protection
Electrical hazard protection
Lightweight
Great traction on all grounds
Shock-absorbent midsoles enhance comfort
All-round protection
Wide toe box
CONS: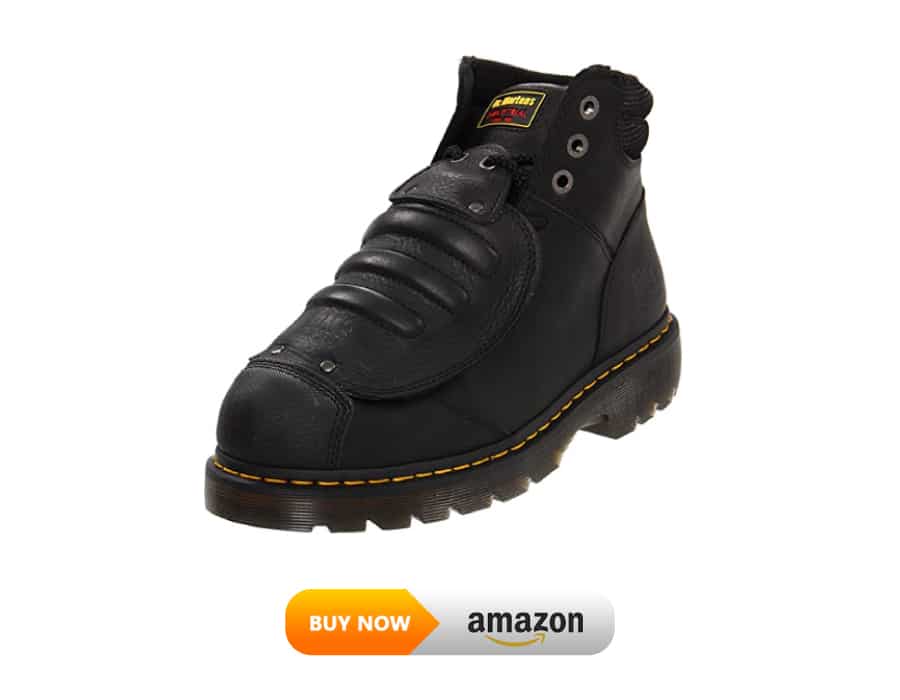 SPECIFICATIONS:
| | |
| --- | --- |
| Origin | England |
| Material | 100% leather |
| Sole | Synthetic |
| Metatarsal guard | Internal Metatarsal guard |
| Safety toe | Steel toe cap |
| Number of colors | 2 |
Dr. Martens has been a trusted brand for all these years due to its superb craftsmanship and exceptional attention to quality.
This Dr. Martens Men's Ironbridge MG ST Steel-Toe Met Guard Boots are the ideal work boots for all industrial workers because of their excellent protective features.
Moreover, these are not high-end boots in terms of price, rather, they can be considered as a viable option if you are looking for cheap metatarsal boots.
Safety
Dr. Martens Men's Ironbridge boots heighten your level of protection to save you from potential accidents and electrical hazards.
They have been designed out of oiled leather with an internal metatarsal guard covering the top of the feet and providing maximum impact resistance. The steel safety toe cap is capable of resisting the impact of 200 joules and 15 KN compression without hurting your feet.
Additionally, the work boots have Electrical Hazard protection to save you from dangerous electric shocks.
Comfort
The PU cushioned footbed ensures that your feet get the maximum cushioning against all kinds of shocks. The heels too absorb the shocks to keep your entire feet comforted as long as you put on the boots.
Stability
Lastly, the Dr. Martens Ironbridge boots are highly slip-resistant and provide you excellent stability at the workplace.
They are highly resistant to oil, alkali, chemicals, fats, etc, and help you maintain a proper gait. Overall, they are highly durable and will last you for a long time.
Jack comments, "I spent a lot of hours of the day as an industrial worker. So I was on the lookout for a pair of tough metatarsal boots when I came across Dr. Martens.

These have proved to be doing great for me for the last 10 months. After the break-in period, the leather became highly comfortable. I never felt so much at ease all day before."
KEY FEATURES:
Goodyear welt construction
Water-resistant leather upper body
Slip-resistant PVC outsole
Steel toe cap
Internal steel metatarsal guard
PROS:
Extremely comfortable for the entire day.
Heat-resistant.
Durable.
Metatarsal guards and steel toe provide superb impact resistance
Electrical hazard protection
Good stability and traction
CONS:
SPECIFICATIONS:
| | |
| --- | --- |
| Origin | USA |
| Material | 100% leather/ textile |
| Sole | Synthetic |
| Metatarsal guard | External Metatarsal guard |
| Safety toe | Steel toe cap |
| Number of colors | 1 |
Once again, there's the best of Timberland to be a part of your hard work and daily challenges. The Timberland PRO Men's Excave External Met Guard Work Boot is engineered using the most innovative footwear technologies from the brand to keep you thoroughly protected at work.
Also, if your budget doesn't permit you to go for the high-end ones, and yet, you do not want to compromise on quality, these are the best options in cheap metatarsal boots.
Safety
Choose Timberland to ensure day-long safety from all quarters at the workplace, especially if you are into industrial jobs.
The rigid steel toe caps and the external metatarsal guard combine to provide the highest impact resistance to prevent fractures and other injuries. The outsole is heat resistant to keep you safe from extreme heat and flames.
Additionally, electrical hazard protection is one of the best safety features you get.
Support and Stability
Timberland PRO Men's Excave boots help you meet the rugged nature of your work with added support and stability.
Make use of the oil-and-slip resistant outsoles to tread on all grounds with excellent traction. They improve your gait and confidence.
Comfort
Timberland also takes care of your comfort since you would be wearing them for most of the day. The EVA insoles provide just the cushioning your feet demands all day.
The boots are constructed with hinges on the metatarsal guards to let you flex your feet or squat comfortably without feeling hurt.
Mike writes, "I had been looking for heavy-duty steel toe boots, and Timberland gave me just what I was looking for.

I keep facing accidents like dropping heavy objects on the instep at work, and every time I have been saved by the hardy steel toe and metatarsal guards.

I love how they are carefully attached to the boots without hurting my instep while I walk or squat."
KEY FEATURES:
Made from 100% leather and textile
Oil-and-slip-resistant synthetic sole
Ladder Lock radius for increased traction
Breathable mesh lining
External Met Guard
Steel toe cap
Lace-up front
Antimicrobial treatment on footbed
PROS:
Excellent impact resistance
Highly safe for the workplace
Controls sweat
Odor-resistant
Comfortable for long hours
Durable
CONS: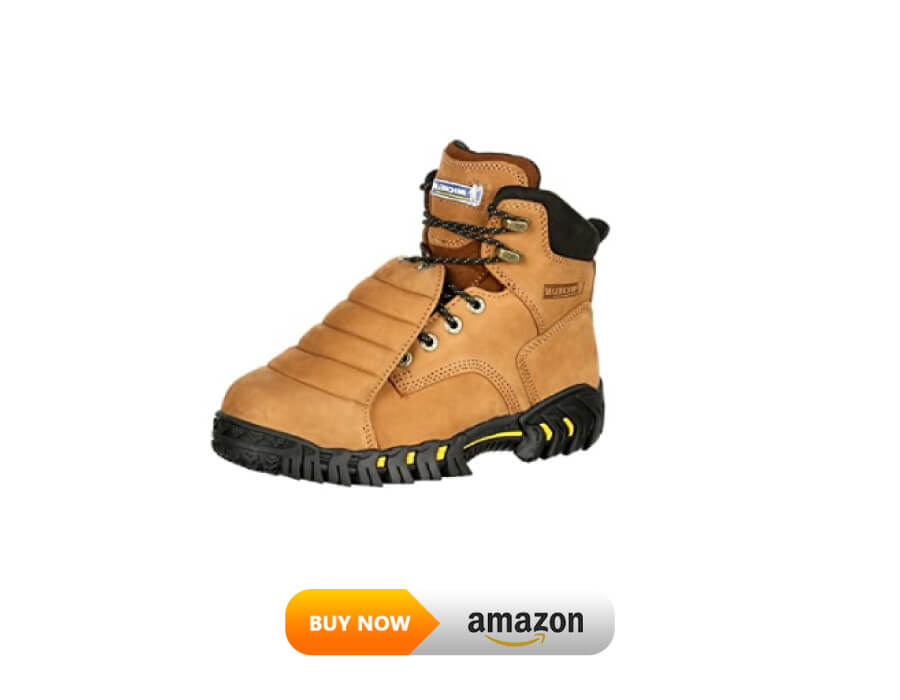 SPECIFICATIONS:
| | |
| --- | --- |
| Origin | USA |
| Material | Leather |
| Sole | Rubber |
| Metatarsal guard | External Metatarsal guard |
| Safety toe | Steel toe cap |
| Number of colors | 1 |
The Men's Steel Toe Boots from Michelin are your go-to work boots for a rugged work environment. If the warm brown appearance isn't attracting you too much to buy the boots, their comfort level and outstanding protection should be reasons enough.
Comfort
Michelin amplifies your comfort throughout the day with the shock-absorbing EVA midsole. It cushions the feet against all the shocks sent by surfaces you stand or tread on.
The Orthoframe Orthotic TPU insole enhances your comfort by providing the right orthopedic support at each step. It is the best you have to eliminate foot fatigue.
Support and Durability
These shoes have been designed to withstand harsh work environments without getting blown out. The high-quality leather, steel toe, and MediGuard protection make them last a reasonably long time.
Coming to its supportive features, the rubber outsole gives you adequate traction on wet and oily floors, helping you remain stable.
Protection
These flexible work boots score well in terms of protection. They have an ASTM F2413-05 Electrical Hazard rating, which safeguards you from all electrical shocks at the workplace.
The steel toe and external metatarsal guard provide adequate resistance against impact, saving the top of your feet from getting fractured.
Mike writes, "Michelin work boots turned out to be quite comfortable for me. They give a snug fit and keep me comforted as long as I wear them. The protection also seems impressive till now."
KEY FEATURES:
Made of 100% leather
Steel toe caps
External metatarsal guard
EVA midsole
PROS:
Excellent traction on all grounds.
Outstanding impact resistance.
Beautiful appearance.
Shock-absorbent midsole for enhanced comfort.
Heat-resistant
CONS: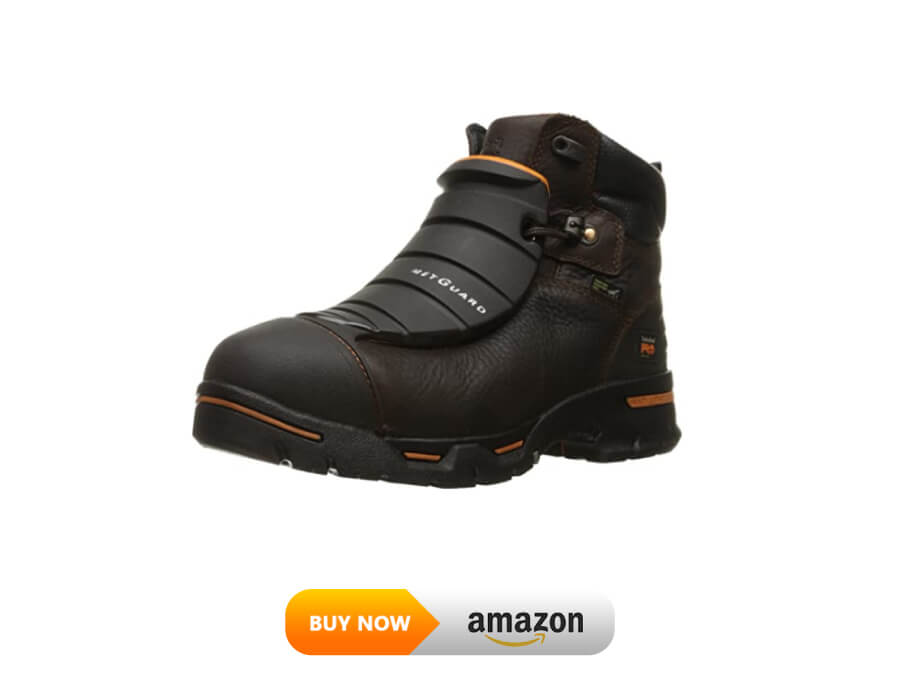 SPECIFICATIONS:
| | |
| --- | --- |
| Origin | USA |
| Material | 100% leather/ textile |
| Sole | Rubber |
| Metatarsal guard | External Metatarsal guard |
| Number of colors | 2 |
Timberland makes a third entry in the list with the PRO Men's Endurance 6″ Steel-Toe EX MetGuard Boot. These most comfortable work boots have been ideally designed for industrial and commercial workers.
The top-class protective measures make them suited to withstand the demands of even the harshest of work environments.
Safety
These Timberland work boots are enabled with an external anatomical MetGuard inlay with multiple lacing options. They provide heightened protection against impact in industrial and commercial jobs.
Moreover, to further enhance safety, there's a metallic puncture-resistant plate underfoot.
Traction
These Timberland boots help you maintain a steady grip on the ground, increasing your safety and confidence in carrying out your work.
The outsole grips the ground even if they are wet and slippery and saves you from falling and hurting yourself.
Comfort
The shoes are equipped with anti-fatigue technology in the PU midsole to reduce the shocks sent by surfaces and eliminate pain.
They support each step to comfort your feet. The breathable textile lining allows the feet to breathe and remain dry and sweat-free.
Chris comments,"These boots broke in really fast, and since then, they have been very comfortable on the feet.

I have had no complaints so far with the comfort level, except that it feels a bit heavy and stiff, which is understandable due to the external metatarsal guard. Other than that, protection and support is top-notch here."
KEY FEATURES:
Made from 100% leather and textile
Slip-resistant rubber sole
Ankle-high shaft
External MetGuard with multiple lacing options
Cement construction
Metallic puncture-resistant plate
PU midsole
PROS:
Breaks in easily
Puncture-resistant underfoot for added protection
Strong metatarsal guard protection
Very comfortable for long hours
CONS:
Some customers found them less flexible.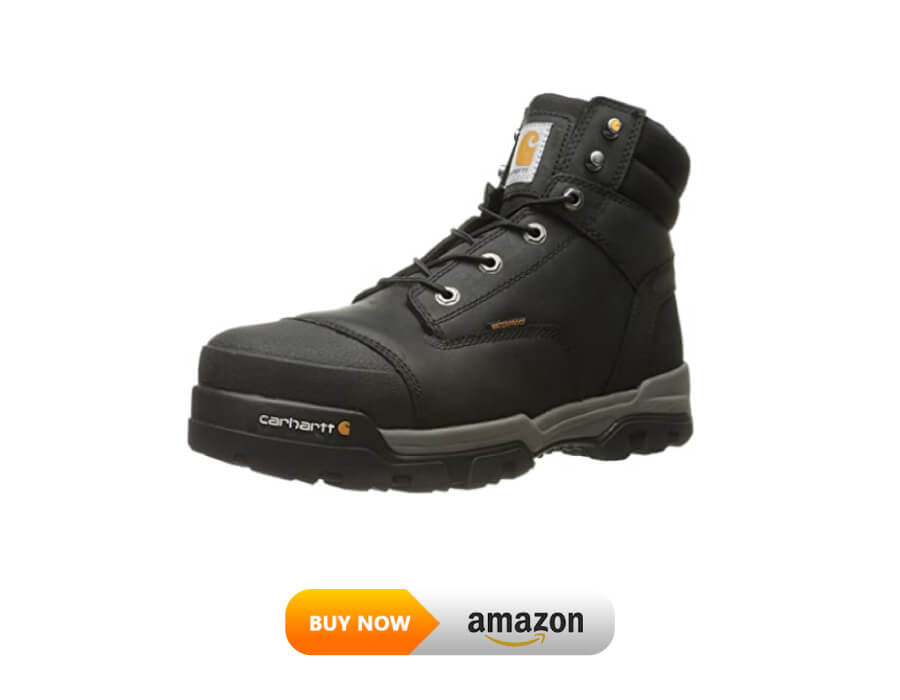 SPECIFICATIONS:
| | |
| --- | --- |
| Origin | USA |
| Material | 100% leather |
| Sole | Rubber |
| Safety Toe | Composite toe |
| Number of colors | 1 |
Carhartt is a brand to reckon with when you look for the sturdiest work boots. The Carhartt Men's 6-inch CME6355 Industrial Boot is another classic choice for all industrial workers to fortify their feet with the most substantial form of protection.
The enhanced footwear technology and craftsmanship of Carhartt are visible in these work boots.
Comfort
Firstly, coming to the comfort level of these boots, Carharrt has designed the Insite Technology engineered footbed from 120,000 3D foot scans to craft the insole. Such innovative technology maximizes arch support, and comfort and eliminates foot fatigue.
The Ax Suede top cover on the footbed further reduces fatigue. The rebound and compression by the dual-foam EVA midsole keep you at ease even if you wear the boots for long hours at a stretch.
Waterproof
To keep your feet dry and comfortable in all weather, the boots have a waterproof membrane that does not let water seep inside. The membrane is breathable to keep your feet dry from sweat by increasing airflow.
Protection
Lastly, the Carhartt boots do what they are designed for. They are the best metatarsal work boots, providing you with excellent protection against impact by the composite toe box and guard.
Additionally, they also save you from shocks from electrical circuits up to 18,000 volts. They meet the necessary ASTM safety standards to keep you safe at the workplace. The soles are also oil-resistant, heat-resistant, and chemical resistant to offer you complete, all-around protection.
Harry writes, "These waterproof metatarsal boots are just what I required to keep myself protected, warm and dry throughout the day.

So far, they are holding up really well and have enhanced my performance. I love how they give a snug and comfortable fit, and do not cause fatigue at the end of the day."
KEY FEATURES:
Made of 100% leather
Ankle-high shaft
AX Suede top cover advanced footbed
Waterproof membrane
Electrical Hazard protection
Meets ASTM standards
EVA midsole
Cement construction
PROS:
Waterproof boots
Keeps feet dry and breathable
Comfortable dual-foam footbed for the best experience
Electrical hazard protection up to 18,000 volts
Chemical and abrasion-resistant sole
CONS:
Slightly on the heavier side.
How to Buy Most Comfortable Metatarsal Work Boot: Buyer's Guide
Metatarsal work boots are made to protect your feet from things like sharp tools, chemicals, and falling objects. But not all work boots are the same when it comes to comfort. Here's a buyer's guide to help you find the most comfortable metatarsal work boots:
Comfortable Fit:
Fit is the first and most important thing to consider when buying comfortable metatarsal work boots. The boots should fit well, but they should be tight enough. Look for boots that support your feet, especially around the arches, and give your toes enough room to move around.
Look for boots that support your feet, especially around the arches, and give your toes enough room to move around.
Cushioning:
Cushioning is another crucial factor in how comfortable something is. Look for boots with a lot of padding on the footbed and around the collar. Insoles made of memory foam or gel can also make shoes more comfortable and give them more support.
Material:
work boot's material is also essential. People often choose high-quality leather because it lasts long, lets air in, and doesn't get wet. But synthetic materials like nylon or mesh can be lighter and better for allowing air.
Safety Features:
Metatarsal work boots should have features like a steel or composite toe cap and a metatarsal guard to protect your feet from impact and compression. For better grip, look for boots with soles that won't slip.
The reputation of the Brand:
Another thing to consider when buying metatarsal work boots is how well-known the brand is. Look for brands known for making durable, high-quality work boots that are also comfortable.
Price:
The price of metatarsal work boots depends on the brand, materials, and features. Even though it's essential to stick to your budget, don't give up safety or comfort to save money.
Reviews:
Read online reviews from people who have bought and used the same model of boots before purchasing. The reviews can tell you how comfortable the shoes are, how long they will last, and how good they are overall.
By considering these things, you can find the safest and most comfortable metatarsal work boots for your workplace.
How Do The Best Metatarsal Boots Protect Your Feet?
Metatarsal boots protect your feet, especially the delicate metatarsal bones, from the tip of your toes to the arch. Best metatarsal boots safeguard your feet with these features:
Metatarsal Guards: These boots contain a guard covering your foot and metatarsal bones. This steel or composite guard protects your foot from anything that could crush it.
Steel Toes: The best metatarsal boots protect your toes from impact and compression. Reinforced steel toes fit snugly and comfortably.
Puncture-Resistant Soles: Metatarsal boots have robust, puncture-resistant soles that withstand nails, glass, and metal.
Shock-Absorbing Technology: Several metatarsal boots have improved shock-absorbing technology to lessen the hard-surface impact. Its technique reduces foot fatigue, injuries, and discomfort.
Slip-Resistant Outsoles: Lastly, the best metatarsal boots have outsoles that don't slip so you can walk well on wet and slippery surfaces. This reduces slips, trips, and falls, which can cause serious foot injuries.
Reiterate Importance Of Comfortable And Protective Work Footwear
Most comfortable metatarsal boots: reiterate importance of comfortable and protective work footwear
As someone who works in a field that requires protective footwear, you probably know how important comfortable work boots are. But did you know that choosing the wrong footwear could lead to foot injuries and pain? In this blog post, we'll highlight the key points of how choosing comfortable and protective work footwear can improve your productivity and safety.
Consequences Of Foot Injuries And Pain
Foot injuries and pain can significantly interfere with your work and daily activities.
Injuries caused by heavy objects and sharp materials can lead to fractures, cuts, bruises, and even amputations.
Repetitive stress injuries, such as plantar fasciitis, can cause long-term pain and discomfort, leading to decreased productivity.
Ill-fitting footwear can cause blisters, calluses, corns, and other foot-related problems.
Benefits Of Productivity And Safety
Wearing comfortable and protective work footwear can improve your productivity.
When your feet are comfortable and protected, you're less likely to become fatigued, allowing you to work longer and more efficiently.
Prolonged standing or walking on hard surfaces can cause discomfort and fatigue, leading to decreased productivity. Well-cushioned soles can help reduce discomfort and fatigue.
High-quality safety features such as metatarsal guards, steel-toe caps, and slip-resistant outsoles protect your feet from hazards, minimizing the risk of injuries.
Choosing comfortable and protective work footwear is essential for your productivity and safety. By avoiding foot injuries and pain, you can ensure that you perform at your best and avoid time off work. So, make sure to invest in high-quality work boots that meet your needs and ensure your safety.
Frequently Asked Questions
What does metatarsal shoe mean?
The word 'metatarsal' refers to the bones in the feet that connect the toes to the ankle. This is a vulnerable part of the body as the fragile bones are prone to fractures. Metatarsal shoes are special types of shoes that protect the bones in the feet and provide adequate support to negate the various forms of impact that may hurt or injure the feet. These shoes provide support and cushioning to keep away pain and injuries to the feet. Metatarsal shoes come with protective features like internal or external metatarsal guards, steel or composite toe boxes, sturdy leather body, etc. 
What is metatarsal foot protection?
Metatarsal foot protection provides support to all parts of the foot, right from the toes to the ankles. The metatarsal guard provides the most all-comprehensive type of protection available to safeguard your feet from risks of injuries, metatarsal fractures, and chronic pain. Comfort and protection are vital for workers involved in heavy-duty physical jobs that demand them to face risky situations quite often. Metatarsal protection ensures that the toes and the top of the feet are saved from getting crushed or pierced. They also save the feet from hot liquid spillage, chemicals, and extreme heat that can be dangerous otherwise.  
What are metatarsal boots used for?
Metatarsal boots refer to protective footwear used for keeping the feet secure while performing risky jobs. They enhance work performance by improving stability, safety, and confidence with the proper orthopedic support for the feet. Metatarsal boots come with safety guards to prevent the impact of heavy objects falling on the feet and fracturing the metatarsal bones. Such protective equipment shields the feet from potential accidents. Moreover, these shoes come with an electrical hazard rating to save the feet from electrical shocks that may cause fatal accidents at the workplace. Unlike other safety toe boots, metatarsal boots provide full support from other hazards like chemical spillage, heat, flames, sharp objects, and solvents to the entire metatarsal area and not just the toes. Some of them also have additional features to comfort the feet for long hours with arch support, shock-absorbent footbeds, heel pads, and steel shanks.
What are internal metatarsal boots?
Internal metatarsal boots are those having internal guards instead of uncomfortable and unappealing external ones. Initially, metatarsal boots were made with external impact-resistant plastic guards. However, modern metatarsal footwear has more competent internal guards placed beneath the boots' leather surface and covers the metatarsal bones. These may refer to the steel or composite protective plates placed inside as protective shields. These internal guards do not impact the appearance of the boots as they are hidden. They also make the boots lightweight, unlike the external guards.
Are metatarsal guards uncomfortable?
Metatarsal guards can sometimes be uncomfortable, even though they generally do not hurt the feet. But at times, the steel shanks can make the shoes feel heavy, or inadequately padded lining inside the shoes may hurt the feet. Those with external guards can also increase the chances of tripping. However, most brands take care to increase your comfort by taking care of these factors so that the metatarsal guards do not hinder your everyday comfort. The new-age u003cstrongu003ebest metatarsal bootsu003c/strongu003e with internal guards are made lightweight for your convenience.   
Do metatarsal guards protect from electrocution?
Yes, metatarsal guards can save you from electrocution. Most metatarsal boots come with an electrical hazard protection rating of up to 18,000 volts, meeting the ASTM standards, to save the wearer from electrical shocks at the workplace. People dealing with electrical circuits and live wires are often prone to fatal shocks. Wearing metatarsal boots with electrical hazard protection can be life-saving for them.
If you are to choose between Metatarsal Boots and Steel Toe Boots, what will you choose? Tough choice right? We have made it easy for you. Read here.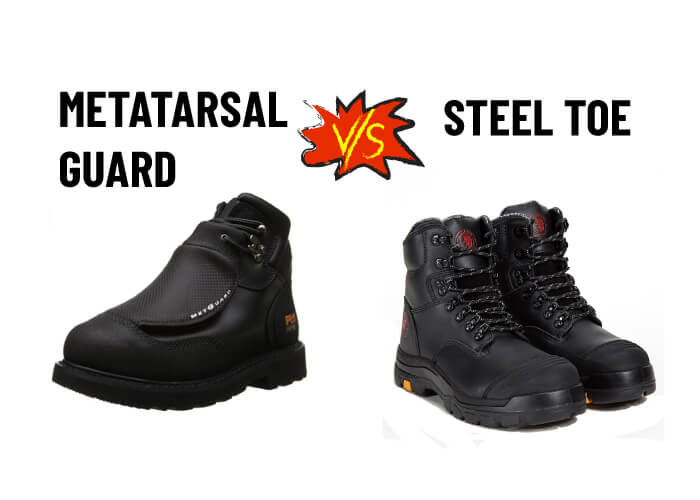 Final Words
With all the work we put our feet through every day, it's crucial to invest in footwear that protects and comforts them. Metatarsal boots provide the necessary support and ample cushioning to make every step a comfortable one. We've listed some of the most comfortable metatarsal boots that you can consider purchasing.
With their various features and styles, there is something for every foot and every occasion. By opting for one of these boots, you can say goodbye to sore feet and hello to all-day comfort. Always be mindful of your feet's needs, and never compromise on their health for style.
Investing in good metatarsal boots is, in essence, investing in a better work experience for yourself. It's time to make comfort a priority and take the first step into a pain-free future.
Read also: Best Word Boots For Lineman
Read also: Best Pull-On Work Boots For Concrete
Read also: Ariat Work Boot Reviews
Read also: Best Shoes For Metal Roofing
Read also: Best Shoes For Sciatica Nerve Pain
Read also: Best Shoes For Warehouse Work