Being a lineman is no easy feat. You are risking your life every day since the work makes you vulnerable to accidents at any moment. A lineman maintains, repairs, and installs electrical lines to extend power supply to domestic and commercial sectors.
However, let's not forget that if a lineman loses his balance for even a second, it can be a fall to death. Doing the noblest job even doesn't even mean you risk your life all the time.
And selecting the perfect boot is also a matter of safety in this line of work. So you should go for the best work boots for linemen for your own interest.
What Risks Are Involved In A Lineman's Job?
Linework remains one of the most dangerous jobs because of the deadly risks involved. A lineman may have to dig deep trenches to install underground cables or climb poles to inspect the overhead wires and repair them.
There's always the risk of slipping and falling or getting electrocuted. Such accidents can be fatal to a lineman. Most of the accidents in this field are electrocution cases since lineworkers have to handle high-power wires and cables every day.
Like all heavy-duty work, a lineman must be equipped with protective gear to maintain safety standards. Without personal protective equipment, the fatalities will continue to rise.
Why Are Good Lineman Boots Essential?
Good lineman boots are a vital part of personal protective equipment to minimize the risks of electrocution and slipping. These boots are crucial during work because they protect your feet from hazards while helping you move about safely when you climb up the electrical posts.
The shock-absorbent construction safeguards the lineman from being killed by electric shocks, while the best traction on the soles keeps you safe from losing your balance while you climb up.
The biggest complaints from lineworkers are that their boots are bulky, uncomfortable, and hurt the feet while performing the strenuous job for hours. Most of them are not protective enough, failing to do the basic job they are meant for.
Purchasing boots made from low-quality materials can be a fatal mistake.
You can find all you need to know about the most reliable boots for a lineman in this guide. Learn how to pick out the best shoes in your budget while taking care of the vital factors for safety and convenience.
Shifting to competent and protective boots is the best decision you can make. Try them to know what you had been missing out on till now.
Popular Choice of Brands Of Work Boots
On the whole, the best-recommended brands for linemen would be Ariat, Wesco, Carolina, Carharrt, and Kentrek lineman boots.
Ariat has always been a popular choice for all types of work boots, including lineman work boots. In the last few decades, Ariat has become America's most wanted work boots, maintaining high standards of quality and protection.
From being marketed as the first riding boots, Ariat is now the most dependable option you can find for heavy-duty workboots that maximize your comfort, save you from slipping, and absorb shocks.
The Men's Powerline H20 is a trustworthy lineman boot that will help you all along.
Red Wing lineman climbing boots and Wesco are other superb choices because of their robust build and protective features. Wesco as a brand had first started its journey with timber boots for loggers.
Gradually, it started manufacturing the excellent Jobmaster and the Highliner boots for the lineman. Wesco lineman boots can be just the proper protective equipment you need for this kind of work.
What are The Best Work Boots For Lineman?
After tons of research, here are the most comfortable lineman boots you can purchase for your safety. These top 10 are highly reliable and would give you just the support you need for this heavy-duty job. Check out the reviews for more details.
We hope you love the products we recommend! Just so you know, when you buy through links on our site, as an Amazon Associate we may earn an affiliate commission. This adds no cost to our readers.
SPECIFICATIONS:
If you have to select one of the best lineman boots for climbing as an overall pick, it would definitely be the Wesco Jobmaster boots. Undoubtedly, the Jobmaster is the most versatile and classic shoe made by Wesco.
It is equipped to provide industrial protection for linemen while being durable enough to withstand intense conditions without giving you many chances to complain. It's worth every penny to choose these highly durable and extremely protective, and comfortable lineman boots.
Construction
The best part of these signature boots from Wesco is their classy construction. Designed in the classic black outlook with copper eyelets and studs in a golden shade, it has style and functionality.
These fine work boots are made of full-grain solid leather uppers with StitchDown sole construction. There are no cheap plastic midsoles inside.
Instead, you get iron leather midsoles and insole for added support. It provides a comfortable fit and excellent arch support for the long hours of climbing and balancing atop utility poles.
Durability
There isn't an iota of the doubt when you choose Wesco Jobmaster. These are the best Wesco lineman boots that are meant to withstand the roughest conditions and last you for a very long time.
Once you invest in them, you can reap the benefits for years before you need a replacement. These highly functional lineman boots should definitely be bought because of their durability, owing to the marvelous construction.
Protection
Coming to the range of protective features, these Jobmaster boots have heavy steel shanks and hard toes for high levels of protection. These safety features make the boots versatile enough for hikers, hunters, arborists, and linemen.
The highly lugged Vibram outsole offers significant grip on all surfaces and increased traction. Finally, the firm leather body and the 10″ long shaft provide extra layers of protection and support for the feet.
Richard comments, "I swear by Wesco Jobmaster for years now. There isn't any doubt that Wesco manufactures the best boots for both men and women. The Jobmaster is a classy work boot, tall enough to cover my shin and calf area.

I have been using them for two years now, and they are still holding up pretty well. I am highly pleased with the level of protection it provides. If you are looking for tough, heavy-duty, no-nonsense boots, just go for them."
KEY FEATURES:
Made from 100% full-grain leather.
Lugged outsoles
Lace closure
Removable false tongue
Brass studs and eyelets
Heavy steel shank
Hard toe
Full-leather, sweat-resistant insole
PROS:
Supreme protection.
Best boots for linemen.
Robust and durable construction.
Hard toe for added safety.
CONS:
Insulation isn't too good.
Not meant to be used in constantly wet conditions.
2. Thorogood Men's American Heritage 6″ Moc Toe: Best lineman climbing boots
SPECIFICATIONS:
When you need highly supportive boots to last you through the hours of neck-breaking work, Thorogood is the answer. The American Heritage 6″ Moc Toe Boots are a signature creation from Thorogood, making them suitable and versatile enough for a range of heavy-duty jobs.
Focussing on their unique craftsmanship and footwear technology, these work boots seem tailor-made for all types of industrial jobs, including that of linemen. While being immediately likable due to its appearance, it's a durable choice and a supportive one in the long run.
On the whole, the superb Goodyear welt construction makes it worth a try. Also, these are the best anti-slip and steel-toe lineman boots you get.
Comfort
The Ultimate Shock Absorbent footbed, combined with the Poron comfortable and cushioned insole, keeps you comfortable even when you have to work for long hours. The cushioned insides keep pain and injuries away even when you subject your feet to intense pressure.
Support
The 6 inches shaft keeps the ankle safe and supported while you work. Climbing up utility poles puts pressure on the arch and ankle of a lineman. These boots provide the feet with ample flexibility and have significant ankle support.
The Trail Crazyhorse leather body is not only durable but holds up well against rough use and supports the feet.
Protection
The American Heritage boots offer electrical hazard protection, keeping you protected from the risks of electrocution.
The steel-toe box area makes it an incredible choice for linemen. It enhances your safety at your work and keeps the toes protected from sharp-edged, heavy objects.
Moreover, you get the MAXWear slip-resistant outsole, which gives you a steady grip on the ground, reducing the chances of slipping and falling. The aggressive treads increase the traction for extra protection.
Cole Smith writes, "I have to spend hours standing on all kinds of surfaces, owing to the nature of my work. Once I shifted to these boots, it was a life-changing experience. There was no foot pain or back pain troubling me any longer.

I could stand and walk for long hours without feeling that my feet would kill me any moment. These are your most comfortable, highly functional safety boots. I found the stitches quite well-made too."
KEY FEATURES:
Made from Trail Crazyhorse full-grain leather
Shock-absorbent footbed
Comfortable and cushioned Poron insole
Fiberglass shank
Slip-resistant outsole
Goodyear storm welt construction
Steel toe protection
90-degree heel
PROS:
Beautiful outlook.
Well-stitched construction.
Excellent traction.
Enhanced protection for safety.
Very little break-in time.
CONS:
The shaft isn't too long.
SPECIFICATIONS:
The list would be incomplete without a bestseller from Ariat. Indeed, living up to the brand's reputation, the Ariat Men's Powerline H20 Boots are a class apart.
Ariat's world-class design and footwear technology go together to create this marvelous lineman shoe. Overall, these would be the perfect lace-up boots you need at work for a snug fit and keep your feet dry.
Comfort
These lightweight boots with cushioned EVA midsole and Duratread outsole provide the best combination of comfort at work. Feel the back pain and foot pain no longer after work hours because your feet stay comfortably cushioned by the midsole, absorbing all the shocks sent by the ground and the pressure on the arch. If you choose Ariat lineman boots, comfort is something you purchase with every penny.
Support
Ariat's Powerline 8″ H20 boots are designed to give you just the support you need for the toughest jobs. Being a lineman, you need maximum support and traction to work safely.
These boots made of 100% pure leather are robust enough to give you a snug and supportive fit while withstanding the harsh conditions and rough use for months.
The extra-wide steel shank provides more stability for climbing. The waterproof body enhances the supreme support these shoes are designed for.
The raised 90-degree heel offers further stability for a lineman. Finally, the lace-up closure is an added benefit for customizable fitting and support.
Protection
Coming to the protective features, the Ariat lineman boots are equipped with a Duratread outsole, which is oil and slip-resistant. They provide maximum traction on all terrains and help you keep your feet steady.
Even though you do not get a steel toe or composite toe like other lineman boots, the soft round toe is ASTM rated and is protective enough for the workplace.
David Taylor writes, "I ordered the 8.5 Wide sizes, which has fit me pretty well. Once the leather broke in, they gave a perfectly snug fit, and I rarely have any complaint regarding the fittings and comfort of the shoes.

I knew this is what Ariat boots are made for. Even if I wear them all day, there is no pain or blisters. Coming to the other features, the boots are insulated and waterproof as they claim, even though you could expect them to provide some more warmth than this.

The traction is another reason to go for this one. I was also happy that the toe box area isn't too narrow for someone wide-footed like me."
KEY FEATURES:
Made from 100% leather
Slip-resistant Duratread rubber outsole
Round toe box
Waterproof construction
Removable tongue
Padded and protective collar
ATS Pro Advanced Torque Stability technology
Composite forked shanks
PROS:
Very comfortable.
Excellent traction.
Snug fit.
Waterproof.
Protective build.
CONS: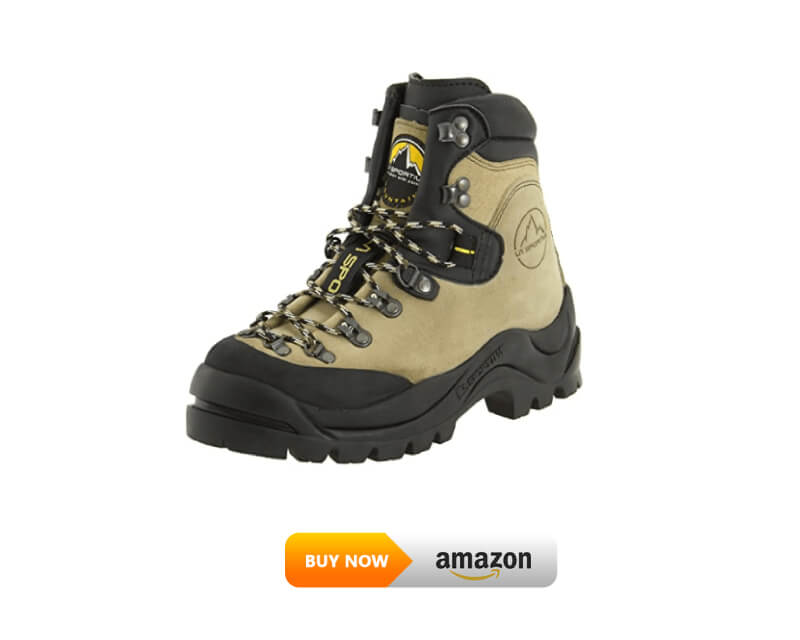 SPECIFICATIONS:
La Sportiva Men's boots are typical heavy-duty, multifunctional mountaineering boots that can perfectly help you as a lineman, too. At their first appearance, they look like hiking boots.
But that's not the only job they are meant for. The supreme build, and tough exterior, combined with protective features, makes this a wise choice for a lineman, too. Definitely one of the best lineman boots made in the USA.
Construction and Durability
These classic mountaineering boots are made from breathable, Idro-Perwanger water-resistant leather to give you complete protection in all weather. As a lineman, these are one of the most durable options you have. Even with harsh use for a year or two, they hold up really well.
Comfort
As a lineman, you need to be in comfort all day to work in ideal conditions. The La Sportiva Men's boots enhance your comfort level with the 8mm Mtnflex cushioned footbeds.
They absorb the shocks from the ground and keep your mid-foot free from pain and injuries. The SBR Aircushion midsole provides top-notch comfort for the feet.
Support and Traction
The water-resistant Idro-Perwanger durable leather makes it ideal for climbing utility poles. The 1.5mm Dacromet-coated steel shanks provide just the right support to your feet, especially the arch.
It is essential to have proper arch support in your lineman climbing boot because climbing poles and balancing your feet on the poles and hooks put immense pressure on the arches.
Thankfully, the La Sportiva Makala Men's boots won't let you feel the pain. Lastly, the boots have Mountaineering Performance Evolution Outsoles with deep lugs to provide excellent traction while climbing.
Matty writes, "I have been working as a lineman for the past 6 years. The initial years would kill my feet at the end of the day. I bought these La Sportiva boots, and when I wore them first, they seemed too tight.

Within a day or two, the leather broke in, and they started to feel good. Climbing the poles is easier when I wear them because they cushion the feet really well, and I am pretty impressed with the traction.

Not to forget, these are quite tough. I do not get much time to care for the boots, and yet, they are holding up well."
KEY FEATURES:
Made of Idro-Perwanger leather upper
8mm Mtnflex footbeds
Dacromet-coated steel shanks
SBR cushioned midsoles
Mountaineering Performance Evolution outsoles
Lace closure
PROS:
Extremely comfortable cushioning.
Shock-absorbent midsoles.
Excellent arch support.
Raised heels for better traction.
Water-resistant lining.
Deep lugs provide a great grip on the ground.
CONS:
No high shaft to protect the calf and shin.
5. Carolina Boots: Best lineman climbing boots
SPECIFICATIONS:
Carolina lineman boots one of the few lineman boots made in the USA are quite popular because of their superb craftsmanship.
Speaking of quality, you are surely making a winning choice if you purchase the Carolina Men's 8″ Waterproof Plain Toe Logger Boots. It shall become your most comfortable work boots in no time.
Waterproof construction
These boots are made out of Copper Crazyhorse leather which is known for its robust quality. You can use the boots for years in all weather conditions without finding them losing their shape.
Along with the sturdy leather upper, the boots are fortified with a 100% waterproof membrane inside to keep your feet warm and dry, even on rainy days. Even if you are drenched from head to toe, your feet remain dry.
Comfort
Carolina offers adequate levels of comfort when you slip on these shoes. The raised heel alleviates your foot and back pain while giving you a snug fit all day. They keep your feet cozy and do not make them sweat.
Safety
These Carolina lineman boots are one of the best Lineman climbing boots with a steel shank that provide excellent arch support for climbing utility poles. The steel shanks keep your arches safe from pain, injuries, and foot fatigue while at work.
The outsoles are slip-resistant and have deep lugs and raised heels for traction. These boots can keep you steady on all kinds of terrain because of the non-slip traction. So even if the area is muddy, oily, or slippery, you need not worry about slipping and falling.
These lineman boots with steel shanks also come with an Electrical Hazard rating to protect you from electrocution while working with live wires.
Bruce writes, " I was unsure at first whether to go for my first pair of Carolina boots. But, I am thankful that I chose them. These are the best pairs I have owned so far and worth the money I put in.

They are genuinely waterproof as they claim, and no matter how long I wear them at work, I seldom have any complaints regarding comfort."
KEY FEATURES:
Made of Copper Crazyhorse leather
Slip-resistant rubber outsole
Lace closure
Raised heels
8″ shaft
Solid steel shanks
PROS:
Extremely good traction
100% waterproof
Keeps feet warm and cozy
Very comfortable
Durable exterior and stitching
Electrical Hazard protection
CONS:
SPECIFICATIONS:
If you wish to have durability and supportiveness rolled up into one, go for the Georgia Lace-To-Toe Gore-Tex Waterproof Insulated Work Boot. It's one of the best lace-to-toe lineman boots with a steel shank, and its supportive features make this an instant favorite.
Be it rain or snow, hiking or climbing up a pole for linework, these boots will help you through thick and thin. So, it's definitely a good choice for lineman work.
Support
Georgia boots provide you with the level of support you have only dreamt about. It supports you at each step and each activity, being the best thing you ever bought for your feet.
The steel shanks support the feet while climbing as a lineman and minimize the extreme pressure on the arches and ankles.
Moreover, the lugs on the Vibram outsole give you enhanced traction over oily surfaces, increase your flexibility, and resist heat and electric shocks.
Waterproof Build
As the brand claims, Georgia is America's hardworking boot. The boots live up to the brand's reputation with the exceptional build.
The waterproof construction is a plus point for any lineman who has to work outdoors throughout the year. These boots fortify you against the rain and help to keep the feet dry in wet weather.
Comfort
Even though the boots have a tough exterior, the leather is soft and feels unimaginably comfortable after breaking in. The breathable lining inside the shoes prevents your feet from sweating even during long shifts.
The shoes have cushioned orthotic insoles inside to comfort you at each step. They absorb the shocks sent by the surfaces and negate the pressure on the arches while climbing poles.
You can finally forget foot fatigue, cramps, and pains when you put on a proper boot with cushioned footbeds. The 200g 3M Thinsulate Insulation system also makes them the best lineman boots for winter.
Sean says, "I have been using these gorgeous Georgia boots for two years now. These are worth every penny, and I feel it each day I wear them. They were quite stiff at first, but they have never hurt my feet or ankles after the break-in period.

In fact, foot fatigue is now past for me. The boots are lightweight and comfortable for an entire day of work.

I also love that these are actually waterproof boots just as they claim and keep me dry on the soggy days too. Be it water or grease on the ground, I can tread with confidence."
KEY FEATURES:
Made of full-grain leather
Slip-resistant Vibram outsole
Lace closure
Removable orthotic insole
Long 9.5" shaft
Solid steel shanks
PROS:
100% waterproof
Supreme comfort
Suitable for all-weather
Excellent grip on all surfaces
Durable leather body
Breathable uppers
CONS:
Takes some time to break in.
SPECIFICATIONS:
These work boots from Wolverine have the appearance of regular running and hiking boots, but they are meant for other difficult jobs, too. Wolverine as a brand has been making work boots for the most challenging professions like lineman.
This American shoemaking brand is known for its superior craftsmanship in creating the most durable work boots. This Men's Overpass Insulated Workboot is a smart workboot that protects you against the elements and goes strong for a long time.
Construction
These athletic work boots are made using the Contour Welt construction method to provide better flexibility at work.
These are ideal for climbing and other strenuous jobs where your feet need to be flexible enough. The leather is also waterproof and abrasion-resistant. It's meant to be durable.
Traction
Coming to the grip of the shoes, they do a fair job of providing adequate traction against slipping. They help you tread at the job site without chances of accidental slipping.
Comfort
The cushioned Ortholite footbed supports the feet every time you take a step or climb up a pole. It mitigates the pressure on the midfoot, resulting in zero arch pain when you take off the shoes.
The waterproof and insulated construction keeps the feet warm and dry even during the rains. There is 400 g 3M insulation to keep the feet warm against the cold weather outside. The composite toe makes the shoe more lightweight than those with bulky steel toes.
Larry comments, "These work boots are made of tough material and seem meant for harsh use. I wear them to work every day, and even with little care, they are still in shape. I do not think I need to order a replacement anytime soon."
KEY FEATURES:
Made of 100% leather and textile.
Slip-resistant rubber outsole.
Contour Welt construction
Waterproof leather
Abrasion-resistant toe
ASTM protection rated composite toe
Removable Ortholite footbed
400g of 3M insulation
PROS:
Waterproof boots keep the feet dry.
Cushioned footbed provides day-long comfort.
Provides significant traction on oil, water, and chemicals.
Slip and abrasion resistance for rough use.
CONS:
Does not have sole puncture protection CSA Green triangle patch.
SPECIFICATIONS:
When you need to amplify your safety and protection at the job site, try Carhartt. The two best qualities about this boot are its excellent electrical hazard protection and safe toe box.
Carharrt is one of America's best work boots brands, and these sure look like a signature creation. When you choose Carhartt, you are choosing durability for years to come.
This Men's Composite Toe Boot is highly recommended for construction site workers, loggers, electricians, and linemen.
Construction
Carhartt makes this lineman boot using the best quality full-grain leather with a protective coating. It is water, dirt, and abrasion-resistant to remain untarnished even when there are accidental spills or the weather gets muddy.
You can easily clean the exterior and expect it to stay in good condition for years because of the exceptional build.
Comfort
Carhartt surely knows how to enhance your comfort levels with its EVA midsole and dual-density foam insole.
Pain, cramps, and injuries take a back seat when the cushioned footbed absorbs the shocks sent to your feet and keep you comfortable.
Protection
Coming to the most lucrative features of these best work boots for linemen, the enhanced level of protection makes it a hot favorite in challenging professions like linework and construction jobs. The rubber outsole with deep lugs provides excellent grip on all surfaces.
The anti-slip quality keeps you steady, making these the perfect pole climbing boots for every day. It provides adequate protection against skidding on muddy grounds and slippery surfaces, too.
Lastly, the lightweight but highly protective composite toe saves you from falling into heavy and sharp objects, while the EH rating saves you from shocks up to 18,000 volts.
Eddie writes, "I have honestly recommended these boots to a few of my colleagues as these have highly satisfied me over the last year. Even after long hours at the job, my feet didn't pain or look blistered.

I love its classy brown look like the typical American work boots. Also, these have excellent electrical hazard protection which makes this a life-saver for me."
KEY FEATURES:
Made of 100% leather.
Ankle-high boots
Raised heels
Slip-resistant rubber outsole
Composite toe
Padded collar
Electrical Hazard Rating of 18000V
FastDry technology drying
EVA midsole
PROS:
Extremely comfortable after breaking in.
Strong construction.
Electrical hazard protection.
Great traction at the job site.
Breathable throughout the day.
.
CONS:
SPECIFICATIONS:
If you are looking for pull-on lineman boots, Carhartt presents these marvelous high-shaft Men's Ground Force 10″ Waterproof Composite Toe Wellington Industrial Boots.
As the name suggests, you get the best of everything here. Carhartt's excellent craftsmanship combines with waterproof leather, a tall shaft, and composite toe protection to give you everything you may be looking for.
Comfort level
The Insite Technology Footbed provides you maximum comfort while treading or climbing. It balances the pressure on the arches and distributes the weight evenly to avoid straining the feet. Due to the increased arch support, you can expect zero foot fatigue and pain after work.
Waterproof
These shoes made with cement construction have also been designed to be waterproof. They help you stay dry and cozy at work, especially if you are involved in outdoor jobs.
Keep your feet protected from getting wet with these best waterproof lineman boots, which also have a breathable membrane to keep the sweat away.
Enhanced safety
These boots from Carhartt come reinforced with a composite safety toe. This provides you with protection against falling heavy objects and machinery at the job site.
The composite toe also prevents sharp objects falling on the shoes from cutting through and piercing your feet. The composite toe also makes the boots lighter than standard steel toe boots.
Carhartt fortifies you against hazards further by providing an electrical hazard protection ratings of up to 18,000 volts. This can be life-saving for linemen who face the threat of electrocution.
Allen comments, "Last year, I decided to shift to a premium brand for my work boots since the last pair was giving me quite a lot of pain.

I chose Carhartt going by the rave reviews, and it really hasn't given me any chance to be disappointed since then. It holds up pretty well against the elements, and I make the most of the waterproof construction.

I simply love the incredible arch support. If I hadn't shifted to these, I wouldn't have known how comfortable your work boots can be."
KEY FEATURES:
Made of genuine leather and textile.
10″ tall shaft
Slip-resistant rubber outsole
Composite toe
Electrical Hazard Rating of 18000V
Waterproof breathable protection
Cement construction
PROS:
Extremely comfortable once they break in.
Durable construction.
Electrical hazard protection.
Great traction on all surfaces.
Keeps the feet dry, sweat-free, and breathable.
Spacious toe box.
Composite safety toe protection.
Lightweight.
CONS:
SPECIFICATIONS:
Rock rooster speaks of incredible Chinese craftsmanship in creating the most durable and sturdy work boots for workers involved in construction sites, linework, mechanics, and heavy industry.
These best lineman boots from Rockrooster have the best of everything combined into one. You get slip and abrasion-resistant, steel-toe-protected, anti-fatigue, breathable boots that keep you protected and comfortable throughout the extra long hours at the job.
Protective features
These Rockrooster boots keep you safe from accidents by shielding your toes with sturdy steel toe caps.
Deadly mishaps are common amongst linemen and those involved with heavy machinery. Steel toe protection is one of the most significant reasons to go for these extra-protective boots.
Also, the PU outsole is highly slip-resistant and helps you manage your step on slippery grounds or while climbing utility poles without losing balance.
Comfort
Another definite reason to choose these boots is their supreme comfort level. The CoolMax technology wicks away the moisture from the feet, keeping them dry and sweat-free.
The boots are breathable enough to keep you comfortable all day, even on hot days. On the other hand, the boots keep you warm and insulated on colder days. The PORON Xrd fabric enhances comfort, endurance, and breathability.
The footbed is anatomically contoured to support your footsteps, and the anti-fatigue memory foam insole negates the pressure and shocks to keep pain and injuries away.
These are highly recommended for linemen because of the intense build and enhanced protective features suitable for the work.
Jon says, "I love these new pair of boots more than anything ever bought in the past. I wasn't too sure about the brand and decided to give them a try for once. But now, these are my favorite work boots. I love how roomy they are near the toe box area. That's a blessing for someone wide-footed as me. My feet feel comfortable in them even through the longest shifts, and comfort-wise, I am thoroughly satisfied. These seem quite sturdy and I think they are going to last me for a long time."
KEY FEATURES:
Made from 100% leather
Anti-slip thermoplastic PU outsole
Steel toe cap
Lace closure
Coolmax technology
Anti-fatigue memory foam insole
PROS:
Absolutely slip-resistant.
Scratch-resistant.
Durable construction.
Very spacious.
Steel toe protection.
Puncture-resistant sole
Breathable lining
Keeps pain and foot fatigue away
CONS:
Need some time to break in.
Must-Have Features of The Best Lineman Boots for Climbing
There are a few vital features that your lineman boots should have. These features make them different from regular boots and other types of work shoes and protect you from the critical conditions that characterize a lineman's job.
Electrical Hazard Certification
The first reason to buy lineman boots is to save the feet from electrical shocks that are very common. Working around electricity can pose several life-threatening risks all the time.
Wearing work boots with electrical hazard certification is the first step towards ultimate protection. Choosing such boots can mitigate the risk of shocks from open circuits and live wires.
Slip-resistant outsoles
The outsoles play a prominent role in a lineman's boots. The right outsoles can save your life or make you prone to accidents. Traction is vital here since you have to tread on various surfaces and climb up poles in risky conditions. Nobody wants to fall from atop a pole, right?
A lineman's boots must have outsoles with high-quality traction and aggressive treads. These two features are life-saving for a lineman, helping you keep your feet steady and prevent slipping and falling.
The aggressive tracks on the outsole help the feet grip the ground firmly while climbing any surface. The outsole must also be oil-resistant and not slide on steel surfaces. It is a vital factor because linemen often have to climb on steel hooks that are quite slippery.
Top lineman boots with high traction not only keep you safe but also contribute to your confidence in performing the job well.
Raised Heels
Lineman boots must have raised heels along with aggressive lugs on the outsole. Raised heels provide extra traction while climbing poles and minimize the risks of slipping and falling.
Insulation
Since linemen have to work outdoors for hours, their feet must stay warm even when the weather turns freezing. If your feet get numb due to the cold weather, you cannot work comfortably.
Waterproofing
A lineman's job requires him to remain outdoors for long hours almost every day. It is impossible to avoid rain while working outside. Thus, you must be prepared to handle the situation and prevent accidents.
Waterproof boots help you stay dry even if it rains and the ground is wet, muddy, and slippery. Your feet must remain dry to prevent you from falling sick. Also, who would like to work uncomfortably in damp and soggy boots, right?
Cushioned Footbeds
Comfort is also necessary for a demanding job such as climbing utility poles. Cushioned footbeds and shock-absorbent midsoles allow you to stay at ease all day by negating the shocks sent by the hard poles and preventing long-term pains.
Safety Toes
Lineworkers have to handle quite a lot of heavy tools and electrical machinery. Safety toes made of steel, alloy, or carbon add a layer of protection to the vulnerable toe area.
These make the boots equipped to withstand the impact of heavy objects falling on them without hurting your feet. They also prevent sharp tools from accidentally piercing through the boots and causing grave injuries.
Steel Shanks
Climbing utility poles can be exhausting for your feet. Steel shanks provide support to the feet while standing on poles or a ladder doing the strenuous job. Without the proper support to your feet, the impact can result in unbearable pain later.
Top lineman boots are equipped with solid steel shanks to support you by distributing the weight evenly and avoiding too much pressure on the feet.
Durability
Last but not least, durability is an essential factor that should come into consideration while investing in lineman boots. If you are spending your money on buying the best, they should last you long enough before you need to replace them.
Lineworkers have to work in rough conditions, and the boots must therefore be robust enough to withstand years of harsh use without falling off.
Check whether your boots are made of full-grain leather and constructed using Goodyear Welt method by a reputed brand to ensure that they withstand the intense working conditions for quite some years.
How to Choose the Best Work Boots For Lineman?
Linemen require work boots that offer specific features, such as comfort, durability, and most importantly, safety. There are a variety of work boots for linemen to choose from, but how do you identify the best one? In this blog post, we'll discuss the essential factors that you should consider when selecting the top 10 best work boots for linemen.
Safety Features
Safety is of utmost importance in linemen's work boots. It is critical to choose work boots that provide adequate safety features to protect your feet while on the job. Some of the most important safety features include:
Steel toe: Steel toe feature keeps your toes safe from falling objects on the job site, ensuring that your toes are protected from serious injuries.
Electrical hazard protection (eh): This feature prevents electrical shock and keeps you safe from up to 600 volts in dry conditions.
Slip-resistance: It is crucial for linemen to have slip-resistant boots to work in any weather condition, be it rain, snow, or mud.
Comfort
Linemen often spend long hours on their feet, so boots with excellent comfort features are necessary. Below are some of the comfort features to look out for:
Cushioned insoles: Cushioned insoles help to absorb shock and reduce stress on the feet and joints.
Padding: Boots with extra padding provide extra comfort and support, making long days on the job site easier on the feet.
Moisture-wicking: Boots with moisture-wicking material help to keep your feet dry and comfortable throughout long working hours.
Durability
Linemen work in harsh conditions and face some severe wear and tear on their boots. It is vital to choose boots that can withstand these rigorous conditions. Below are some of the features to consider when it comes to durability:
Material: Full-grain leather tends to be more durable and lasts longer than other materials.
Stitching: Durable boots have strong stitching that can survive harsh weather conditions and long hours of wear.
Outsole: An outsole made of high-quality rubber is durable and slip-resistant, making it ideal for linemen who need reliable boots on the job.
Price
Price is always a consideration when selecting the best work boots for linemen. Fortunately, quality boots need not be expensive. Below are some tips to help you get the best price:
Buy during off-seasons: Prices of work boots tend to drop during off-seasons, so buy your boots when it is not peak season.
Look for coupons: Look out for any coupons, deals or promotions that your favorite brands have to offer.
Selecting the best work boots for linemen is about finding a balance between comfort, durability, safety features, and price. Keeping these factors in mind will help you make informed decisions when selecting the top 10 best work boots for linemen.
Safety Tips For Lineman Wearing Work Boots
When it comes to the job of a lineman, safety should always be the number one priority. Wearing the right work boots is essential for preventing accidents, injuries, and even fatalities. Here are some safety tips to follow when choosing and wearing work boots:
Always wear boots that meet industry safety standards and comply with national electric safety code (nesc) regulations.
Look for boots with slip-resistant soles to reduce the risk of slip and fall accidents.
Choose boots with a steel toe and shank for added protection against impacts and punctures.
Make sure your boots fit properly to avoid blisters, pinched toes, and other foot injuries.
Properly lace your boots to prevent tripping hazards.
Regularly inspect your boots for any signs of wear and tear, and replace them as needed.
Discuss The Appropriate Care And Maintenance Of Work Boots
Taking care of your work boots is crucial for keeping them in good condition and prolonging their lifespan. Here are some tips on how to care for and maintain your work boots:
Wipe down your boots regularly with a damp cloth to remove dirt and debris.
Apply a leather conditioner to keep the leather soft and supple and prevent cracking.
Use a waterproof spray to protect your boots from moisture and water damage.
Store your boots in a cool, dry place when not in use.
Replace any worn out laces to ensure your boots are properly secured.
Have your boots professionally cleaned and inspected at least once a year.
Emphasize The Importance Of Wearing Proper Personal Protective Equipment
Wearing proper personal protective equipment (ppe) is just as important as wearing the right work boots. Here are some ppe items that linemen should wear:
Hard hat
Safety glasses or face shield
Gloves
Flame-resistant (fr) clothing
Hi-vis vest or clothing
When it comes to choosing ppe, make sure it meets industry safety standards and is appropriate for the task at hand. Regularly inspect and replace any damaged or worn out ppe to ensure your safety on the job. With the right equipment and safety protocols in place, linemen can do their jobs safely and efficiently.
How can I make my work boots last?
Linemen need robust, comfortable, and ankle-protecting work boots. Lineman work boots should consider these factors:
Work boots should have steel toe caps, protection from electrical hazards, non-slip bottoms, and plates that can't be punctured.
Long-hour, on-foot workers need comfort. Choose boots with arch support, cushioning, and moisture-wicking materials for dry feet.
Linemen's work boots must survive harsh weather and terrain. Seek out durable leather or synthetic boots.
Comfort and safety depend on work boot fit. Find boots that fit snugly but allow toe movement. Very tight or loose boots can cause discomfort and injury.
Choose lineman boots from reputed brands.
Lineman work boots are pricey but worth it for safety and comfort. Choose boots with a warranty and good value.
Linemen's performance, durability, and comfort reviews of the boots may be found online.
Linemen's work boots vary on their needs and preferences. Consider these elements to choosing the proper work boots.
Frequently Asked Questions About Lineman Boots
Final Words
This was a comprehensive guide to introduce you to the best lineman boots to help you carry on with your work without worrying about hazards.
Remember to invest in only the best-reviewed boots, even if they cost you a few extra bucks because your safety is always your first priority. Use the guide to discover the best lineman boots for the money and ensure that you choose the best for yourself.
Read More:
✅ How To Get Rid of Shoe Odor With Tea Bags☕
? How To Take Care Of Waterproof Leather Boots
#9 Interesting Facts About Shoes You Should Know!?
How to relieve foot pain from standing all day ?: 6 Easy Ways!
How To Condition Leather Boots? ? : 6 Easy Ways Using Household Items
5 Best Ariat Work Boot Reviews – The Most Dependable Work Boots Designed For Men