Running is a good physical workout to maintain our health. While some of us run regularly to stay fit, others are professional runners. However, what will you do when you have Achilles Tendonitis?
This foot problem will prevent you from running properly. Medical treatments may be essential to treat this condition. But, to alleviate the discomfort from this condition, you need to invest in the best running shoes for Achilles Tendonitis.
Several runners have claimed that the right running shoes have helped them to deal with Achilles Tendonitis problems. Thus, you may also buy the perfect footwear to keep away from the issue.
Needless to say, not a single pair of shoes will be the right choice for every buyer. Everyone's needs are different. Moreover, lifestyle factors and the severity and type of Achilles Tendonitis are some aspects to decide on the running shoes.
Before creating a list of the best running shoes for Achilles Tendonitis, we have shared some basic information about this condition.
The Achilles tendon refers to the large tendon, which connects your calf muscles (soleus and gastrocnemius) to the heel bone.
A high amount of stress can make the tendon tighter, and ultimately, it needs to work hard. It will also cause inflammation and irritation- a condition referred to as Achilles tendinitis. In due course, the scar tissue becomes less flexible than the Achilles tendon.
The inflamed Achilles remains under stress, and it gets ruptured. You will feel pain at the time running.
Achilles tendinitis can be of different types, and it will affect your choice of shoes.
Insertional Tendinopathy– The part that merges the tendon and the heel will become painful. It may also result in a bony spur, known as Haglund's Deformity. You will feel the pain at the backside of the heel. You have to choose footwear, which does not affect the sore part. Open footwear can be the safest option for this condition.
Mid-Substance Tendinopathy– In this case, you will feel pain in the middle part of the tendon. The tendon will have a lump, and you will feel much pain. Make sure that your shoes do not rub the swollen part.
Achilles Tendinitis- What are the common symptoms?
Stiffness and pain along your Achilles tendon- In most cases, you will feel the pain in the morning.
Severe ache after workouts
Pain at the rear side of the heel
Tendon getting thicker
Bone spur
Swelling gets worse throughout the day
You will also find problems with your ankle. Moreover, the Achilles part will have a burning sensation. When the scar tissue rubs against your tendon, you will feel a cracking sound.
The lower part of your Achilles will also be painful. Without any treatment, chronic inflammation will become serious.
Check Out Our Top 7 Best running shoes for Achilles Tendonitis
Brooks Ghost 14 Men's Neutral Running Shoe- Best running shoes for a perfect balance
Nike Men's Air Zoom Pegasus 36 Running Shoes- Best Running Shoes for professional runners
HOKA Bondi 7- Best running shoes with high responsiveness
MIZUNO WAVE RIDER 25- Best lightweight running shoes
Under Armour Men's Charged Assert 8- Best budget-friendly Running Shoes
Skechers Men's Go Run Ride 7 Shoe- Best cushioned running shoes
ASCIS Gel-Nimbus 21- Most comfortable running shoes
When it comes to finding the best running shoes for Achilles tendonitis, it's important to look for shoes that provide adequate support and cushioning to reduce the impact on the Achilles tendon. Here are a few recommendations:
1. Brooks Ghost 14 Men's Neutral Running Shoe– Best running shoes for a perfect balance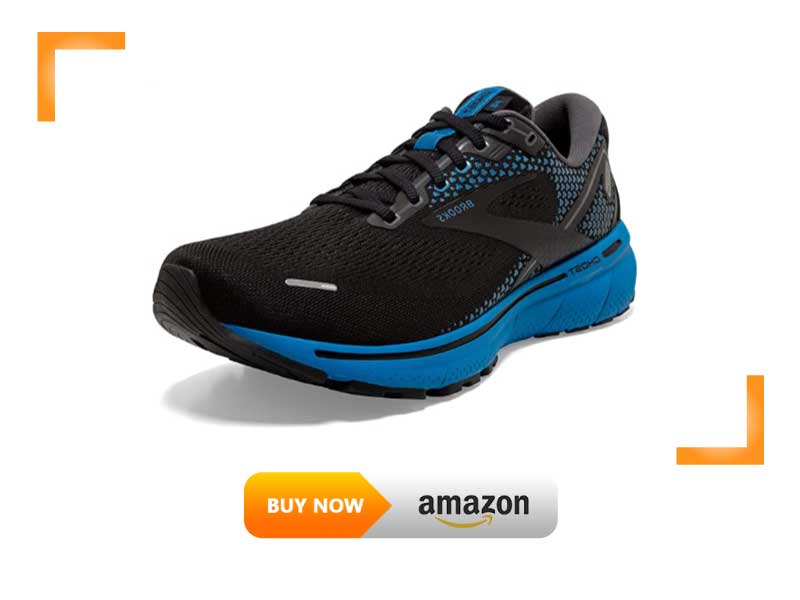 Specifications
| | |
| --- | --- |
| Material | Recycled materials |
| Sole | Rubber sole |
| Special feature | BioMoGo DNA and DNA LOFT cushioning |
The Ghost 14 is the right choice for daily runners who desire a good balance and stability during their long-distance running sessions. Brooks has upgraded the design in version 14 by adding a snappier forefoot and highly streamlined upper.
Features
The uppers are highly comfortable, and the shoes are neither too firm nor too soft. Due to the 100% DNA Loft midsole, you will enjoy a softer underfoot.
Manufacturers have tried to create an impact dampening design for the shoes. The venting perforations have made the shoes breathable. But, due to the heavily padded design, the footwear will make your feet warm.
The Ghost 14 is best for those who desire comfort from the footwear. Both recreational runners and joggers who have Achilles Tendonitis can rely on this footwear.
Longevity is another reason behind the popularity of these shoes. Runners have claimed that they have comfortably run 500 miles while wearing footwear. You will get value from the shoes due to the heavy-duty features. Both the midsole and the outsole are robust.
Brooks has replaced the round laces with the flat laces for version 14. These laces sit properly over the top part of your feet. Moreover, as there is a good amount of rubber, you will feel grip. The heel has a reflective element, best for night runners.
An Amazon customer said, "I like these shoes, as they are lightweight and comfortable. The overall size of the footwear and the tongue are also perfect. But, the lace holes are slightly tight. Still, they do not cause many problems to me."
Pros
Heel collar for stabilizing your ankle
Good heel-to-toe stride
Soft uppers
Integrated shock absorber
Cons
Need to be more lightweight
2. Nike Men's Air Zoom Pegasus 36 Running Shoes- Best Running Shoes for professional runners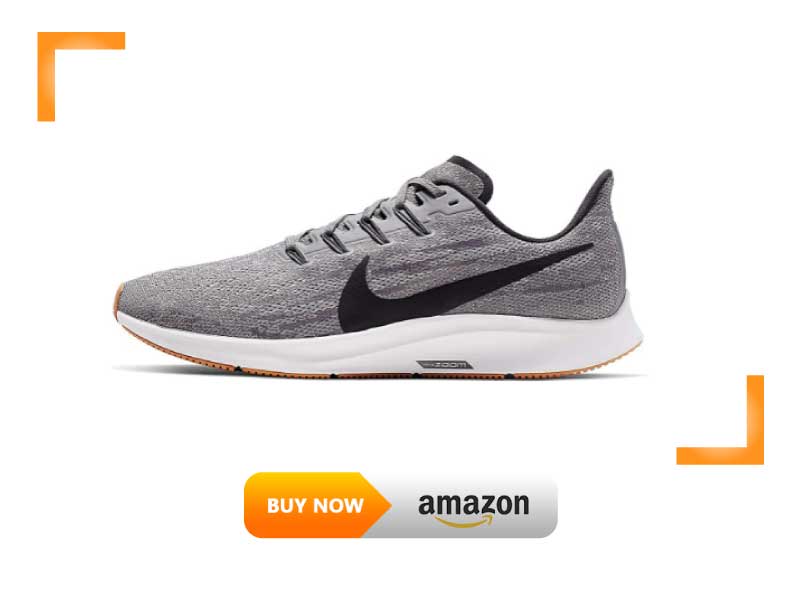 Specifications
| | |
| --- | --- |
| Material | Synthetic materials with mesh upper |
| Sole | Rubber sole |
| Special feature | slimmer tongue |
Nike is the most prominent name in the footwear industry. Professional runners always try to perform better. Nike has also given much importance to performance while designing these shoes. Pegasus 36 is one of the latest additions to Nike's running shoe line.
However, you may not find any major updates in this model. Thus, Pegasus 36 is not much different from the precursor, Pegasus 35.
Features
The streamlined shoe design enables you to run fast. The most important part is the highly engineered mesh upper. The mesh has also made the footwear look clean.
Designers have attached the mesh part to the tongue, and it ensures a proper fit. Moreover, while you are running, the tongue will not move around.
There are 6 lacing holes on each side. The 7th hole is at the top to let you adjust the fit. The heel collar is another distinctive feature designed for runners with Achilles tendonitis.
Moreover, due to the cushioned foam midsole, you will be able to maintain optimal performance.
The midsole and the Zoom Air layer have added durability to the shoes. However, this Zoom Air system also enables you to enjoy a responsive ride. The sock liner is also highly resilient and adapts to your foot's natural contour.
Nike has used hard carbon rubber for the outsole, which is more durable than standard rubber. The outsole also ensures a good grip on both dry and wet surfaces.
Available in a range of color combinations, Nike's running shoes will suit your preference. The slimmer tongue design has reduced the clutter. These best running shoes for Achilles Tendonitis have a highly aesthetic design.
An Amazon customer said, "While wearing the shoes, I found that they are best for fast runners. I ran 8 miles on the first day. I have a dream of becoming a professional runner, and I think that these Nike shoes are the best accessories."
Pros
Flywire cables for a better fit
Highly breathable
Comfortable and stable midsole
Well-cushioned heel
Cons
Midsole cushioning produces heat
3. HOKA Bondi 7– Best running shoes with high responsiveness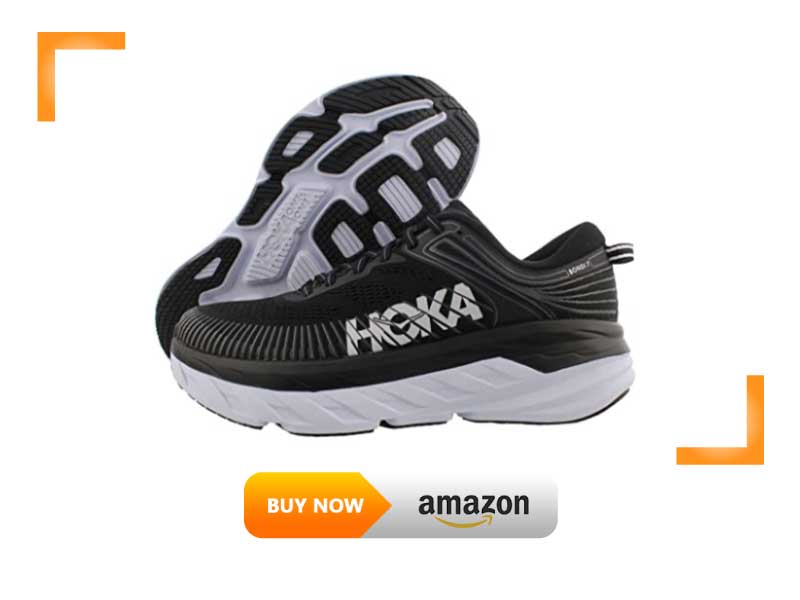 Specifications
| | |
| --- | --- |
| Material | Synthetic materials |
| Sole | Rubber sole |
| Special feature | Breathable technology |
We have chosen the HOKA Bondo 7 designed for women. Due to the highly responsive design, these shoes have gained the attention of several runners. Both amateur runners and professional sportsmen can invest in the HOKA Bondi footwear.
Features
Bondi 7 shoes have foam underfoot, which provides you with unrivaled softness. That is why runners with Achilles Tendonitis have found these shoes useful for them. Manufacturers have added padding to give you the plushest feel.
The memory foam is dense, and it conforms properly to the heel's natural shape. The foam will hug your heel, and that's why it will evenly distribute the pressure.
Furthermore, the tongue has padding to minimize the shoelaces. The thin mesh upper is lightweight and lets your foot breathe properly.
The interior heel cup has a proper structure to keep your foot locked into the shoe. The lacing system is nothing complicated and includes 7 eyelets.
The top eyelet enables you to make a better adjustment. However, the forefoot and midfoot are slightly narrow, and thus, users with wider feet must be careful about the size.
HOKA needs to pay more attention to the durability of the shoes. We have learned that these running shoes have average standard durability from analyzing the customer reviews. The rubber materials on the sole need to be better. However, we think that HOKA has compromised durability to provide you with a soft ride.
The vent perforations near the toe box are larger. There are also smaller vents covering the midfoot. The printed overlays are vertical to add an elegant style.
An Amazon customer said, "These HOKA shoes have given me comfort while I have been working on the concrete floor surface. Although I put stress on my feet, I have felt no pain. These shoes have provided me with the best value.
Pros
High-quality materials
Proper fit
Stylish in design
Cons
4. MIZUNO WAVE RIDER 25– Best lightweight running shoes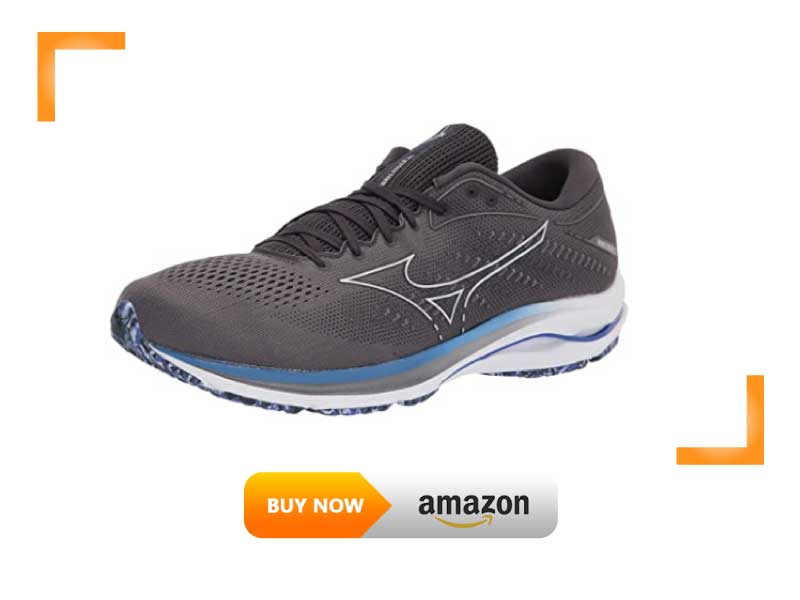 Specifications
| | |
| --- | --- |
| Material | Synthetic materials |
| Sole | carbon rubber |
| Special feature | MIZUNO WAVE plate |
With a neutral design, Mizuno Wave Rider 25 has drawn the attention of several daily runners. Mizuno has revamped the Wave Rider 25 to provide you with better features. Although these shoes are lightweight, they are highly functional. You will feel more bounce and energy while wearing these running shoes.
Features
The cushioning with these shoes is software. One of the new features is the Mizuno Wave plate made of eco-friendly materials like PEBA (manufactured from castor oil.
The Enerzy foam that covers the midsole of the shoes was very popular. The major purpose of the shoes is to ensure both durability and comfort. Moreover, the Enerzy foam does not add much weight to the shoes.
The lightweight mesh upper is ventilated. The gusseted tongue and the padded heel collar can give optimal comfort to your feet. You will also enjoy higher stability with these shoes.
The outsole has used carbon rubber to provide durability. The part beneath the toes has a blown rubber, which is highly versatile. There are deep flex grooves to make the forefoot more comfortable. When you are moving through the concrete pavement, your shoes will offer good traction on rainy days. That is why several athletes have invested in these shoes.
The running shoes have a classic design with 3D printed overlays. The U4ic midsole has a shock reduction capacity. You can also wear them during your daily workouts. Those who run at slow and moderate speed can wear these shoes.
An Amazon customer said, "My left foot is slightly flat. Other shoes have caused pain to my foot. However, with the Mizuno footwear, I have enjoyed a high level of stability. I have purchased these shoes for training purposes."
Pros
A stable platform
Superior cushioning
Versatile design
Cons
Not best for fast runners
5. Under Armour Men's Charged Assert 8- Best budget-friendly Running Shoes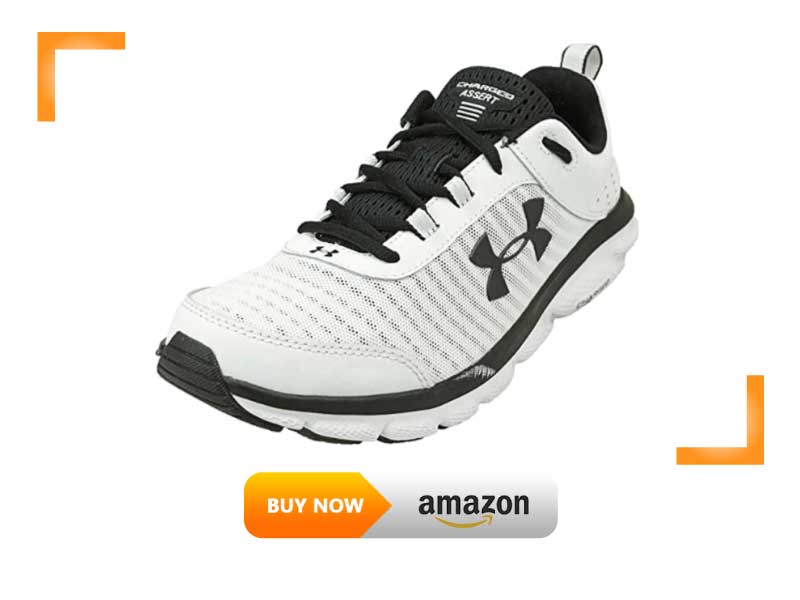 Specifications
| | |
| --- | --- |
| Material | Polyester, 16% Elastane |
| Sole | Synthetic sole |
| Special feature | Leather overlays |
Casual runners do not like to shred much amount of bucks to buy their running shoes. That is why we have picked this low-priced product for them. However, you can choose footwear as the best running shoes for Achilles tendonitis.
Features
The major feature ensuring comfort is the multilayered mesh. Furthermore, the mesh design includes tiny holes to promote the flow of air to the interiors of the shoe. The leather overlays have added a style to the shoes.
Stitched onto the heel, instep, and front side, these overlays ensure a secure fit. They also protect your feet from sharp objects. The backside has the pull-tab, while the toecap has reflective elements.
Manufacturers have used the Charged Cushioning® technology to add foam running across the length of the footwear. The compression-molded material gives you the ultimate comfort. But, it is also durable to endure your weight.
Manufacturers have combined polyester and elastane to design the major part of the shoes. The industry-standard compound is known for high resiliency. You can choose the shoes for casual training purposes.
The solid rubber outsole can provide traction, and thus, you will feel an optimal level of traction during your everyday running sessions.
The logo displayed on the side of your shoes has created an attractive design. The lacing system lets you adjust the tightness. Semi-round laces with clear eyelets have perfection in their designs.
An Amazon customer said, "Both look and feel are good. I have used these shoes for years. Still, I do not find the need to replace these running shoes."
Pros
Soft EVA sock liner
Optimal cushioning
Higher responsiveness
Cons
Need better quality materials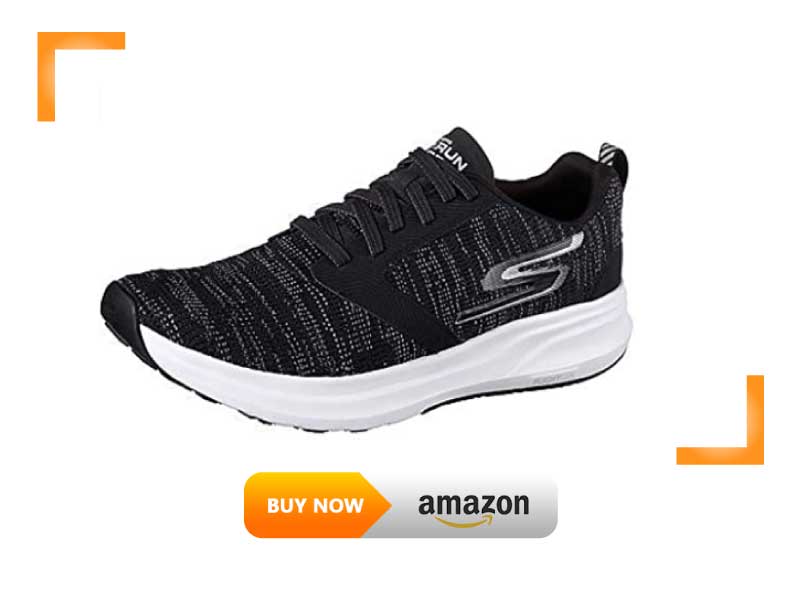 Specifications
| | |
| --- | --- |
| Material | Synthetic |
| Sole | Rubber sole |
| Special feature | Reflective details |
Cushion is one of the important factors when buying running shoes. That is why Skechers has paid high attention to the shoes. Although other branded running shoes have a cushion, you will find some distinctive features.
Features
The stylish Skechers' shoes have not compromised comfort. The uppers have seamless knit materials, which are breathable. So these shoes are good for sweaty feet as well. You will not feel irritated while wearing these shoes.
The FLIGHT GEN cushioning for the midsole is lightweight and provides impact protection. Moreover, it has a high level of responsiveness.
The midsole has Mid-foot Strike Zone technology to help you in striking efficiently. You will enjoy a quicker stride. The gusseted tongue also gives comfort by providing a secure fit.
While talking about durability, we need to mention the high-traction outsole. The sole ensures a good grip on different surfaces. The heel is slightly thicker compared to the forefoot. You will not notice much difference between your forefoot's thickness and heel. The Durapontex insole of these shoes is also of high quality. Moreover, you will find a durable outsole due to the multiple rubber strips.
There are reflective materials to increase visibility in dim-light conditions. They also make you feel safe. The shoes taper near the toe to create a rockered shape.
It is the first pair of running shoes I have bought. Although I have read some negative reviews, they have not discouraged me. I thought of buying the shoes. I have really made the best decision.
Pros
Rubber traction
Breathable
Lightweight
Cons
7. ASCIS Gel-Nimbus 21– Most comfortable running shoes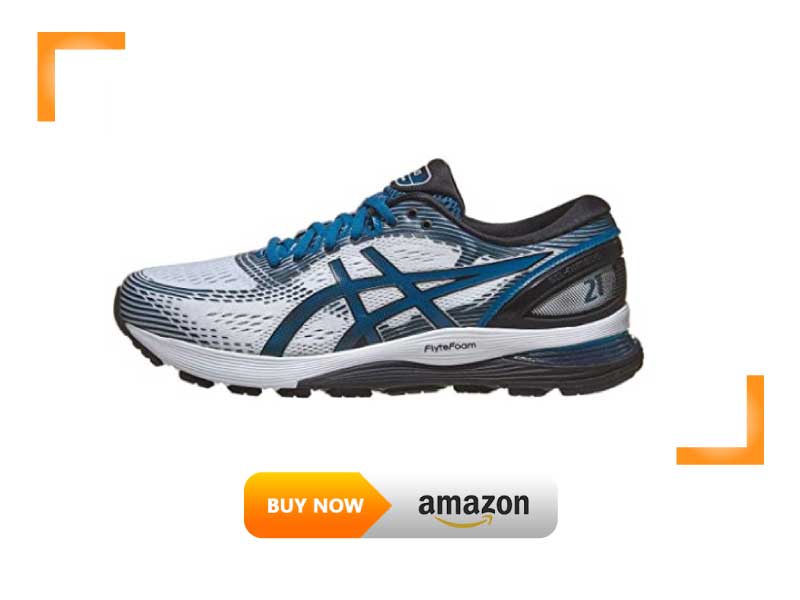 Specifications
| | |
| --- | --- |
| Material | Synthetic-and-mesh |
| Sole | High Abrasion Rubber |
| Special feature | FlyteFoam Lyte Technology |
Those who have Achilles tendonitis and other foot problems can buy these shoes during running. You will feel comfortable, and the shoes will prevent injuries to the heel.
Features
The Nimbus has gained attention due to its soft cushioning. The uppers are properly structured, and high-mileage trainers can be put on these shoes. The toebox is also spacious to let you move your toes freely.
To add durability, manufacturers have used a high-abrasion rubber outsole. The impact-reducing Gel technology is easily visible from the outer side of the shoes. You will have a softer ride, and the shoes ensure a high level of responsiveness.
One of the unique features is the Ortholite sock liner, which manages moisture and maintains breathability. It also prevents the formation of stink. Thus, your feet will stay healthy while wearing these shoes.
An Amazon customer said, "At first, I was not confident about these shoes. However, the snug fit design has pleased me. I have enjoyed a better grip with these running shoes."
Pros
Durable materials
More cushioning
Higher breathability
Stretch reinforcement
Cons
Guide to choosing the best running shoes for Achilles tendonitis
It is not always easy to pick the right footwear for Achilles tendonitis. A brief guide will make your purchase easier. The most important factor to be focused on is buying the right running shoes.
Measure your foot length and width
Your first step is to know your foot size to find the shoes with a proper fit. You must not forcefully insert your feet into your shoes.
Identify the type of foot arch
Your feet's muscles can align ligaments, bones, arches, and tendons side-to-side and lengthwise. Based on your arches, you need to choose shoes that are healthy for your foot. Running and jumping are highly strenuous activities. Thus, you must take some time to purchase your shoes.
More tips for buying running shoes
Make sure that there is the right level of cushioning
Some manufacturers use foam cushioning, while others apply gel cushioning. The best cushioning technology gives your feet comfort and protection. The cushioning materials also have a shock absorption capacity to reduce the effect on your heels.
Check the ventilation of the shoes
Running shoes must have a breathable upper to ensure ventilation. During the summer season, when you run continuously, breathability will give you comfort.
Know the frequency of running sessions
How frequently do you run? Are you a regular runner? Runners who need to run thrice a week for any purpose must choose shoes with proper cushioning.
Check your running intensity
Your speed may be less than 12km per hour, and you run long miles every week. In this case, your footwear must have good cushioning to minimize shock waves and give comfort. The footwear should make you feel stable during your running sessions. You can look for lightweight shoes with a dynamic structure. Thus, you can invest in the best shoes based on your training session and running intensity.
Focus on the surface type
Running surfaces can be of multiple categories, and based on your choice, you have to pick the right shoes. You can buy shoes with minor irregularities when it is a plain surface. They are lightweight shoes with proper cushioning and higher stability. Your shoes must ensure good stability to run on a rough surface like hilly terrain. The sole should be rugged to protect the feet. Some buyers purchase shoes for treadmill running. You can prefer soft shoes with ventilated pores as it is an indoor activity.
You can find human feet in multiple categories. In case of a neutral stride, your heel will first hit the ground, and then it will be followed by your toes and forefoot. You can look for neutral shoes with heel cushioning. Some of us have over-pronated strides with inner heels striking the ground first. Shoes capable of motion control are the right choice. You can also find an under-pronated stride where the outer heel hits the ground, and it is followed by your toes.
The anatomy of your running shoes
It is always vital to know the function of every part of your running shoes. A minor differentiation will affect your feelings. That is why we have described the anatomy of these shoes. You will easily be able to make the decision confidently.
The parts above the sole are known as uppers. They include fabric layers and mesh attached together. The latest models have special knitting techniques to create a single-piece upper. The stretchy upper will give you the best feelings. You must ensure that the shape of the upper matches your foot.
It is a cup inside the back foot, which sustains your heel. The heel wrap is present on the outer side of some shoes. However, minimalist running shoes do not have a heel counter to ensure smoother movement. Although you will not have motion control with the heel counters, they make the heel stable.
The top of your footwear's opening has a wrap, which maintains the proper positioning of the heel. The best shoes will make sure that your heel will not slip. The interaction of padding with your ankles' bones must not cause discomfort. In some cases, the back curve affects the tendon.
Your shoe has a reinforced part interacting with laces to ensure a secure grip. Manufacturers have designed different eyelets, overlays, and lacing systems. These parts will make the saddle match your foot shape.
It refers to the part starting from the front side of your shoes' eyelets to your shoes' end part. The toe bumper has a reinforced design to let the fabric hold your toes. It also ensures protection against stubbing. You can check the materials used for the toebox.
The best running shoes with Achilles tendonitis have rubber outsoles. But, there is a range of foam compounds used for shoes to make them long-lasting. The premium outsole will also increase the bounce. Materials have to provide durability and traction without adding weight. Moreover, they should ensure stability underfoot.
Toe spring and flex grooves
Grooves are highly essential to make the shoes bend with your foot. There is also a toe spring, which cuts away the midsole. A slight difference in angle and location will affect the feel. The footwear, which flexes the way in which your feet move, can be the best option.
Between the upper and the outsole, there is a foam material. The cushioned midsole is always desirable for runners. Check the materials and thickness of midsoles to give you the best feelings. It is also essential to inspect the level of firmness and softness.
Midsole materials can reduce the impact on your feet. In most cases, they have cushioning materials. However, some running shoes have a soft crash pad on the outer side. The outer heel may be rounded to let you land smoothly. Studies have shown that heel cushioning is important to make you feel comfortable. But, there must be a proper balance between stability, ground feel, and cushioning.
The removable foam pad inside the footwear cushions the foot's contours. The sock liner, passing along with your shoe's profile, is helpful for your arch.
Mistakes in buying the best running shoes
Giving more importance to the look- Several first-time buyers are interested in checking the fashionable design of the shoes. However, functionality is more valuable than fashion. You have to focus on the feel and fit. While the shoes do not perform best, they will be of no use. Thus, pay attention to the major features of the shoes.
Not checking the deals- Some running shoes are available at a discounted rate. You must check the deals to save money.
Buying a very small pair of shoes– Some runners think that tight-fitting shoes will be comfortable for them. However, too much tightness will cause blisters and affect your toenails. Especially, women like to wear close-fitting shoes, as they are conscious of their feet size. Make sure that the interior is roomy and enables you to move your feet. Measure your feet and start searching for the best running shoes.  
Not buying shoes at the right time- In most cases, the buyers buy their shoes in the morning. However, ultimately, when they wear them in the afternoon, they find the shoes small. It is a scientific fact that your feet swell in the morning. This swelling continues up to 4 p.m. That is why you have to measure your feet in the afternoon.
Relying on the assumption- It is one of the biggest mistakes of buyers. Do not guess your foot size and buy the shoes. Guesswork will not ensure accuracy in your calculation.
These are some common mistakes of running shoe buyers. Avoid these mistakes and pick the right pair of shoes.
FAQ
What are the potential factors causing Achilles tendonitis?
Foot problems can affect the hyperpronated feet, which bend inward at the time of walking. This condition will make your heels painful due to the strain. There are some other reasons causing Achilles tendonitis.
Some shoes can cause high strain to your heels. Over time, you will have Achilles tendonitis because of these shoes. That is why you must put on proper fitting footwear.
Obesity and overweight- Your body weight is another factor causing stress on your heels. For inflammatory tenosynovitis, the drug Quinolone can affect both sides of your feet.
Achilles tendonitis is also very common in those who have arthritis. The hamstrings can become tighter, and they can result in this condition.
Are there natural ways to alleviate Achilles tendonitis?
The most important thing is to put on the best running shoes for Achilles Tendonitis. Especially, cushioned running footwear with insoles will minimize the shock of impact. Your Achilles will have no strain. However, there are some other ways to treat this foot problem.
You can do workouts like calf raise. While sitting and standing, you may also do heel exercises. During these workouts, your calf muscles will work differently. But, you must talk to your fitness trainer to choose the right workout.
Stretch your lower leg muscles frequently, and you can do it at least 3 to 4 times every day. It will make your tendons lose.
Another option for you is the ice treatment Place an ice gel pack on your ankle and the affected part. Ice will help in minimizing the inflammation and swelling caused by tendonitis. Do not use heat for the affected part, as it will result in the most contrasting effect.
You may also put on nighttime braces to treat the condition. Furthermore, you can choose shoes with an orthotic. These shoes will prevent pronation and have protective sleeves.
Another important thing is the surface. Flat, soft, and even surfaces of a treadmill will prevent Achilles tendon injuries.
How will I differentiate Achilles tendonitis from my calf pain?
When you have problems in your calf muscles, you will find bruising symptoms. Moreover, these muscles will become weaker.
A condition like Achilles tendonitis will become intense slowly. The recovery process is also slow. Your lower legs will become weaker, and your performance will become slower. The ankle, foot, and lower part will have redness.
Do ordinary running shoes and barefoot running activities result in Achilles tendonitis?
Some runners have claimed that it is better to run barefoot. They do not like to wear any running shoes. They think that barefoot running will reduce the risk of chronic running injury.
Due to the trend of running barefoot, some shoe manufacturers have designed minimalist footwear. However, scientific studies have proved that this footwear style is related to a higher Achilles tendon load. Some running shoes have rocker soles, which will lower the force to the tendon.
Should I use inserts to control Achilles tendonitis symptoms?
The combination of a tighter Achilles tendon and abnormal pronation will result in damage. You can choose a quality orthotic device that has a heel lift. It is effective for preventing foot pronation and Achilles tendonitis. Both orthotics and inserts
Deal with foot alignment
Ensure shock absorption.
What is shoe stack height?
It represents how much shoe materials are present between the ground and your food. Stack heights of shoes are different, and thus, you will have varying underfoot sensations. Running shoes can be of multiple categories-
Minimal
Barefoot
Low- You will have a better feel, and the underfoot will be highly responsive.
High- There is a high level of cushioning to make you feel softer.
Medium- Provide midrange cushioning to deal with the everyday mileage.
Runners must also identify the level of underfoot cushioning for their needs.
Stack height is the most important factor to make a difference in how you perceive cushioning.
What is heel-to-toe offset/drop?
It measures the dimension between the heel's height and the toe's height. Thus, when there is a zero-drop, it indicates no difference. The running shoe drop can vary between 0 and 13 millimeters.
What are the different types of running shoes?
The everyday running shoes are highly durable and can deal with any type of running activity. Another is the trail running shoe with the most resilient upper. It has lugs on its bottom to ensure a better grip on rocks and dirt.
You can also buy lightweight running shoes with a less cushioned design. However, these shoes are not much durable.
Wrap Up
I have thoroughly reviewed the best running shoes for Achilles tendonitis. You have to check their features to make the right purchase.
Choose the shoes, which do not cause strain to your heel. Aesthetics are not much important. Still, I have talked about it while reviewing the products.
The most significant things are the durability of materials and the traction.