Warehouse workers are involved in labor-intensive jobs that put a strain on their feet throughout the day. Almost any warehouse environment is not free from hazards. That is why warehouse pickers put on safety clothes, gloves, and glasses.
However, you must not overlook the importance of properly cushioning the heel and arch. Thus, investing in a good pair of sneakers is the right decision. I have picked the 5 best sneakers for warehouse work. You can read the reviews of each of them and make your decision.
The right footwear will alleviate the strain on your legs, feet, and back. Moreover, it ensures protection from potential injuries caused by the heavy objects dropped on your feet.
Causes and Symptoms of Plantar Fasciitis
Plantar fasciitis is a common foot problem that hurts the heel and arch and feels bad. It happens when the thick band of tissue that runs along the bottom of the foot, called the plantar fascia, gets inflamed and irritated. The most common reasons for plantar fasciitis and its symptoms are:
Causes:
Overuse or repeated strain: Standing, walking, or running for long periods stresses the plantar fascia, leading to small tears or inflammation.
Overuse or repeated strain: Standing, walking, or running for long periods stresses the plantar fascia, leading to small tears or inflammation. Plantar fasciitis can also be caused by sports with high impacts, like basketball or tennis, that require you to jump or stop quickly.
Flat feet or high arches: Your weight may be distributed unevenly on your feet if you have flat feet or high arches. This puts more pressure on the plantar fascia.
Tight calf muscles or Achilles tendon: Tight calf muscles or the Achilles tendon can pull on the plantar fascia, which can cause swelling and pain.
Symptoms:
Pain in the heel or arch of the foot, especially when taking the first few steps in the morning or after a break.
Pain worsens after standing, walking, or running for a long time.
Feet that are stiff or painful.
The foot that is swollen or red.
Trouble moving the foot or toes toward the shin.
If you have any of these symptoms, you should see a doctor so that they can diagnose and treat the problem correctly.
Why should warehouse pickers wear a pair of proper shoes?
Provide comfort throughout the day
Warehouse pickers always appreciate sneakers with comfortable features that provide comfort all day long. These sneakers will reduce foot swelling problems and increase comfort.
Moreover, they have to be ergonomic to your feet. You will get the best feelings while standing and walking on hard surfaces.
Protect your toes
Safety is important for warehouse workers. Heavy items will not crush your toes as you put on the safety toe shoes.
Provide the best traction
Traction is one of the major issues for several warehouse pickers because the surface may be slippery. But, the best boots for warehouse workers ensure a high level of traction. There is no risk of getting slipped and injured.
Best sneakers for warehouse workers
We have now reviewed the best 5 sneakers for warehouse workers.
1. KEEN Utility Men's Red Hook Warehouse Sneakers: Best Composite Toe Waterproof Warehouse Work Sneakers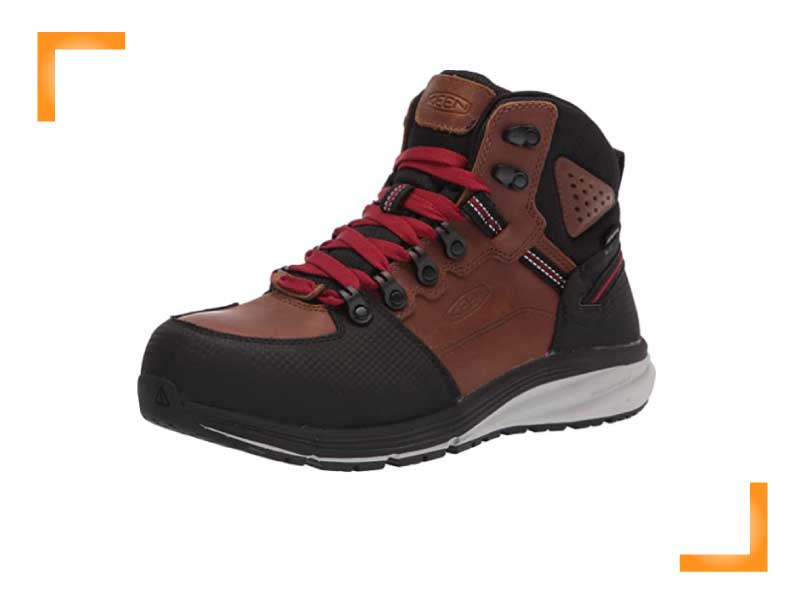 Specifications
| | |
| --- | --- |
| Material | Leather |
| Safety toes | Composite toe |
| Soles | Rubber |
Although KEEN Utility has designed the sneakers for warehouse workers, other professionals can use them to feel comfortable. For instance, they can wear these sneakers while walking across different surfaces like asphalt and metal roofs, ladders, rocks, deck joists, snow, puddles, and concrete.
Features
The major part of these Red Hook shoes is made of leather. However, manufacturers have used a tough outer material, especially at the heel, sides, and toe. Although some users have claimed the risk of wear and tear, these sneakers have a robust design.
Without feeling comfortable, you cannot work in a warehouse for hours. That is why KEEN Utility has crafted a perfect pair of waterproof sneakers.
Due to the integrated breathable liner, water will evaporate fast. So your feet will not feel sweaty throughout the day. The mesh liner combined with the special waterproof membrane gives the ultimate comfort to your feet.
Moreover, as the sneakers are lightweight, your feet will not feel bulky. The best fact is that manufacturers have added compression-resisting midsole to the footwear.
It is better than standard EVA foam, as it ensures 50% more energy return. You do not need to replace your midsole frequently because it provides you with a lasting solution.
Furthermore, the use of CleansportNXT technology prevents the emission of odor from your footwear.
You can smoothly put in and take off your sneakers, as the opening is quite wide. The high-quality non-metallic carbon-fiber toes have an asymmetrical design.
KEEN Utility has thoughtfully chosen the composite materials to make the footwear lighter than the steel toe models.
As the sneakers have maintained ASTM F2412 standards, they protect your feet from potential hazards.
KEEN Utility has ensured safety in several other ways. The rubber outsoles are resistant to oil and slip. These non-marking soles also provide a high level of traction to prevent you from getting slipped on the floor surface.
Moreover, non-mutilating uppers minimize the risk of scratching the surface. Another feature that makes the shoe abrasion resistant is TecTuff bonded coating.
Finally, the reflective wedding ensures higher visibility and additional safety for workers.
An Amazon customer said, 'I need to walk on the concrete surface filled with debris and gravel. However, I have felt no issue while wearing these sneakers. But, they also perform best when you need to work in an indoor environment.'
Pros
100% non-metallic construction
High-quality coating
Slip-resistant
Moisture-wicking lining
Cons
Sizing problems
2. Reebok Men's Rb4041 Sublite: Most lightweight sneakers for warehouse workers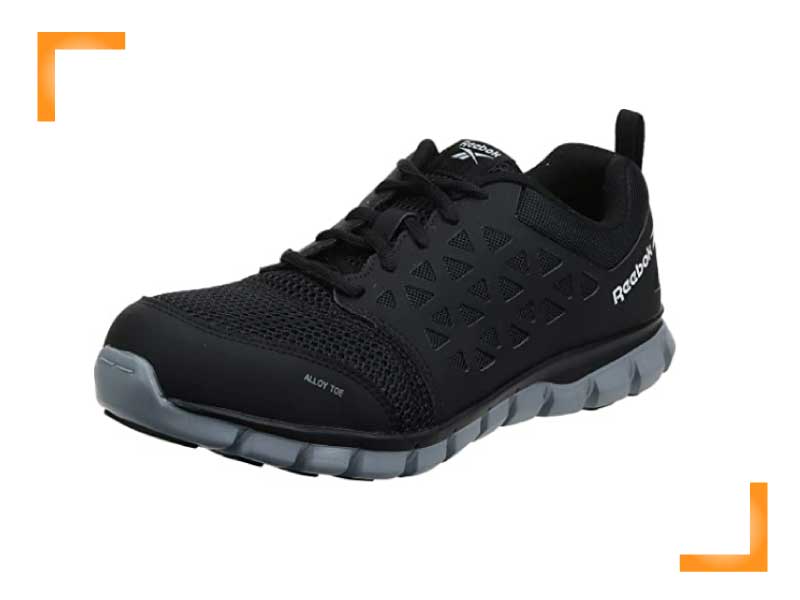 Specifications
| | |
| --- | --- |
| Material | Microfiber and Mesh |
| Safety toes | Alloy toe |
| Soles | Rubber |
Reebok is known for designing athletic footwear of a casual style. Due to its lightweight design, we have chosen Reebok Rb4041 as one of the 5 best sneakers for warehouse work.
These safety boots will save your feet from potential injuries. From our thorough review, I have learned that materials used for the footwear are long-lasting and give you the desired value.
Features
The black uppers with grey outsole have created a unique style. The microfiber used for the uppers is highly durable. Moreover, the use of leather has made the sneakers highly resilient.
Due to the low-cut profile, the sneakers look sleek and athletic. You will have no issue while moving your ankles.
Reebok sneakers for warehouse workers have the optimal lightness. However, other industrial workers can also use them during their regular work hours. The Sublite foam midsole has not added weight to the sneakers, and thus, you can easily move your legs.
The deep flex grooves on the outsole ensure a higher shock-absorbing capacity. This feature also makes the sneakers perfect for plantar fasciitis patients.
MemoryTech Massage footbed is another unique to make the sneakers adapt to the natural foot contours and provide cushioning.
The black lining combined with a moisture-wicking nylon mesh insole ensures that the footwear offers both style and comfort. Due to the mesh uppers, you will enjoy breathability. Your feet will stay cool and sweat-free throughout the day.
While walking on the slippery surface, you may reduce the risk of slipping and falling. The alloy toe cap protects your feet from heavy objects. This specially designed toecap has metal in its composition and provides protection to 4 sides.
Reebok's sneakers also protect you from potential electrical hazards in the warehouse. So, when you have mistakenly tripped over electric wires, you will have no risks.
The Sublite foam has added responsiveness in terms of performance. This special foam technology is known for reducing the weight of the footwear.
Moreover, the shoe tread provides traction and gives the best feelings to your feet. The rubber pads also play a role in ensuring traction to the heel. The toes are slightly wider to prevent mobility issues.
Overall, these sneakers ensure a locked-in fit and high stability to your feet.
An Amazon customer said, 'These sneakers have a highly engineered design. My feet feel safe while wearing them. However, their look is somewhat identical to the steel-toe boots'
Pros
No mobility problems
Stylish look
Soft and comfortable
Cons
3. KEEN Utility Men's Sparta Concrete finishing shoes: Comfortable and lightweight for Warehouse Work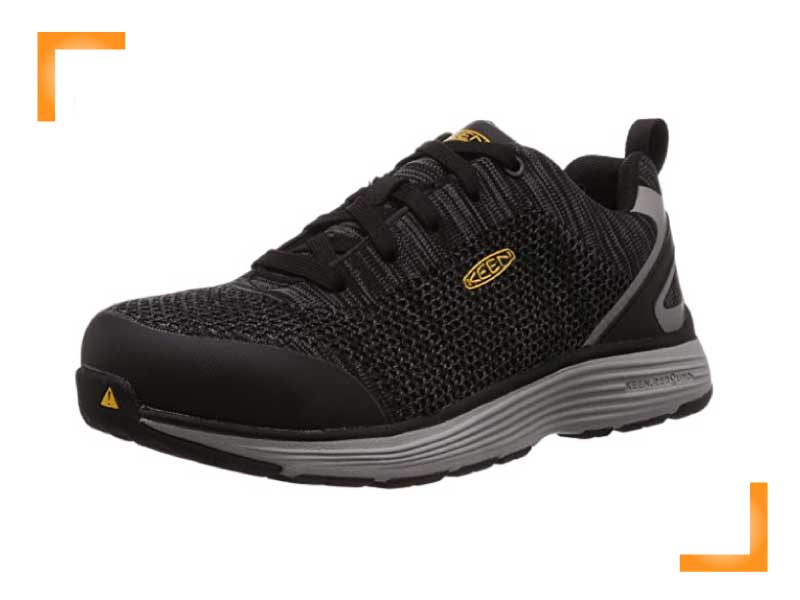 Specifications
| | |
| --- | --- |
| Material | Leather |
| Safety toes | Alloy toe |
| Soles | Rubber |
As one of the best shoes to wear working in a warehouse, these sneakers have perfection in design. While doing light industrial work, you can put on this footwear.
Although KEEN Utility has designed several other work shoes, this one is slightly different. Available in different colors, these sneakers can easily draw your attention.
Features
With proper maintenance, these KEEN Utility sneakers can last for years. The leather used for the footwear is obtained from an authentic source.
So, you will find no issue with the quality of the shoes. While boot opening is slightly bigger, as it is around 12″.
Although the sneakers have a sturdy design, they are more lightweight than other KEEN Utility work shoes. But, some users have claimed that the fabric gets stretched over time due to their regular use.
KEEN Utility has never compromised comfort while manufacturing any type of footwear. So, you can also wear the Sparta sneakers throughout the day.
While other brands have used the EVA foam, this company has chosen a compression-resisting midsole.
You will find a higher level of comfort with this footwear. The PU insole is also removable, providing you with an opportunity for customization.
There are some more features to ensure your comfort. When you work in your warehouse on the summer days, your feet may feel sweaty. But, the breathable mesh uppers will give a cool feeling to your feet.
The non-mutilating upper is advantageous while working around sensitive parts because it reduces the risk of scratching the surface.
Warehouse workers and other contractors in different industries are highly concerned about the electrical risks. But, KEEN Utility has solved this issue by ensuring underfoot protection.
Its EH-rated footwear ensures that there will be no injury when your feet have accidentally touched electric circuits and wires.
Moreover, the footwear ensures protection due to the aluminum toes without making you feel bulky.
An Amazon customer said, 'These sneakers are good, safe, and lightweight. I have no complaint about quality. I think that it is better to wear them with black socks. The soles look high in the beginning. But, after a week, they become squeezed and get molded under my feet. So, I have chosen them as one of the best boots for warehouse work.'
Pros
Safety toes
Quality soles
Breathable mesh
Cons
Plastic fragile lace eyelets
4. Skechers for Work 77055: Steel Toe work sneaker for warehouse workers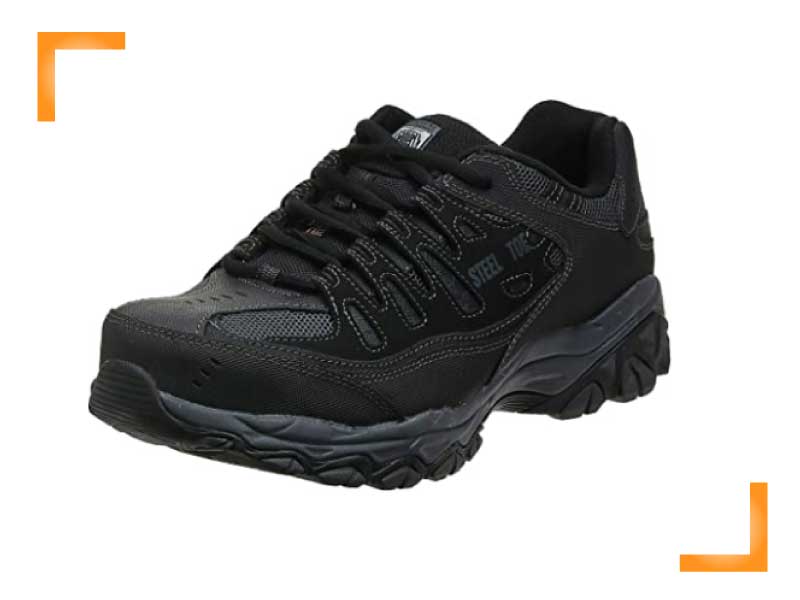 Specifications
| | |
| --- | --- |
| Material | Suede/Mesh |
| Safety toes | Steel toe |
| Soles | Synthetic sole |
Skechers is one of the renowned brands known for designing lifestyle footwear. However, we have found its sneakers perfect for warehouse workers.
Skechers has not compromised style for designing its footwear at a reasonable rate. The gender-neutral design ensures that the footwear is best for both male and female warehouse workers.
Features
Made of premium leather, rubber, suede, and resilient hardware, these sneakers can last long. This leather upper is also resistant to abrasion.
The lightweight work sneakers will not wear away easily. Skechers has offered quality-tested sneakers that maintain a high level of precision. The technologically advanced footwear for warehouse workers is truly reliable.
According to most users, there is no break-in period. But, in the first few days, you may have swellings and blisters on your feet. It is better to wear the sneakers at home to avoid these issues during your work hours. You can care for these sneakers by removing the dust with a brush.
The sneakers are available with different color options to match your preferences. The mesh upper has added a style, and the lacing also looks trendy. The detailed accent stitching is intended to reinforce the strength of the footwear.
The overall design is highly ergonomic and fits your feet easily. The RelaxedFit construction has made the sneakers roomy for your feet.
The mesh fabric panels promote good ventilation, while the inner lining has a moisture-wicking capacity. These features have made the shoes breathable to let your feet feel cool.
The rubber sole has a lug pattern to provide superior traction. The slip-resistance sneakers have a strong outsole, and thus, you can tread anywhere confidently.
Moreover, as they have a good grip, they are safe for climbers. The thicker midsoles absorb shocks and save your feet from serious injuries.
The dense memory foam insoles are spongy and provide a cushioned design. Due to the soft fabric lining, you can put on these sneakers for several hours without feeling fatigued on your feet.
The athletic footwear has steel toes to provide solid protection. The ASTM F2412 compliant toes ensure protection against hard objects and compression.
An Amazon customer said, 'As I work in a warehouse for 12 hours every day, I have been looking for a pair of comfortable sneakers. The memory foam of Skechers' footwear has pleased me. I have not found issues like wet and sweaty feet.
Pros
Comfortable to wear
Highly durable
Breathable fabric
Quality soles
Cons
5. KEEN Utility Men's Sparta 2: Best sneakers with rugged soles for warehouse workers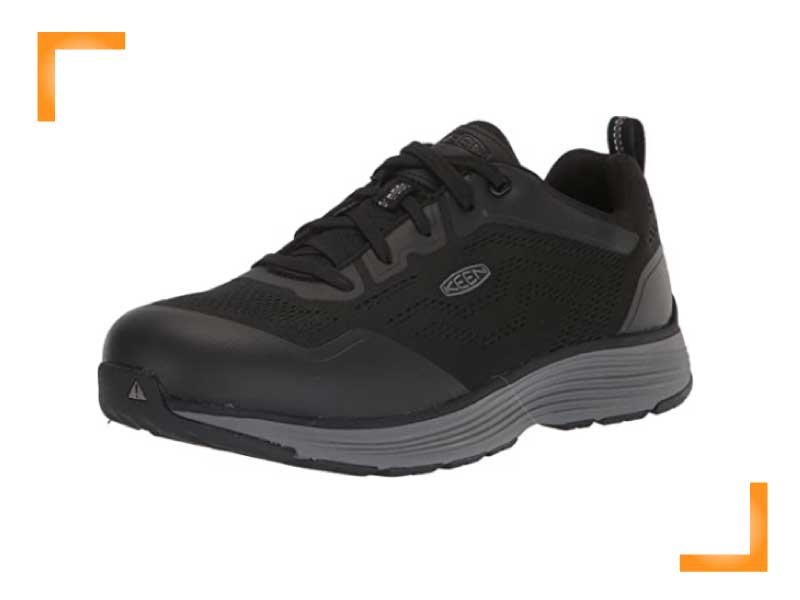 Specifications
| | |
| --- | --- |
| Material | Leather |
| Safety toes | Alloy toe |
| Soles | Rubber sole |
Although we have placed it at the end of the list, this pair of sneakers will disappoint you. You may find some similarities with other KEEN Utility products.
Also, KEEN Utility Sparta 2 is the upgraded version of the Sparta footwear model.
You can notice the major difference in the shaft. In the case of the original version, it is 3″ from the arch. But for Sparta 2, it is 2″ from the arch.
Features
Made of premium leather, the men's work shoes are highly durable. The synthetic materials designed for the overlays of the sneakers have added a level of reinforcement.
The non-marking rubber sole can last long. Overall, the footwear has a sleeker design that has not compromised the style.
As the sneakers are comfortable to wear, you will feel energized throughout the day. The mesh uppers have made the footwear breathable.
If you desire safety footwear to work in a warehouse, you can invest in this pair of sneakers. Due to the rubber sole, the sneaker is resistant to oil and slip.
Manufacturers have added aluminum to the toecaps to keep your feet secure. However, this metal has not added weight to the overall design of the footwear.
An Amazon customer said, 'I have chosen it as the safety toe shoe for my regular use. It is easy to get on and off the shoe. Although it was a slightly loose fit, I felt comfortable.'
Pros
Breathable design
Odor-resistant
Water-resistant
Underfoot protection
Lightweight
KEEN.ReGEN technology
Cons
How to choose the best shoes to wear working in a warehouse?
Choosing the right pair of sneakers is not always easy for warehouse workers. They have to check every detail to make a purchase.
Protection capability
It is dangerous to work in a warehouse. Especially, your feet can be at risk. That is why your sneakers must ensure an adequate level of protection for your feet.
Although warehouse workers deal with different types of tasks, they have to buy a good set of footwear. The toecaps intended for protection have plastic and metal variants. Though both are good, some workers prefer steel toecaps.
Steel toe boots are acceptable in almost any warehouse and industrial setting. When any heavy object is dropped on your feet, you will be safe.
While reviewing the 5 best sneakers for warehouse work, I have also picked footwear with composite and aluminum alloy toecaps.
In recent years, alloy toecaps have been present in modern lightweight footwear. The level of protection provided by aluminum toecaps is almost equal to that of steel toecaps.
Check the weight and thickness of the product while buying boots with safety toes.
Alloy toecaps have a thicker design and more lightweight than steel toecaps. Because of their minimal weight, they are best for employees working for several hours.
Composite toecaps are also lighter models with a metal-free construction. Manufacturers use carbon fiber, fiberglass, and other similar materials for designing these toecaps.
They cannot conduct electricity, and thus, workers having a risk of electric shock may choose composite toecap shoes. While walking through the metal detector gates, composite toecap footwear can be the right choice for your needs.
Read more: What is a composite toe and what are the benefits?
But, manufacturers also ensure other types of protection with the footwear. The strong sole protection will save your feet from penetration of nails.
Electric shock resistance capacity is also important for your warehouse shoes.
Check the comfort level.
Comfort is the biggest factor when buying the best shoes to wear while working in a warehouse.
The right pair of warehouse shoes prevents discomfort to your back, joints, feet, and toes. The major features affecting the level of comfort are-
Midsole- It provides a cushion and bounceback while working and walking through a surface. The midsole refers to the part between the lower and upper layers of the outsole. The high-quality midsole decreases the tiredness in your feet. While working a long shift, your feet can become fatigued. That is why it is important to have a midsole in footwear.
Insoles- Insoles also cushion your feet, heels, and arches. Make sure that the insoles of your footwear are removable. The insoles inside the sneakers play an important role in giving you comfort. The best insoles are slightly thicker because the thinner ones cannot provide optimal comfort.
Padding- With proper padding on the tongue and ankle of shoes, you can prevent problems with your feet.
Fit- The sneakers for your regular need to fit properly to your feet. But, they should have some space to let your toe wiggle easily.
Moisture control- The moisture control capacity of the sneakers prevents issues like athlete's foot and fungal infections. That is why your shoes must be made of breathable materials.
Shock absorbing potential
The concrete floor surface in a warehouse can affect your knees and heels. You might have checked the insole materials of your sneakers. Some footwear manufacturers use special shock-absorbing technology for their products.
However, you must also ensure that the sneakers have a thicker sole to absorb the shock you feel while landing on the concrete floor surface. Especially workers having a history of hip pain and knee pain must not overlook this factor.
Height
There is no strict rule about the height of the footwear. However, a pair of 6-inch shoes can be the right choice for every purpose. The shaft of warehouse workers' shoes is not much longer. But, the higher shaft can be around 8 to 10 inches.
Type of insulation
Insulation is important for employees working in a semi-outdoor warehouse. The insulated shoes will make you feel better every season.
Thinsulate insulation works best for your work shoes.
When the temperatures range from 30 to 50F, an active warehouse picker must choose shoes with around 200gr of insulation. In the chilly weather, shoes with 800 to 1000gr of insulation will be effective.
Sneaker Maintenance And Care For Longevity
Explanation Of Proper Sneaker Care To Maximize Durability And Longevity
Sneakers are the perfect footwear for warehouse work because they provide comfort, support, stability, and safety. However, like all shoes, they require proper care and maintenance to enable them to deliver their full benefits. Here are some essential tips to follow:
Allow your sneakers to dry: After a long day of work, your sneakers will undoubtedly be sweaty and wet. Do not put them away before letting them dry thoroughly. Remove the insoles and stuff them with paper towels to help them dry faster. Place them in a well-ventilated area, away from direct sunlight and heat.
Use a soft brush: Using a soft brush or a dry cloth, remove any debris, dirt, or dust from the surface of your sneakers. Also, clean the soles of your shoes regularly. If you have heavy oil or grease on your shoes, use a toothbrush or a dish brush with mild soap or detergent to scrub.
Avoid heat and direct sunlight: Heat and sunlight can damage the materials of your sneakers. It can also lead to discoloration or fading of colors. Therefore, avoid placing your sneakers too close to heat sources like radiators, fireplaces, or direct sunlight.
Protect the materials: Whether your sneakers are made of leather, suede, or synthetic materials, protecting them is crucial. Use waterproof sprays, treatment creams, or conditioners to prevent water damage, stains, or cracks. Avoid using harsh chemicals or bleach as they can deteriorate the materials or cause discoloration.
Rotate your sneakers: When you wear the same sneakers every day, they tend to wear out faster. Therefore, consider having several pairs of sneakers and rotate them to prolong their lifespan.
Store your sneakers properly: Before storing your sneakers, ensure they are clean, dry, and the laces are untied. Avoid storing them in damp or humid areas as they can harbor mildew or mold.
Tips On How To Clean And Maintain The Shoes For Optimal Performance
To get the most out of your sneakers, you need to clean and maintain them regularly. Here are some useful tips to help you:
Clean your sneakers after every use: As soon as you finish work, take some time to clean your sneakers. Use a soft brush or a dry cloth to remove any dirt or debris from the surface. It helps to prevent stains, water damage, and discoloration.
Use proper cleaning products: Different sneakers require different cleaning solutions. Read the manufacturer's recommendations or consult with a professional to ensure you use the right products for your sneakers. Avoid using bleach, harsh chemicals, or abrasive tools like steel wool, as they may damage the materials.
Hand wash your sneakers: Whenever possible, hand washing sneakers is a safer and better cleaning method than machine-washing. Use mild soap and lukewarm water, and scrub gently with a soft brush or cloth. Rinse well and air-dry.
Use sneaker shields or toe box protectors: These accessories help maintain the shape and support of your sneakers by preventing creases and folds. They also minimize the risk of toe-box deformation, which can cause pain and discomfort.
Use shoe trees or stuffing: When you're not wearing your sneakers, insert shoe trees or stuffing made of paper to help maintain their shape and prevent flattening of the soles.
Avoid wearing your sneakers in extreme conditions: Your sneakers are not designed for extreme conditions such as deep water, mud, snow, or excessive heat. Avoid wearing them in such situations as they can damage your shoes or expose you to safety risks.
Suggestions For Replacing Worn-Out Shoes With New Ones
No matter how well you care for your sneakers, they will eventually wear out and lose their support and protection features. It's essential to know when it's time to replace them. Here are some helpful tips:
Check the insoles and outsoles: The insoles and outsoles are the parts of your sneakers that experience the most wear and tear. Check them periodically for signs of damage, cracks, or holes. If they're worn out, it's time to replace your sneakers.
Check your feet for pain or discomfort: When your sneakers no longer provide the needed support, your feet may experience pain, discomfort or fatigue. If you notice such issues, it's a sign that you need new sneakers.
Check the appearance of your sneakers: If your sneakers have frequent or deep stains, scuffs, or cracks, that can't be cleaned or repaired, it may be time to replace them. They may look old and dirty, which can be off-putting in a workplace.
Replace your sneakers regularly: Depending on how frequently you wear your sneakers, you may need to replace them every 6-12 months. Having a backup pair of sneakers can reduce the strain on a single pair and make them last longer.
With proper care and maintenance, your sneakers can provide the needed comfort, support, and protection for long hours of work. Follow these tips, and you can enjoy your sneakers for an extended period.
FAQ
Are running shoes good for warehouse work?
Being a warehouse picker, you can use your running shoes confidently. But, make sure that they do not have a high heel sticking out the backside. Moreover, it is safe to avoid running shoes that have a knobby outsole. Warehouse pickers and other professionals need to walk on the concrete surfaces. That is why their sneakers must have a flat sole.
What are the best shoes for walking on concrete floors all day?
You can find several options while searching for footwear to walk on the concrete surface. Still, from our reviews, we have noticed that KEEN Utility Red Hook sneakers can be the perfect option for this purpose. The outsoles are highly durable and ensure traction. You will find athletic performance with these shoes. In some cases, the concrete floors become slippery due to the spillage of oil. But, as these sneakers are slip-resistant, you will feel safe. So, you may also choose it as one of the best boots for warehouse work.
Do you need steel toe boots for the warehouse?
It is important for warehouse workers to put on boots with safety toes. Steels toes are highly durable and ensure the ultimate protection. There may be sharp objects scattered on the warehouse floor surface. That is why you have to wear steel-toe boots as a precautionary measure.
What do you wear to work in a warehouse?
The most significant thing is foot protection with a pair of sneakers. But, you must put on other safety gear while doing your warehouse activities. For instance, you have to wear lightweight work pants on the summer days. Some warehouse owners assign uniforms to the workers to prevent accidents caused by inappropriate clothes. They maintain rules and regulations while choosing uniforms. For some warehouse activities, gloves are essential to workers, moving the inventory and unloading the truck. Workers in manufacturing warehouses deal with heavy machinery, loud noises, sparks, and debris. They have to protect their eyes by wearing goggles.
Do you need safety boots to work in a warehouse?
What kind of shoes do you need for Amazon warehouses?
The best shoes for working in the Amazon warehouse are those integrated with steel toes. Especially, employees engaged in the activity of lifting heavy items can choose these models. Amazon workers can also buy insoles for footwear, which is not comfortable. These insoles reduce fatigue feelings around your leg muscles and foot through cushioning. Flip-flops, slippers, and mocassins are not the best shoes for working in an Amazon warehouse.
Conclusion
I have reviewed the 5 best sneakers for warehouse work, and you can easily compare them to make your decision. KEEN Utility, Skechers, and Reebook are major brands manufacturing sneakers for warehouse pickers.
You will notice a difference in price, design, and other details. After analyzing the feedback of several users, I have picked the most reliable footwear for warehouse workers.