Hei Roofers! You may fall off the roof anytime with the wrong pair of boots. So invest in the right pair of boots so that you don't lose money on doctor fees.
Did you ever have aching feet after an entire day of roofing? Well, your shoes are the ones to blame if you faced such issues. We understand that flexibility and comfort are highly important when you're at work.
Just like the right pair of tools, you need the right pair of shoes for a successful roofing session. Even to walk on a metal roof without slipping you need a good pair of roofing shoes.
There are tons of different brands and designs available in the market. Finding the right pair may seem like searching for a needle in a haystack.
Well, after tons of research and careful observation, we have come up with some awesome pairs that will provide all the conveniences you need on a roofing boot.
Also, if you're wondering what makes a good roofing boot or what criteria you should look for, we have also got you covered. There is a detailed guide that will walk you through the process of selecting your roofing boots.
The best part is that no matter your budget range, you'll surely find the comfy pair of shoes you have always longed for. That's enough talking. Now without further ado, let's jump into reviewing the best shoes for roofing.
Our Top Picks for best work boots for roofing:
Thorogood Men's Heritage 6 Inch Safety-Toe Working Boots
Thorogood Men's American Heritage 6 MAXwear Wedge Safety
Thorogood Men's Heritage 8 Inch Safety-Toe Working Boots
Thorogood Men's American Heritage 8″ Round Toe Work Boots
Danner Men's Bull Run Moc Toe 6 Inch Work Shoes
Timberland PRO 6″ Boondock Waterproof Industrial Soft-Toe work shoes.
Thorogood Men's American Heritage 8″ Moc Toe Boot
Merrell Men's Moab 2 Mid Waterproof Hiking Boot
Timberland PRO Direct Attach 6″ Soft Toe Boot
Irish Setter Men's Steel anti-fatigue technology
We hope you love the products we recommend! Just so you know, when you buy through links on our site, as an Amazon Associate we may earn an affiliate commission. This adds no cost to our readers.
1. Thorogood Men's Heritage 6 Inch Safety-Toe:
Slip Resistant, Waterproof, and Durable. Men's Sizes. This is One of the Best Shoes for Roofing
The Thorogood Men's Heritage 6 Inch Safety-Toe Work Boots are made of tobacco gladiator oil-tanned leather upper. These moc-toe boots offer the feature of white stitches over the toe and around the upper. The uppers use Goodyear Welt leather construction to stay connected with the soles. Therefore, you'll be able to re-sole them if you find the soles wearing out.
These boots are virtually indestructible. The ankle shaft can stand 6.5 inches tall from the arch, making it the perfect height for providing you with ankle support. The arch receives support from a fiberglass shank.
These few of the best nonslip roofing shoes include a white, Max-wear wedge sole that has a thickness of 1.25 inches. This rubber sole is non-marking and has the ability to resist sudden slip. It also meets the standards of ASTM F2913-11 SATRA.
These boots also feature a Poron 4000 shock-absorbing insole. This insole can absorb energy from the shocks underneath and simultaneously, returns it to your feet to support your walking. If you want to replace the insole with your own orthotic insoles, you can do it; as the insole's removable.
The interiors of these roofer boots are lined with a cotton drill vamp which makes your feet feel soft to the sides and top. Unfortunately, these boots don't include any waterproof membrane. However, you can provide these boots with protection against water by coating them with appropriate wax or leather protector treatments.
Moreover, these roofer boots can be broken in within hours. So, you can wear them around your house before you're heading to work. So you can call it the best boots for walking on roofs! This one of the best wedge sole work boots is perfect for metal roofing as metal roofs are so slippery.
Pros
Slip and oil resistant soles
Shock-absorbing insoles
Stylish moc-toes
Non-conducting
Goodyear welt construction
Cons
2. Thorogood Men's American Heritage 6 MAXwear Wedge Safety Roofing Work Boots
Durable, Comfortable, Safe, and Slip-Resistant.
The Thorogood Men's American Heritage is without any doubt one of the best roofing boots and also the best shoes for metal roofing. This boot is one of the best-selling boots of their companies for years now. We strongly believe that these Thorogood boots are the perfect choice for shingle roofers. This roofing boot offers the most comfort for shingle roofing.
These boots are made to last with 100 percent full-grain leather and are designed to withstand abuse. The uppers are made of full-grain leather which is the highest quality leather that you can buy. This type of leather is rugged, highly durable, and at the same time breathable, soft, and comfortable.
When it comes to your safety concern these roofer boots make no compromise. They come in a Steel Toe version for your extra safety and they're available in lots of color variations. The comfort is also excellent offering great cushioning with ultimate shock absorption footbeds and cushion insoles.
The polyurethane max wears wedge outsoles give all the traction you need on the steepest incline. The sole is flexible, durable, flat, and doesn't wear off easily. It's perfect for asphalt roofing and metal roofing as well.
One thing that you might not like about this boot is the price which is quite expensive.
However, we would still say it's a steal because the boot is a 100 percent USA manufactured product. So, they're not like other brands that import materials to cut the cost.
Overall, if you're looking for some awesome roofing boots, then there are the best grip shoes for roofing one you can try.
Pros
Great looks
Comfortable
Nicely insulated
Upper material waterproof
Cons
3. Thorogood Men's Heritage 8 Inch Roofing Work Boots
Durable, Comfortable, and Safe for All-Day Wear.
The Thorogood Men's Heritage 8 Inch Safety-Toe Work Boots can provide a means of comfort for every stride of yours. The upper of these boots is made from tobacco tanned-oil leather that has enough flexibility. Therefore, your feet will be given the chance to move more freely.
Though they have great flexibility, that doesn't necessarily indicate they aren't very durable. If you try to maintain them properly, you'll be able to use them for years. The front of these boots features a moc-toe design with stitches. You won't find the stitches untidy as they've been designed properly.
These boots feature a boot toe that is ASTM-rated against compression. The sole of these boots is made from Vibram rubber; which provides them the ability to resist slip and oil. The soles are also non-marking which is good for walking on work surfaces that are smooth and sensitive.
Moreover, the soles can work against electrical hazards that meet the standards of CAN/CSA-Z195. Therefore, they'll be able to keep you safe from electric shocks up to 18000V. If these soles wear away by any chance, you can easily re-sole them as these boots are made via the Goodyear welt construction method.
They have a weight of 2.7 pounds, which makes them very lightweight. When you compare them to other logger boots, you'll discover that they don't include any break-in time. Also, they come with a fiberglass shank which helps them to resist punctures. Indeed the best roofing work boots and also the best grip shoes for roofing.
Pros
Removable insoles
Flexible
Comfortable to wear
Moc-toe design
Cons
4. Thorogood Men's American Heritage 8″ Round Toe
Best Shoes for Steep Roofs. Durable, Comfortable, and Safe.
The Thorogood Men's American Heritage 8″ Round Toe MaxWear Wedge Waterproof Non-Safety-Toe Boots are perhaps the best boots for roofing that you can purchase. These boots are produced using leather that guarantees that they keep going for quite a while.
The boots are made in the United States and include a removable Shock Absorption Footbed on Poron comfort pad insole. Also, they include the MaxWear Wedge slip-safe outsole. Perhaps the best thing about the boot has an important feature and that is, they include a waterproof, breathable film that helps keep your feet dry and agreeable.
Another thing to note about this boot wedge work boot is that it's built with electric shock-resisting rubber soles and heels. This means these boots are effectively equipped for withstanding 18,000 volts at 60 Hz for one minute in an abundance of 1.0 mill amperes inside a dry situation which guarantees your wellbeing. It's also a good work boot for linemen.
Moreover, this boot feature 3M Thinsulate Insulation which is specifically designed for footwear. There is a single-density wedge outsole that will help your feet to stay pliantly on the ground doesn't matter whether in wet grass or mud. Apart from all of these features, the boots come with superior shock absorption as well.
Overall, The Waterproof Non-Safety-Toe Thorogood Men's American Heritage 8" Round Toe MaxWear Wedge work boots are rugged yet comfortable oil-tanned leather boots. This one is one of the best shoes for walking on the metal roof. You should take a closer look!
Pros
Keep your feet dry and comfortable
Superior shock absorption
Shock-resisting soles and heels
It's made in the USA
Built from high-quality leather
Cons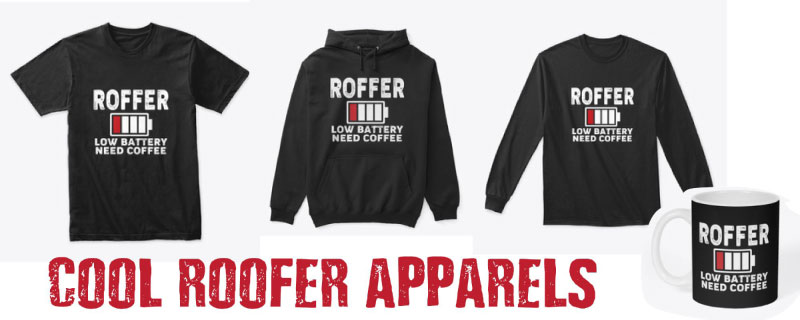 5. Danner Men's Bull Run Moc Toe 6 Inch Work Boots For Roofing
Comfortable and durable work boots designed specifically for roofing tasks.
If you're looking for the best work boots for roofers that can offer you all of the functionality you require at work but with more style, then the Danner Moc Toe 6 Inch Work Boots are the ones you must be looking out for.
The boots hold a strong reputation because of the full-grain leather upper construction. This construction method not only makes them flexible but also gives them the ability to resist water and liquids.
It features a classic design with modern comfort. They're re-engineered in such a way that they're able to accommodate your feet with much ease, as well as, provide you with plenty amount of room at the toe.
These boots don't only look appealing on the outside; they can also offer your feet the best comfort you can imagine. Therefore, they're perfect for comfort when you're working by standing for long hours.
Apart from the appealing looks, these boots have a retro styling on the outside. If you take a closer look at these boots, you'll realize the quality of these boots and the comfort they can offer you.
The selection of the material to create these roofer boots took quite a time, as the manufacturing company carried out several tests before choosing the right leather with great flexibility and durability.
So, they were able to make them a perfect choice and wearable under any condition. And so yes, easily you can say Danner is one of the good boots for roofing.
Pros
Full-grain leather upper
Stitch down construction
Wedge outsole enhances cushioning and traction
Offers protection against electrical hazards
Cons
Seam threads start to come off soon
6. Timberland PRO Men's 6″ Boondock Soft-Toe Roofing Boots
Comfortable, Durable, and Waterproof. Anti-fatigue technology provides all-day comfort and support.
If you're looking for a pair of boots that will not make a dent in your wallet then you're in for a treat. The Steel Edge 6 Inch Non-Slip Soft-Toe Working Boots for Men will give many name brands a run for their money with its incredible design and superior build quality.
The boots are available in sizes 7 to 15 and there are seven gorgeous colors to choose from. They're made with high-quality full-grain Nubuck leather with seam-sealed Goodyear Welt construction for enhanced durability.
You can wear them for roofing and even for casual wear as well. Despite the budget-friendly price tag, the boots don't require any breaking period and they're good to use right out of the box.
The rubber sole of the boots has slip-resistance properties with extra traction to provide balance on types of surfaces. The nylon laces help you to tightly secure the boots to your feet. These roofer boots have a padded ankle cover that ensures comfort even after a long wear time.
One of the best features of the Steel Edge boots is that they can be worn comfortably in both summer and winter. No matter what the weather is like, the breathable fabric provides plenty of insulation without making you feel suffocated.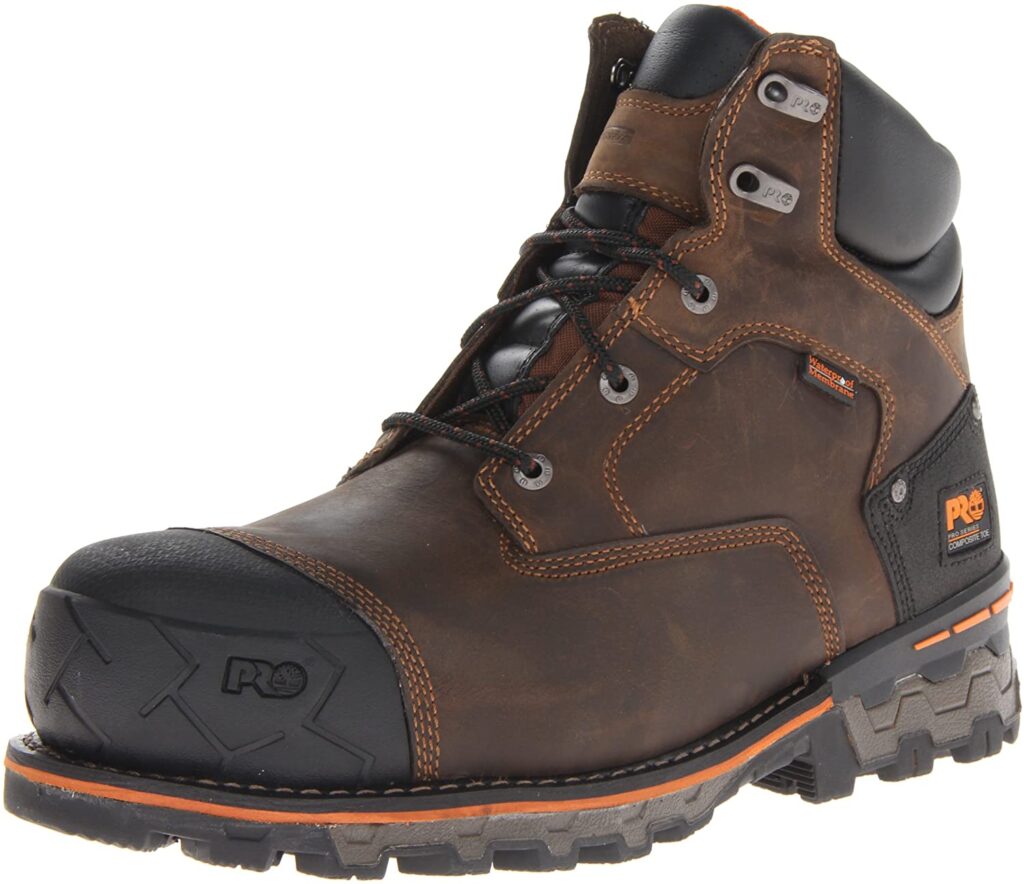 Pros
Budget-friendly
Available in multiple colors
Breathable design
Suitable for all weather conditions
Waterproof
Provides support against shocks and impacts
Cons
The sole tends to wear out quickly
7. Thorogood Men's American Heritage 8″ Moc Toe
Durable and Comfortable with Oil-Tanned Leather, Goodyear Storm Welt Construction, and Non-Slip Sole.
If you're a sucker for good-looking boots then the Thorogood Men's American Heritage 8″ Moc Toe is the ultimate match for you. Thorogood has been making boots for over a century and they're constantly improvising their design and quality of the boots. The boots are available in true aesthetic colors and multiple true-to-size options.
The boots demonstrate true craftsmanship with their incredible design and superior built quality. Thorogood uses 100% leather on these boots that have a buttery soft texture. With most leather, you need to give a good 4-7 days for the breaking period but this baby has zero breaking time. They're highly comfortable and flexible right out of the box.
The comfortable footbed helps to absorb shocks and impact while providing maximum comfort to the user. Also, the steel safety toe provides the ultimate protection for the feet during roof work. These boots offer you the safety features that are a must-have feature for roofing boots.
Some users previously complained that the Thorogood soles tend to wear out prematurely. Well, they have come with new Maxiwedge technology that will prevent the sole from wearing out even if you wear them frequently on rough terrains.
Also, the rubber sole provides excellent traction and control that will help you have proper balance during roofing.
So Thorogood is the best shoe for roofing you can invest your money into. Its excellent traction on the metal roofs makes it the best boots for metal roofing as metal roofs are damn slippery! You roofer know it well.
Pros
Excellent design
Excellent traction and control
Available in multiple sizes
Comfort cushion insole
Ultra-soft 100% leather
Doesn't take time to break-in
Cons
8. Merrell Men's Moab 2 Mid Waterproof Roofing Boots
Comfortable and Durable with Waterproof Membrane and Vibram Outsole.
If you're looking for an all-purpose boot with excellent comfort and eye-catching design, this baby is the match made in heaven for you. They have a super lightweight yet strong build quality that will give you a comfortable experience.
It has suede leather construction with a mesh upper that creates a breathable surface. There's a closed-cell foam tongue that helps to keep the moisture and debris out of the boots. The boot has an important feature and that is a rubber toe cap that can provide a means of extra protection to the feet.
The size chart starts from 7 to 15 and it's suitable for both men and women. It's available in a variety of colors as well. Due to its comfortable fit, you can wear this for hiking, trailing, and other adventurous journeys as well.
The Merrell Men's Moab 2 is all about comfort. Thanks to its ECO+ blended EVA contoured footbed that offers optimum heel support so that you can work for hours without feeling sore. It has a roomy fit with a padded air cushion ankle that effectively absorbs shock and enhances stability.
However, bear in mind that these Merrell roofing boots aren't water-resistant so you'll not be getting any protection against wet surfaces. This one is more suited for the dry climate and summer season. It's also not certified against any safety measures, so we only recommend this one if you're roofing in dry non-watery surfaces.
Pros
Extremely comfortable
Suitable for uneven surfaces
Lightweight and breathable construction
Excellent heel support
Available in multiple sizes and colors
Cons
9. Timberland PRO Direct Attach 6″ Soft Toe
Comfortable and Durable Work Boots for Roofing. Made with premium waterproof leather and seam-sealed construction to keep feet dry.
We have another gem from the Timberland family and these boots are absolute bliss for the feet. These roofer boots are highly comfortable and they are made with durable leather that will last you for ages without a hitch. This baby is a pure all-rounder, along with roofing, you can use this for snowboarding, construction, and even for casual wear.
It's made with 100% waterproof leather with seam-sealed construction for added durability. It comes with Thermolite insulation that helps to keep the feet dry even in the sunniest warm day. Also, it provides optimum insulation to keep the feet warm during winter.
One of the prime features of this pair is its spacious toe box that provides ample space for the toes and supports the back in the process. Its strong build helps to protect the feet from any workplace injuries as well.
The boots are crafted with polyurethane and cross-section lining so that you can work with maximum comfort. The lightweight construction will help you work easily on all types of surfaces and the sole has an oil-slip resistance feature that comes in handy during roofing. These are also the best boots for shingle roofing as it has very good gripping characteristics.
Along with comfort, Timberland always prioritizes safety. The boots have a hazard-safety covering that helps to protect the feet from any open circuits and live electric currents. You don't have to fear getting electrocuted if you have these babies on your feet.
Pros
Comes in a wide range of sizes
Provides optimum support to the feet and back
Suitable for all weather conditions
Lightweight and durable construction
Hazard-safety covering for extra protection
Cons
10. Irish Setter Men's Most Comfortable Steel Toe Work Boot
Durable, breathable, and safe steel toe work boot with exceptional comfort.
If you're looking for a pair that's steel strong on the outside and cushiony on the insides then this baby is perfect for you. Irish Setter has been in the business since the 1950s and they are constantly coming up with more innovative and advanced technologies.
The Irish Setter Men's Work Boots are constructed with extra-tough 100% leather. The boots are made with a triple stitching method and Goodyear welt construction to ensure the utmost durability. These boots offer you multiple different sizes starting from 7 to 14. Its handsewn construction ensures that the upper is tightly attached to the sole while promoting comfortable movement.
This one of the best roofing boots is designed to provide you optimum comfort and cushioning when you're walking on tiles, concrete, or any other uneven terrain. The best part is, you can pair it up with semi-formal clothing for a day out or even in the office.
The leather takes a few days to stretch to ensure a comfortable fit. The sole is designed to provide accurate balance and proper traction on concrete, tiles, etc. It has a lace design for easy wear and proper hold. Also, there is a padded collar for extra control.
The boots work great in terms of safety features as well. Many worksites have safety protocols that need to be maintained. The Irish Setter roofer boots offer you safety from electrical hazards and meet multiple other safety protocols to keep you away from any accidents or mishaps.
It's also good roof inspection shoes. If you don't wanna fall doing an inspection on roofs then you should really think of grabbing this one.
Pros
Comes in multiple sizes
Suitable for both men and women
Excellent durability
Made with high-quality leather
Plenty of cushioning inside
Cons
Best Roofing Boots: Buying Guide
It differs from person to person when searching for the best shoes for roofing. Because it also depends on roofing types. But I got you covered. So, without wasting any more time, here are some aspects to consider when you're picking the best roof walking boots. Knowing these criteria you can grab the perfect one for you.
Traction and stability
The outsole of roofing shoes should have a slip-resistance feature and should feel like it's sticking to the roof. You should go with a flat rubberized outsole for metal and asphalt roofing. If you're on wooden surfaces, then you need some shoes with spikes that will give you good traction and stability. However, a spike shouldn't be too sharp to penetrate or damage the shades.
Comfort
The midsoles and insoles should be designed with the latest shock absorption and anti-fatigue technology to offer superior comfort. Imagine working extended periods in shoes that aren't happy and inappropriately hit your feet.
When hoping to purchase good boots for roofing, you must remember that the material takes a few hours to break in. Also, make sure that the material is breathable so that you can wear them throughout all seasons.
Weight
The heaviness of the shoe is likewise a significant factor that you need to consider. A lightweight shoe gives you additional comfort and helps guard you by ensuring that you don't slip or get hauled down.
You need a light pair of boots to boost your productivity and to make sure the roof surface won't be damaged by the weight of the shoes. A heavy pair will slow you down. Therefore, it's safer to pick lightweight ones.
Upper material
It is basic to check the materials of the upper of the shoe as it is perhaps the greatest contributor for the shoe's general solidness along with comfort. Moreover, it additionally helps you enhance its lifespan.
If you're a roofer then it means your shoes face lots of abuse. When it comes to working boots, full-grain leather is the best material you can get. This type of leather is extremely durable yet soft and breathable at the same time.
Ankle-support
Roofing is an unsafe business and expects one to be on his feet for long and tiring hours. You need roofer boots that will give you secure ankle support for extra balance and stability on steep inclines. So, appropriate ankle support is vital for a shoe to be comfortable as well as safe.
In this way, it is significant for you to assess the inside before putting resources into the shoe to avoid winding up having flat feet.
To decide if a shoe has adequate ankle support, you should check whether it has a worked-in comfort innovation, a strong insole, and cushioned instep. Always remember that magnificent ankle support can help avoid foot pain and uneasiness.
Sole
The sole of the shoe is additionally a fundamental part that you should consider. You should consider the material used to make the sole just as the structure. It's a significant factor in the amount of hold that the shoe can offer you.
On the off chance that the shoe has a phenomenal hold, you can be guaranteed that it additionally has a sure balance which is fundamental for roofing.
There are various materials out of which soles can be built. These include elastic and plastic too. The sole accompanies different examples just as materials and furnishes you with a high hold.
In this way, it is basic that you check the sole of the shoe as it helps with ensuring that whatever surface you uncover the sole into, it can deal with it and grasp it well.
Safety
When you're hoping to purchase the best roofing boots safety is a key factor to consider. You have to be aware of the shoes you're getting are secure on metal roofing too. It is fundamental to remember that rooftops can be extremely dangerous and with a slight slip-up or stumble, you can fall and slip and wind up getting harmed severely
In this way, remembering all that, you have to check the defensive features of the shoe. Superb grasp aside, the shoes ought to have features that are intended to limit work-related dangers.
Insulation
A decent roofing shoe needs legitimate protection. And with the perfect kind of protection, you can keep yourself shielded from the outrageous warmth just as cold. On the off chance that you purchase a shoe that gives both, it'll guarantee that you'll be protected during the whole time of finishing the job.
Durability
At last, the solidness of the shoe is likewise probably the greatest thought you have to remember when purchasing the best roofing boots.
It is fundamental to take note of that roofing is a dull undertaking that expects you to open your footwear to intense outside situations and scraped spots regularly. This means you shouldn't be experiencing a few sets of shoes in a limited capacity of time as it isn't affordable.
Rather, you ought to invest money into shoes that are dependable and solid. We suggest shoes that are very good quality and produced using premium genuine leather. Lastly, well-constructed rugged pair of shoes with a strong lacing system built to offer you a snug and secure fit.
Work Boot Maintenance Tips
Work boots that are sturdy and comfortable, are essential for your workwear. So, it's your utmost duty to look after them properly. If you take good care of them, you'll be able to keep them for a long time, as well as, get great value for your money.
It's not difficult to take good care of your work boots, as there are many simple steps that, by following, will make it seem like a piece of cake. Some helpful tips to take care of your shoes/boots are given below:
You must remove the dirt from roofing boots and dust from your work boots after you're done working. By doing this, you'll let the leather breathe naturally and be able to remove any clumps of mud from your boots. The best way to do this step is to use a dry boot brush.
If you're using work boots for roofing that are made from textile or synthetic materials, such as mesh, microfiber, etc. then it's better to use warm water, soap, and a sponge to clean the dirt from your boots.
If you want to keep your work boots flexible and water-repellent, then you must polish them regularly. If you polish them regularly, they'll also be able to resist dirt and dust with much ease.
You can also try airing them. After you're done removing the dirt from your boots, you must let them dry and air for at least 12 hours. When you're airing them, make sure that you've untied the laces and pushed the tongue of the boot all the way forward.
If you think cleaning them will take quite a toll on you, then you can try to use two pairs of work boots. If you use two pairs of work boots, you'll be able to switch them daily and make them last longer.
This step might seem like a big initial investment to you at first, but you can stay rest assured with the fact that you won't have to purchase new boots for roofing for a long time if you follow this step.
You must take good care of the insoles of your work boots. It's also important to let them dry and air, like the entire boots. While you're airing the insoles, don't put them near to a source of heat, as there's a huge possibility of them losing their shape and functionality.
If your boots get wet while you're in the rain, then you must immediately remove the insoles and laces. After you've removed them, stuff your boots with newspaper. You must use a shoehorn to keep your boots intact. Using a shoehorn will allow you to put on your boots faster. It'll also protect your shoes from bending out of shape and wearing out.
Last, but not least, you must wear your boots with socks. You must wear antibacterial work socks. These socks will help your feet to breathe, and prevent the emission of odors from your shoes. Besides, they're also suitable for prolonged use.
By following these aforementioned tips, you'll be able to make your work boots last for a long time. Moreover, these tips will not only let your feet feel comfortable, but they'll also prevent you from replacing your boots frequently.
FAQ
Final Thoughts
Along with the detailed review of these remarkable pairs of best roofing boots, we have tried to share all the important grounds with you too. We have offered a variety of them so that you can pick the right match.
Remember, comfort and flexibility are fairly subjective perspectives. You may find a shoe super comforting but your friend may think otherwise. Give the shoe a trial if possible and if not, then take a hands-on review on multiple people to get an in-depth idea about it.
Weigh out the factors that matter most to you, and then make the final purchase decision. Choose one from our top picks and get ready to have some fun and carefree roofing experience.
Read also Best Shoes For Warehouse Work